Golden State Warriors: Who Should Start at Center, Biedrins or Udoh?
November 30, 2016
Marc Serota/Getty Images
When the question was presented to me, my first response was one of a bitter fan- a firm and decisive neither.
After years of watching the Warriors struggle, and months now of scouring the stat lines for Bleacher Report. Not to mention, trying to write new solutions to an old problem. I have become increasingly dissatisfied and even hostile towards the Warriors big men.
The Warriors, I am sad to say, may be the worst team in the NBA at playing in the post. Especially at the center position.
But even as I write that sentence, I cannot believe it.
The Cavaliers have to be worse. Except Anderson Varejao has already proven he can be an effective role player when he shares the court with His Highness of Hoops, LeBron James. Who knows how he will play with the next King of Cleveland, maybe Kyrie Irving. At the very least, Varejao will give you twice the effort as Andris Biedrins.
The Timberwolves have Kevin Love, who may not be a real center, but he accomplishes more by himself then Ekpe Udoh and Biedrins do combined. The Timberwolves real center, Darko Milicic, just had his best season in his young NBA career. Milicic averaged 2.03 block per game last season, which ranked fifth in the league.
The Kings maybe? Samuel Dalembert is, just as he was at Seton Hall, a very good defensive center.
The Raptors then? Nope. Andrea Bargnani averaged over 20 points per game last year.
I'm afraid it's true. They do have the worst centers in the NBA.
If you ask me, the center position is an important piece when building a winning team and the Warriors cannot keep things as they have been at the five position. A change needs to be made, but there are only two options.
So it is time to make a change and start Ekpe Udoh.
Ideally, you would want a player at the pivot who can make moves with his back to the basket and demand double teams, but it is not essential. Fortunately the Warriors are not picky, because they will not get that from Udoh.
But look at the 2000—01 Philadelphia 76ers. Other than having Allen Iverson, when he was arguably the best player on the planet, the '6ers roster was made up of the kind of guys whose basketball cards you'd stick in the spokes of your bicycle to make it sound like a motorcycle.
Behind Iverson, their next two leading scorers were Theo Ratliff and Dikembe Mutombo. Not great offensive players. Not very exciting players, particularly after the league started to fine the finger wag. However, they both controlled the paint on D and hit the boards hard..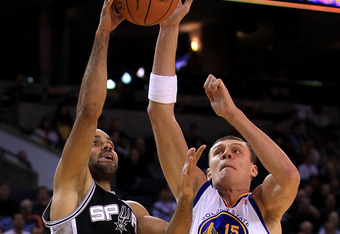 Ezra Shaw/Getty Images
When I look at Ekpe Udoh, I see the body type of a Theo Ratliff, and dare I say it, the rawness and potential of a Dikembe Mutombo. And for a young center, being compared to either one is pretty good. But he still needs to log some minutes before he reaches that potential. There is a long way to go.
When I look at Andris Biedrins I see the end of an era. At only 25, Biedrins numbers are starting to slip and it does not look like he will be improving in the years to come.
The Warriors are looking towards the future. Allowing their high profile draft pick from 2010 step into a starting position, in what will be his first full NBA season (well, as full as it can be), is the logical decision.
The logical and correct decision.