Michigan at Michigan State Preview: Maize and Blue's First Real Test
October 10, 2011
 I'll be the first Michigan fan to admit it; I am so caught up in what Brady Hoke has led this team to that I haven't stopped and thought about the reality of this situation, and I haven't really thought about how Michigan will react to facing a legitimate Top 25 Big Ten team on the road.
 The fact is, and it is relatively obvious, that this Michigan team is miles better and more mature than it was last year, mainly because of how the defense has stepped up, only allowing 12.5 points per game after allowing 35.2 points per game last season. Defensive coordinator Greg Mattison has came in here and done a good job thus far, preaching technique, fundamentals and the attitude and swagger of playing "Michigan" defense. 
Let's not leave the offense out though; as much as we already expected this offense to be great, led by Heisman hopeful quarterback Denard Robinson, and even though this offense isn't quite averaging as many points and yards as they did last year, they have done a fantastic job.
For one thing, Michigan's offense doesn't need to play quite as great, just because the defense has stepped up an incredible fashion. Secondly, the playmakers around Denard Robinson, especially running backs Fitz Toussaint and Vincent Smith, have really stepped up and taken pressure off of Robinson.
Special teams is another overlooked facet of the game Michigan has strongly improved on. Last season, Michigan's place kickers missed 10 of 14 field goals. This year, Michigan kicker Brendan Gibbons has made four of five field goal attempts.
So far this season, though, many critics have tabbed Michigan's opponents as inferior, claiming the Maize and Blue haven't been tested. As much as I hate to admit it, I can't really disagree. We really can't kid ourselves here, the toughest opponent Michigan has faced this year is Notre Dame, and if it weren't for a complete and utter collapse by the Irish, Michigan would've lost that game.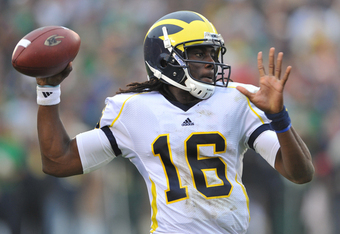 Many people, like myself, get criticized for having these sorts of opinions, but I believe it's the people that feel the same way that really don't want to admit to it are the ones who are doing the criticizing. It takes a real fan to own up to something they don't necessarily like about their team, and as much as I love Michigan, we really haven't been strongly tested yet.
Going to Evanston and playing Northwestern was a good test for this Maize and Blue squad. It was Michigan's first road game after starting the season with five straight at home. The Wolverines struggled in the first half, with the defense struggling to defend the spread look, and with Robinson throwing three interceptions.
The second half was a completely different story, Mattison made some clear-cut second half adjustments and the Wolverines didn't give up another point to the Wildcats, shutting them out 28-0 in the second half.
Like I said, it was a good test for Michigan, but we're also talking about a Northwestern team that only beat 1-5 Boston College by seven points, lost to 2-4 Army, and has lost three straight games in general, blowing double-digit leads in two of those three games.
So here comes Sparty. Michigan travels to East Lansing to play No. 19 Michigan State at Noon on Saturday, when the Wolverines hope to end a three-year losing streak to the Spartans.
This, my fellow Wolverine faithful, is Michigan's first true test. Michigan State is a Top 25 team, which Michigan will face for the first time this season. The Spartans are your typical Big Ten powerhouse, with many weapons. This is another road test for the Maize and Blue, where they will have to do a great job defensively of stopping the running attack of Edwin Baker and LeVeon Bell, as well as containing quarterback Kirk Cousins.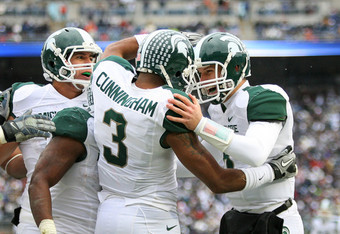 Michigan State hasn't looked as sharp as it did last year, after a 31-13 waxing at the hands of Notre Dame and a slim 10-7 win in Columbus over the battle-challenged Buckeyes. Kirk Cousins is completing 67 percent of his passes, although he only has two more touchdown passes than he does interceptions.
This doesn't mean at all that the Wolverines won't have their hands full Saturday with Sparty. Here are the keys to the game for both teams.
Keys to the Game - Michigan
The Wolverines already have one road game under their belt, but can expect a more raucous crowd at Michigan State. Offensively, Robinson must protect the football; he threw three first-half interceptions against Northwestern this past Saturday, and if he does that this Saturday, the Spartans may not be so forgiving.
Michigan also needs to get both Fitz Toussaint and Vincent Smith going. Toussaint only had 25 yards on 14 carries against the Wildcats. Defensively, Mattison needs to stress containment. Michigan State obviously doesn't have the same offensive philosophy as Northwestern, but it will see on film that Northwestern was quite successful spreading Michigan's defense out and picking them apart with receivers in the open field.
Michigan must not let receivers like B.J. Cunningham and Keshawn Martin get to the outside.
Keys to the Game - Michigan State
Michigan State is always up for downing its bitter rival, especially in front of its home crowd, so it needs to use that incentive going into the game.
Offensively, the Spartans need to spread the Michigan defense out with four and five wide receivers, as the Wolverines have shown they struggle in defending that. It is also imperative that the Spartans use their three-headed running back attack in Baker, Bell and Caper to wear this Wolverine defense out on the ground, as this will setup nicely for the Spartans' passing game.
Defensively, what else is there to say other than to contain Robinson? Last season, the Spartans were successful in containing Robinson on the ground, forcing him to throw from the pocket. This season, Robinson is being molded into a better pocket passer, so it is imperative they get pressure on Robinson and shut down his No. 1 target, Junior Hemingway.
Prediction
I don't care how biased this sounds, but there is no greater story in college football than how great of a turnaround Hoke has led this Michigan program to. One of Hoke's main priorities, other than winning the Big Ten, is taking care of Michigan's biggest rivals.
The Wolverines have worked hard under Hoke and his staff, and they don't plan on letting each other or their coaching staff down this Saturday in East Lansing. Michigan will come ready to play this Saturday, and end the three-year losing streak to "Little Brother."
Michigan 35, Michigan State 17