Al Davis Dead at 82: Raider Nation Weeps at Loss of Greatest Raider of Them All
October 8, 2011
George Rose/Getty Images
A grown man broke down crying today over the death of someone he'd never had the opportunity to even meet. I was at work getting ready for another long Saturday in the car business, when I received a text telling me the news that Oakland Raiders owner Al Davis had died.
Shock went to disbelief. Disbelief went to realization, and realization went to emotion. The next thing you know I'm sitting in my office balling like a little kid.
How can the death of someone I didn't know cause such a reaction?
My "relationship" with Al Davis and the Oakland Raiders started in 1977. I was seven years old and watching the Super Bowl between the Raiders and the Vikings. Jack Tatum hit Sammy White going across the middle. Sammy went one way, his helmet went the other, and an impressionable kid had his team.
For the last 34 years I've been all about the Oakland Raiders. I've never lost faith through good and bad times. I've been through coaches, quarterbacks, two different home cities and many other changes through the years.
For Raiders loyalists like myself, though, there's always been one constant. This was Al Davis' team and—good or bad, like him or not—he was going to run this team how he saw fit.
I grew to love this maverick mentality and have been a staunch defender of Al for most of my life.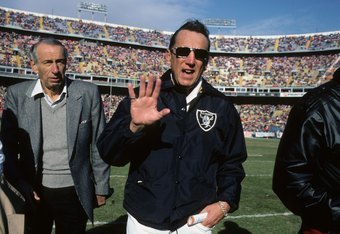 George Rose/Getty Images
I'm not going to bore you with Davis' accomplishments or the fact we wouldn't even have a league as we know it without him. Others will and have said that.
I just want to state how tough a day this is to be a Raiders fan. I can't think of another owner in all of sports who symbolized his team like Al Davis.
I hope the players go out there Sunday and win a football game for themselves. Then when it's over, celebrate the memory of an owner who loved his players like no other.
It's a sad day indeed, Raider Nation, but a little bit of the Al Davis spirit is in all of us. That's why we love this team like we do!
Everyone have a great day and do their best to celebrate the life of a great man! As Davis always said, "just win, baby!"