NFL Prediction Against Spread: Chiefs (+2) at Colts Could Be the "Luck-Y" Choice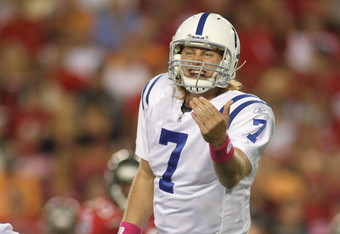 Colts (-2) host Kansas City with a lot of question marks
Marc Serota/Getty Images
Sometimes you have to lose the battle in order to win the war.
For Colts fans, especially those wager-savvy types, this taste of reality came dramatically in late 2009.
Indianapolis came into their game vs. the Jets with a record of 14-0 and were flirting with a sure undefeated season providing they would win that game, especially with the Bills as their season finale.
And they probably would have.
With the Colts up 15-10 in the third quarter, amidst a slew of boos in front of their home crowd, coach Jim Caldwell pulled the starters.
Indianapolis didn't score another point.
They didn't score an undefeated season, either.
Peyton Manning said after the game that the team was just following orders, and one of the orders were to not give up a turnover.
A single turnover? The Colts had at least one turnover in 10 of their 14 games prior to that request.
Caldwell also wanted his team to not give up a kick return for a touchdown, which they did to open the second half.
Ezra Shaw/Getty Images
What does that have to do with Peyton Manning and the starting offense?
Curtis Painter entered the game in the third quarter, fumbled on the second possession which led to a Jets touchdown and the Colts were shut out the rest of the way. The Jets ended up winning the game 29-15.
Interestingly enough, the Colts were a very popular NFL team wagered on that weekend.
The Colts eventually made it to the Super Bowl but lost to the Saints and also lost the motivation to finish the entire season undefeated the way the Patriots couldn't against the Giants in 2008. This was in addition to alienating thousands of fans in Indianapolis that Christmas weekend, many of whom stayed after the Jets game to continue booing (most likely the loudest boos came from those who wagered on the Colts with the other 80 or so percent of the country).
If the choice to pull the starters was to prevent an injury, which is understandable, why not just bench them from the beginning?
So put yourself in Colts owner Jim Irsay's shoes.
You already led the oversight on orders to throw away a chance for an undefeated season for who knows what reason.
You already had a taste of what it's like to have a franchise quarterback virtually guarantee you a decade of winning.
Jamie Squire/Getty Images
Why not lose this battle for one year in order to win the entire next decade?
Other questions abound.
Why spend years prepping backup quarterback Curtis Painter only to give him, and the team, the middle finger and sign Kerry Collins, who was down in Nashville writing country music, out of retirement in a frantic rush to start the opening game at Houston?
And with the Colts 0-4 and now resorting to a starting quarterback, who looked shaky and scared in the previous two games, and knowing they always lose their exhibition games with Painter playing, could this instead be the next big opportunity to obtain the next big Peyton Manning?
Personally, I think it's foolish to put too much stock in any college football player, no matter how highly touted the athlete may be. Sometimes, the best players are the least known. Take Tom Brady for example, a late-round draft pick who was almost cut from the team. But Andrew Luck is perceived to be the real deal, and sometimes perception is reality.
The Colts won't win many games this season so why not go against them here as a favorite? The Chiefs aren't great either, but Matt Cassell has shown at least a desire to win, and the team has a building block with a victory over Minnesota followed by an honest effort at San Diego as a huge underdog.
Kansas City did get handled at Detroit, but they were (-5) in turnover margin.
Additionally, the Colts already have several key injuries other than Peyton Manning, and their offensive line is a mess, having to be frantically shuffled around and patched together to prepare for this game.
They already called Kerry Collins out of retirement while he was writing country music, and it's a possibility they could call Mike Toudouze, a former fifth-round draft pick, to start at right tackle this weekend.
Most likely it was deer skin, not pigskin, on Toudouze's mind, as he was actually busy hunting as deer season opened this week.
In the 2005 season finale for the 3-12 Houston Texans and 4-11 San Francisco 49ers, last place was up for grabs in the NFL and a crack at Heisman trophy winner Reggie Bush, who was one of the most highly regarded college football players of the decade, at the time.
"We will be playing this game to win" said 49ers coach Mike Nolan prior to the game, but why did he even have to clarify?
Regulation couldn't even decide the outcome, because the game ended up going to overtime.
Coincidence?
Take Kansas City to cover 2.5 points
This article is
What is the duplicate article?
Why is this article offensive?
Where is this article plagiarized from?
Why is this article poorly edited?

Indianapolis Colts: Like this team?