SEC College Football Upset of the Week: Kentucky versus No. 18 South Carolina
October 7, 2011
Streeter Lecka/Getty Images
How could anyone possibly think Kentucky's inept offense could beat the immensely talented South Carolina Gamecocks? Quarterback play—even if it is Morgan Newton that Kentucky is relying on.
Second-year head coach Joker Philips has been searching for his team's offense for the last five weeks. They rank 118th out of 120 teams nationally in total offense (255.60 yards per game). Their scoring offense ranks 113th, averaging 15 points per game (nine touchdowns, nine extra points, four field goals). They are even poor on third-down conversions, averaging a 27 percent success rate (20 out of 74).
First-year starting quarterback Morgan Newton, a junior, has been given the majority of the blame for the lack of offense. He has been sacked an SEC-worst of 17 times. His six interceptions are tied for the SEC lead with Georgia's Aaron Murray and Ole Miss' Zack Stoudt. Newton's 50 percent completion percentage is an SEC worst as well.
Through all of the bad, Kentucky still has a starting quarterback that they know they can rely on game in and game out—good or bad. After five games, South Carolina is still in search of their on-field leader.
South Carolina head coach Steve Spurrier has finally ended his on-again-off-again relationship with fifth-year senior Stephen Garcia for now. Garcia has been suspended numerous times by Spurrier, but each time Spurrier has let him back on the team and back into the starting quarterback role. When will Spurrier ever learn?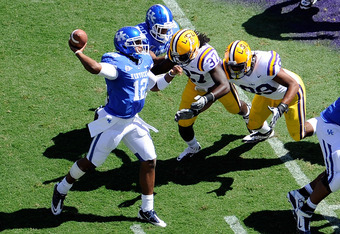 Stacy Revere/Getty Images
Sophomore Connor Shaw takes over for Garcia against the Wildcats. Shaw began the season as the Gamecocks' starting quarterback but was quickly benched in the first quarter for Garcia after fumbling twice against East Carolina.
Shaw's stat line for one quarter's worth of work was 3-for-9 for 21-yards passing with no touchdowns and zero interceptions before he was taken out of the game. First-game jitters could have contributed to the two fumbles Shaw committed. Spurrier jumped the gun and did not allow Shaw to get comfortable in the role as starter.
Everyone knows what South Carolina's game plan is week after week: Feed the ball to All-SEC running back Marcus Lattimore.
Lattimore leads the SEC in rushing yards with 677 over Trent Richardson's 622. Lattimore also leads the SEC in rushing attempts and has 28 more carries than Richardson.
Lattimore received too many carries early in the season last year and wore down before midway through the schedule. Spurrier appears to be doing the same thing again to his top rusher this season. What choice does Spurrier have?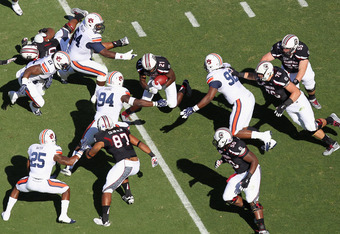 Streeter Lecka/Getty Images
Lattimore had 23 rushes for 112 yards against East Carolina, 27 rushes for 176 yards against Georgia, 37 rushes for 246 yards against Navy. Against Vanderbilt he had 20 rushes for 77 yards and 17 rushes for 66 yards against Auburn.
Since Stephen Garcia has been playing poorly, defenses have been putting eight in the box and shutting down Lattimore. Why would Kentucky be doing anything differently in their game?
Kentucky's linebackers Danny Trevathan and Winston Guy lead the SEC in tackles with 59 and 53 respectively. Their stats may be inflated because the Wildcat offense does not do a good job at time of possession, 89th in FBS.
Don't take these guys for granted. They are gamers and they can play against Lattimore. Last year Kentucky held Lattimore to 79-yards rushing on 15 attempts in a Wildcat 31-28 win.
The Final Outcome
Shaw's ability and performance is an unknown commodity going into this week's matchup. Newton is a known product, even if he is not considered a great SEC quarterback.
Common sense would have one believe that South Carolina would not lose two consecutive SEC home games. But the Gamecocks appear to be in some dysfunction in a pivotal time of the season when they should be clicking, not benching.  
The Gamecocks offense is in better shape with Lattimore than Kentucky is with true freshman running back Josh Clemons (269 yards rushing). But USC senior left tackle Kyle Nunn may miss his second straight game with a bulging disc. Last week true freshman Mike Matulis (Boynton Beach, Florida) struggled against Auburn.
Shaw will key on All-American wide receiver Alshon Jeffery as will the Wildcat secondary.
The Gamecocks may be without senior defensive lineman Melvin Ingram. Ingram leads the team with 7.5 tackles for loss and 5.5 sacks.
Kentucky finds a way to keep the game close and upsets South Carolina for the second straight year 17-14.