Cleveland Browns During the Bye Week: Not Jumping Ship Just Yet!
October 7, 2011
Jason Miller/Getty Images
31-13 looks really bad on paper. It didn't feel a whole lot better while watching it, either. The Browns dominated the game on Sunday against the Titans in just about every statistical category except the one that really matters: the scoreboard.
But despite how difficult it is to stomach a loss like this at home to a beatable team, I'm not going to scream and rant like Tony Rizzo all Monday morning long. I'm going into this with a cool and level-headed approach.
I re-watched that game and I liked a lot of what I saw. The Browns offense actually moved the ball all day. They only had one three-and-out compared to the Titans, who had four.
Unfortunately, many of the drives were not able to be sustained to come away with points. The Browns had drives of 41 (punt), 39 (punt), 53 (interception), and 45 yards (downs) where they came away empty-handed.
It's obvious at this point that the Browns do not have a quick-strike offense. They are going to need to slowly grind out drives.
The key to success going forward is to score on those drives early in games, get the running game going and get a lead. Most of all, finish drives with touchdowns over field goals.
I had no problem with the Browns offense on Sunday with the exception that Colt McCoy looked unwilling to take shots down field in the fourth quarter when we really needed scores.
People talk about his 350 yards as being deceiving but I think that's a bunch of crap. McCoy was decisive and found the open receivers to continually more the ball down the field.
Now he just needs to learn to take some deep shots. Which we have seem him do successfully this year with long completions to Ben Watson, Mohamed Massaquoi and Joshua Cribbs.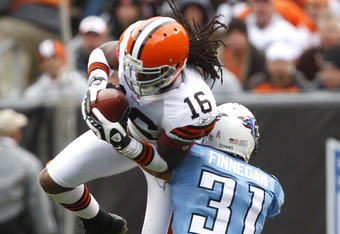 Matt Sullivan/Getty Images
Speaking of Cribbs, I continue to be impressed with his progression as a receiver. He had five catches for 50 yards against the Titans. He actually has the look of a wide receiver and not just an athlete. I think the Cribbs could develop into a solid second option for McCoy.
The first option is without a doubt going to be Greg Little, who led the team with six catches for 57 yards. Rookie receivers historically take time to develop into solid players when they reach the pro level. But Little is making very good strides considering that he's being thrown to by a guy who's also essentially a rookie.
One thing that I love about Little is his humility and respect for being blessed to play football at the highest level. He plays with great bravado when on the field but in interviews off the field he is meek and humble.
Very refreshing after previous top receiving draft picks like Kellen Winslow, Braylon Edwards or Travis Wilson. (Remember when Wilson was taken in the third round in 2006 and said he was the best receiver in that draft? I don't think he was right. Going on a hunch there.)
I think the defense is fine. They need to work on the run stopping, but overall they're fine.
Don't believe this crap about Matt Hasselbeck slicing up the Browns defense. He had a couple lucky passes that went for long yards. He completed his 10th and final pass of the game with 10 minutes left in the third quarter. So enough of that crap.
Joe Haden needs to be healthy, though, if the Browns are going to keep it up. And my boy T. J. Ward needs to work on his zone pass coverage skills. He's been burnt twice for touchdowns already this year.
The Browns are going to be a good team this year. Not great, not playoff caliber, just good. I don't see any reason whey they can't keep up this .500 pace for the rest of the year.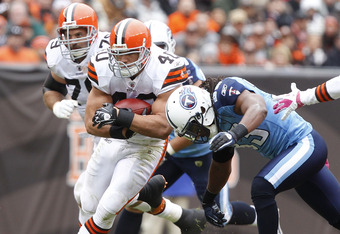 Matt Sullivan/Getty Images
Sunday's game wasn't very good. But let's get some perspective. It was about 128,435 times better than Derek Anderson/Brian Daboll era. The offense was actually gaining yards and picking up first downs.
The quarterback is completing more than 40 percent of his passes. So let's cool it. This Browns team is nowhere near as rough as that 2009 team.
One final thought...
Anyone who thinks that Peyton Hillis intentionally sat out the Dolphins game because of his contract needs to shut up! (That goes for you too, Adam Schefter.)
Hillis is probably the most honest and upstanding individual in the NFL. There's no way that if he was well enough to play that he wouldn't have been on the field. Initial reports were that he showed up and tried to play but was sent home. So stop with the crap.
Okay, I'm glad I got that off my chest.
Go Browns!
Believeland.
You can follow me on Twitter @ClevelandFlack.