South Carolina Football: Is It Time for Connor Shaw at Quarterback?
October 3, 2011
Streeter Lecka/Getty Images
South Carolina finds itself at a crossroads.
The Gamecocks are coming off their first loss of the season, and the offense failed to sustain anything of value to help USC overcome the Auburn Tigers. Stephen Garcia and his offense put up a total of 289 yards of offense on an Auburn defense that was giving up 477.5 yards coming into this game.
The Gamecocks were out of sync all night long with no running game to speak of and inaccurate play from their quarterback. Garcia finished 9-of-23 for 160 yards and two interceptions. Offensive line play was poor and missed the experience of Kyle Nunn at left tackle, who sat out the game with a back injury.
It just wasn't a good night for the Gamecocks on offense.
But you had to know that this night was coming—right?
Most people could see it by the way the Gamecocks have played on offense with Garcia as the quarterback.
It's not all on him though.
The offensive line needs to get better in pass and run-blocking. Wide receivers need to work more at getting open so the quarterback has time to find them.
However, with that said, the Gamecocks were finding ways to win, so why change it?
Well that's thrown out the window now.
This is the perfect time for South Carolina to give Connor Shaw an extended look at quarterback to see what he can do.
You may remember Shaw beat out Garcia to start the East Carolina game, but finished a paltry 3-of-9 passing for 29 yards. After the first quarter it was all Garcia from that point forward; Shaw would not take a snap until the Vanderbilt game.
Why is that?
You don't mess with winning regardless of how you are getting there.
Now is the time.
We all know Garcia has thrown nine interceptions in five games of play.
He's been inaccurate with the football.
He's made poor decisions.
There's not a lot to like. The offense is suffering, and it's time to see if Shaw can bring back efficiency to this South Carolina offense.
The thing you hear about Shaw is the intangibles.
He's a hard worker. He's a coach's son. He's a student of the game. He brings the will to be better each time out on the field.
One thing Shaw needs to work on is when to not take a hit. He's prone to try for the extra yardage on a quarterback keeper and is liable to fumble the football on a big hit. He's got a smaller frame, so learning to slide at the right time could keep him injury-free for much longer.
The hope for Steve Spurrier is that Shaw can bring a stability to this offense that has been lacking this entire season.
Nobody expects the quarterback to win the big game for the Gamecocks; this is what Marcus Lattimore can do for you.
The idea is to find a quarterback who can manage a football game and limit the mental mistakes that kill the offense's chances of staying on the field. Garcia has thrown some untimely interceptions—maybe Shaw won't do that.
It seems to be a belief that Spurrier would have continued with Garcia as long as South Carolina was winning.
And why wouldn't you? He knows this offense has potential and would break out of its slump sooner or later. Lattimore and Alshon Jeffery are two of the best in the country at their positions, so you've always got a chance with those two on your side.
It just never happened.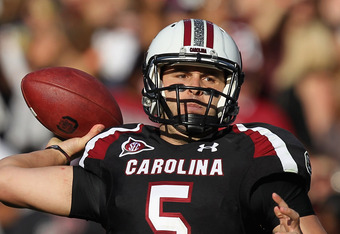 Streeter Lecka/Getty Images
This is why you have to go with Shaw. It could be a chance to break in the quarterback against Kentucky since the Wildcats aren't the best in the SEC; this could be an opportunity for some valuable playing time for Shaw.
If it doesn't work, then you've always got Garcia ready to go off the bench. Maybe this would be the best thing for Garcia; give him some time on the sidelines to watch the game in action and get his head right.
The time is now. USC can't afford to let this season get away from them. One loss doesn't end the goals this team set forth before the season started.
The main thing is they need to figure out what will make this offense click. The defense struggled at times the first few weeks, but they have performed really well the last few weeks.
There is hope for this offense; they just need someone to take the lead.
Garcia has tried his best, but it hasn't worked out.
I think that's why it is time for Shaw.
And if Shaw doesn't work out...does Spurrier have any eligibility left?