Atlanta Braves and Boston Red Sox: A Tale of Two Cities
October 3, 2011
Rob Carr/Getty Images
It was the best of times, it was the worst of times. Well, for the Atlanta Braves and the Boston Red Sox it has been the worst of times. Both teams held commanding leads in September and wound up with an early vacation. Life coaches always tell us that it is how we deal with adversity that defines us. Well, we have definitely seen two different definitions coming out of those two cities.
The Red Sox either dismissed Terry Francona or he chose to leave. A lot of us have been a part of those "you can't fire me, I quit" conversations. They are never pleasant and usually they result from the same sort of circumstances that Francona's exit occurred. When you think about it, 99 percent of managers that are hired will be fired someday. So, we probably shouldn't shed any tears for Francona.
Yet, you can't help but notice the difference between Boston and Atlanta. In Boston, the first response was immediately finding someone to blame. First, it was Francona, but you can hear just as many people call for Theo Epstein's head. In Atlanta, Frank Wren and Fredi Gonzalez have been very quiet. At this point, it is easy to tell which franchise (and city) did the best job of dealing with adversity. It certainly wasn't Boston.
Important decisions are never a good idea when you are in a bad emotional state. Whether letting Francona go or not was a good decision, it was poorly timed. There is no way that either party had all of the facts. Blowing a nine-game lead in September and winning only six games in the month is a disaster of biblical proportions, but was Francona really the key?
The easiest thing to point to is the fact that the rotation fell apart faster than a Wal-Mart suit. John Lackey was a disaster from day one. That right there should tell us something. Was his season the sign of an ill-advised signing by Epstein or was it simply a horrible season no one could have predicted? The answer is usually in between. The signing probably wasn't a good idea, but there is no reason to believe a pitcher of his caliber should post a 6.00+ ERA again.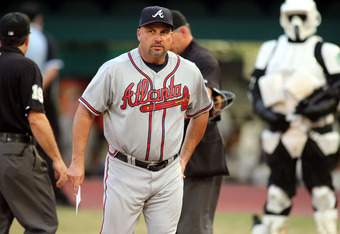 Marc Serota/Getty Images
Then, you have the curious case of Dice-K. Will he return from major surgery? His contract was not a good one either, but he had been a solid pitcher up until this season when he gave them nothing. Having an ineffective Lackey and hurt Dice-K left a deep rotation much thinner. So, when Jon Lester, Josh Beckett and Clay Buchholz all went down with injuries in the second half it left the Red Sox scrambling.
How this can be put on Francona's plate is beyond me. Epstein could take some heat for a few bad contracts, but most of these events were unforeseen. Add to that the struggles of Carl Crawford and J.D. Drew's disappearing act and you have the makings of trouble. When Kevin Youkilis went down in the second half it was more than the Sox could bear. When a storm comes, sometimes you have to wait out the storm and sometimes you make a mad dash to prepare. This sounds like a storm the Sox should have waited out.
As for the Braves, they may have underreacted. Fredi Gonzalez mismanaged the best pitching staff in baseball top to bottom. He burned through the bullpen like it had some sort of mythical expiration date. Tommy Hanson and Jair Jurrjens were lost to him in September when he needed them most. While we can't prove it, the fact that Craig Kimbrel, Jonny Venters and Eric O'Flarehty pitched in at least 79 games each is disturbing.
As for Jurrjens and Hanson, they led the team in pitches per start. That's fine and dandy if they were Tim Hudson or Derek Lowe, but both are 25 or younger. That load may have been a little too much. Even if they had averaged five pitches fewer per start they may have been available to Gonzalez through the end of September. That might have made the difference.
Still, it was his first full season managing a contending club. We can all hope that he learns some things and does better next time. Of course, Francona had already won two World Series rings in Boston. It is amazing how little that gets you these days. Overall, the Braves have done better. Changes may be on the way, but at least they will be done with cooler heads prevailing.