Fantasy Football Week 4 Rankings: Calvin Johnson and the Biggest Locks at WR
October 1, 2011
Hannah Foslien/Getty Images
There is no bigger boon to a fantasy football team than a huge day from a wide receiver. The production from receivers can often be frustrating, so when you get a huge day, it's a big relief.
The following are the three wide receivers guaranteed to give you big days.
Calvin Johnson: Detroit Lions
No one is enjoying the Lions' breakout season more than Calvin Johnson. The man they call "Megatron" had always put up big numbers, but he had often been limited by poor quarterback play. With Matt Stafford healthy and playing well, that's no longer a problem.
In just three games this season, Johnson has already piled up 16 catches, 225 yards and six touchdowns.
In Week 4, he has a great matchup against the Dallas Cowboys. The Cowboys secondary hasn't been good this season. They would struggle against the worst of passing offenses, much less a good one like the Lions'.
Wes Welker: New England Patriots
Tom Brady and the Patriots offense has been humming so far this season and fantasy owners of Wes Welker are loving it.
His numbers so far this season are bordering on ridiculous. He has 31 catches for 458 yards and four touchdowns.
Welker and the Patriots are taking on the Oakland Raiders in Week 4. The Raiders defense isn't bad, but they will be no match for the offense they will be faced with this week.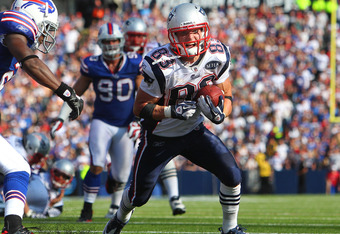 Tom Szczerbowski/Getty Images
Andre Johnson: Houston Texans
Because the Texans are taking on the Pittsburgh Steelers and their stout defense in Week 4, Johnson is a little lower on the list than he normally would be. He can still be expected to put up big numbers, though.
So far this season, Johnson has 21 catches for 316 yards and a touchdown. The touchdowns haven't come in bulk yet, but you have to believe they will.
The Steelers will be a stiff test for the Texans offense, but the the reverse can also be said. Houston's passing offense is so good that no defense will be able to truly shut them down. Johnson is still a great fantasy play.
Joseph Healy's Fantasy Wide Receiver Rankings for Week 4
1. Calvin Johnson
2. Wes Welker
3. Andre Johnson
4. Vincent Jackson
6. Mike Wallace
7. Greg Jennings
8. Roddy White
9. Stevie Johnson
10. Hakeem Nicks
11. Santana Moss
12. Brandon Marshall
13. DeSean Jackson
14. Steve Smith
15. Dez Bryant