NFL Odds Week 4: 3 Favorites That Will Blow Away the Point Spread
October 1, 2011
Rick Stewart/Getty Images
The people that run sports books in casinos are very good at what they do. There is a reason that these multi-million dollar businesses trust them to lay out spreads that will bring gamblers to their knees.
One place I think they miss the mark consistently is with favorites. The book-makers aren't big on predicting big blowouts.
Week 4 of this NFL season is no different. The following are three favorites that I think will win by much more than the point spread indicates.
All spreads are courtesy of Bodog.
Buffalo (-3) at Cincinnati
Apparently, the book-makers haven't completely bought into the Buffalo Bills yet. They say that home field is worth about three points, so they are basically saying that they think the Bills are six points better than the Bengals.
The Bills are bound to come back down to Earth at some point, but it certainly won't be this week against a far weaker Cincinnati Bengals team.
The Bills will torch the Bengals' defense just like they have every other defense they have faced this season. The Bills' defense isn't great, but the Bengals don't have the firepower to take advantage of that.
New Orleans (-7.5) at Jacksonville
This 7.5-point spread is more of a true 7.5-point spread. The Jaguars don't have much of a home-field advantage. It's factored into the spread, but the paltry crowds in Jacksonville don't do much to help the home team.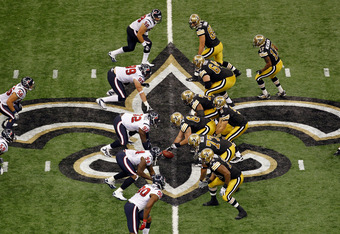 Chris Graythen/Getty Images
New Orleans is a team playing confident football. They are coming off of a big comeback win over the Houston Texans at home.
The Saints' offense is in midseason form. They have put up big points against every team they have faced. Their defense is suspect, but just like the Bengals against the Bills, the Jaguars don't have the offensive playmakers to do anything about it.
New York Giants (-1.5) at Arizona
The Cardinals' offense has been playing well so far this season with Kevin Kolb at the helm. They will have to be good to win games because their defense leaves a lot to be desired.
Faced with the fearsome defensive front of the New York Giants, the Cardinals won't be able to get much going. Kolb has yet to face a defensive line like the Giants.
I'm not a huge believer in the Giants' offense. Their receiving corps is beaten up and Eli Manning is, well, Eli Manning. He isn't the worst guy to have at quarterback, but he doesn't inspire much confidence, either.
On Sunday, the Giants' offense will look plenty good against a weak Cardinals' defense. The Giants will win big.