Major League Baseball: An Open Letter to Bud Selig About Game 162
September 29, 2011
J. Meric/Getty Images
Dear Bud Selig -
I hope you were watching Wednesday night.
I hope someone sends you the tapes of the three games in Tampa, Baltimore and Atlanta.
I hope you watch them a few times over the next few days.
I hope you think about what "Game 162" is going to mean to baseball fans forever after Wednesday.
I hope some memory of these games pops into your head before you do the unthinkable. Don't add another wild card team.
With five playoff teams in each league, Game 162 never happens. The Cardinals, Braves, Rays and Red Sox would have all made the playoffs a few days earlier. There would be no drama; there would be no epic collapse.
No one would have been watching the final games because they wouldn't have mattered.
If you think adding playoff teams would improve the races, you didn't get what was on the screen tonight.
I watched.
I watched baseball fans across the country following the games together. I watched Twitter come close to breaking because of it.
I watched four games that meant everything, three games that needed a final at bat, two games that needed extra innings.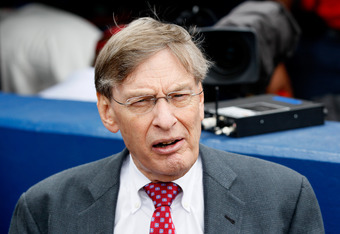 Kevin C. Cox/Getty Images
If you have your way, I am not watching. Fans aren't watching. The conversation about baseball's regular season is already over.
After Evan Longoria hit is walk-off home run, I tried to think about the greatest nights of baseball that I have watched.
I thought about being in the stands in Oakland for the walk-off bunt in the opening game of the ALDS in 2003.
I thought about watching David Ortiz hit his 12th inning blast in game four of the 2004 ALCS.
I thought about Luis Gonzalez singling to win game seven of the 2001 World Series.
I thought about Kirk Gibson's home run off of Dennis Eckersley in the 1988 World Series.
And I thought about the resumption of the World Series in 1989 after the earthquake.
All of those games have one thing in common. They were all in the playoffs.
No day of regular season baseball meant as much to me as Wednesday. No single game of regular season baseball has meant as much to fans of the game as Wednesday.
It was Game 162. It was win or go home. Everything was on the line.
If you have your way, it would have just been another game, a game that meant nothing to anyone because the season was already over.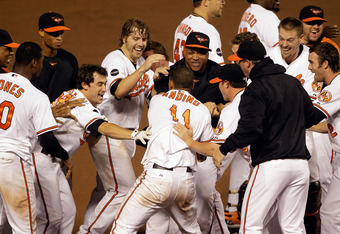 Rob Carr/Getty Images
Tonight was improbable. Tonight almost didn't happen. It took all of the baseball gods coming together to make it happen. It took planets aligning. It probably took a virgin sacrifice or two.
When Tampa was down 5-0 to the Yankees, and Boston was leading 1-0, I was sure it was over. Tampa had only scored six or more runs in 46 games this season.
When Tampa was down 7-0, I was sure it was over. The Rays' largest comeback this season had been five runs.
Entering the bottom of the eighth inning, Tampa had just a 0.3 percent chance of winning the game. Not even a degenerate gambler would put money on that. It was over.
And Boston was winning. It surely was over.
Only it wasn't.
Bud, the two minutes that saw Robert Andino single into left and then Evan Longoria homer over the left field wall were some of the most stressful minutes for any baseball fan. It didn't matter that I didn't have a team in the mix. This is the kind of baseball that makes fans for life.
This is what baseball is all about. You can't manufacture this by expanding the playoffs.
You can't make games meaningful; baseball does it all on its own. A game -- just a game -- but a game that makes grown men break down and cry because they can't believe what they are watching.
Tonight even made Joe Maddon speechless. That never happens.
Don't make the argument that it was two wild card berths at stake tonight, so that means more are better.
It doesn't matter what the playoff berth was. It matters that playoff chances are scarce. It matters that it means something to make baseball's postseason.
Expanding it just dilutes what makes baseball great. With another spot in the playoffs, you don't have the do or die attitude that comes in Game 162.
You don't have the Rays running around the stadium to celebrate with the fans. You don't have fans at the stadium.
You don't have the despair from Atlanta and Boston. You don't even have them trying everything imaginable just to get through the season.
You don't have the Red Sox considering a trade just to have a pitcher for a possible one-game playoff.
That is how amazing Wednesday night was, Bud. Boston was going to do whatever possible to make it through to the postseason. They were thinking of trading for Bruce Chen!
If there are two wild card teams, Boston would have been resting everyone since the beginning of September, and probably even earlier.
If there were two wild card teams, you don't have your own employees at the MLB network celebrating amazing finishes with moves like this.
Bud, don't do it. Don't spoil the chance of us having another night like Game 162.
It may not happen in the next 10 years. It may not happen in my lifetime.
But Game 162 meant something to me and thousands of baseball fans.
Don't take that away from us Bud.
Just put the tapes in Bud, and watch the games one more time.
You won't want to change anything either, because Game 162 was the greatest night of regular season baseball ever.
Ever Bud, ever.
Sincerely,
Baseball Fans