Ripken Revenge: Boston Red Sox Watch MLB Playoffs with Baltimore Orioles
September 29, 2011
Greg Fiume/Getty Images
There are some moments in life where you just think to yourself, "karma really does exist." There are some other moments where, even when times are hard, moments of hope for the future come to light.
For the Baltimore Orioles and their fans, tonight was one of those nights. One of those nights that not only makes people sports fans, but one of those nights where karma really does exist. Early in the evening, it seemed certain that the American League Wild Card Race was following a very simple script.
The New York Yankees held a 7-0 lead over the Tampa Bay Rays down at Tropicana Field, while the Boston Red Sox clung to a narrow 3-2 lead over the Baltimore Orioles at Camden Yards. Mind you, these were the scores beginning in the eighth inning for both games. A mere 12 outs stood between staggering Boston and a trip to the postseason.
Even as the Rays rallied to put up a whopping six runs in the bottom of the eighth, and then tied it in the bottom of the ninth to force extra innings, the Red Sox remained in control of the game.
Yet another chance for relevance was to be denied to the Orioles...on the precipice of one magic moment, to be stolen from Orioles fans, in our own stadium, just as Cal Ripken's career ended in the on-deck circle. Against the bleeping Red Sox.
In a meaningless game, with both teams eliminated from postseason play, all of Oriole Park on its feet chanting, "We Want Cal! We Want Cal!" the Red Sox chose to pitch to Brady Anderson... and they struck him out, with arguably Baltimore's greatest ever sports icon standing in the on-deck circle, knowing it was Ripken's last game.
Yet another year of suffering, without any semblance of revenge, without another chance to destroy Boston's heart and twist the knife.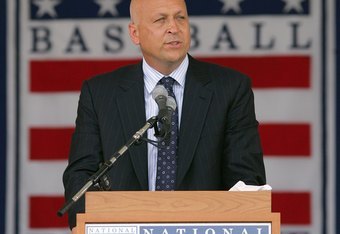 Chris McGrath/Getty Images
But then, as they say in Baltimore..."something magic happened." The Orioles reached back into their proud history and came up with something worthy of "Orioles Magic," something that for one night, at least, made them forget yet another miserable, disappointing season.
With two outs in the ninth inning, and down to their final strike against Red Sox closer Jonathan Papelbon, Nolan Reimold doubled home a run to tie the game. As the coup de grace, the previously hitless Robert Andino singled into left field, bringing home Reimold with the winning run.
Evan Longoria's walk-off solo home run in Tampa sent the Rays to the postseason... and the Red Sox home to rot in their misery, their king-sized payroll in tow.
For denying a proud city one last chance to see its hero step into the batter's box, it was going to eventually come back to bite the Red Sox, at the hands of the city it spat upon all those years ago.
On this night, the lowly Orioles, with their long-running streak of losing seasons, dragged the loathsome Red Sox Nation into agony and despair.
And one could not help but think... "karma really does exist." Tonight, it was a beautiful thing.