Fantasy Football Week 4 Wide Receivers: Who to Add, Drop and Ignore
September 28, 2011
Rick Stewart/Getty Images
With unexpected performances from a lot of teams, more injuries than a stairwell covered with ball bearings and key fantasy players already nearing bye weeks, the 2011 season has already been interesting so far, to say the least.
Week 4 is typically when the true picture of a season begins to be painted, and in my experience the guys you pick up off the wire around this point in the season are usually the ones who make the difference in the rest of your season.  
I feel it is important to note that I try to look more at who is being targeted and putting up respectable stats from week to week. One-week wonders often are just that, and not usually the guys who help you out later in the season. Keep that in mind with my notes below.
Let's take a look into wide receivers who might be on your radar this week. Tight ends, who are basically receivers in fantasy leagues anyway, are also included.
I'll be back later this morning with a look at quarterbacks, which will move to Wednesdays from the usual Thursday slot.
Pickups (get 'em and make some dinner plans)
Torrey Smith (Baltimore Ravens) 
Smith went off for 152 yards and three touchdowns on five grabs, practically all in a row.
Temper your expectations, as he this was his NFL debut and he did tweak his hamstring in the game.  Don't expect this to be the norm but certainly worth a grab, especially considering Lee Evans has been banged up and Ray Rice will always draw a ton of defensive coverage up front.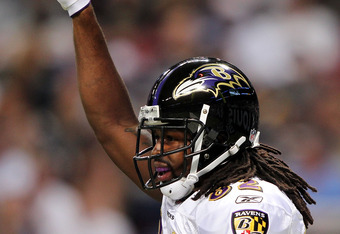 Jamie Squire/Getty Images
Smith is shockingly sitting on almost 80 percent of Yahoo! leagues right now, even after these numbers.
Antonio Brown (Pittsburgh Steelers)
My opponent in one league started Brown against me in Week 2.  I wondered why then but I don't now.
Brown was targeted more than any other Steeler last Sunday and the trend seems primed to continue.  If you are in a league that gives return yard stats you get a bonus here as well.
No fewer than 80 percent of Yahoo! owners are sleeping on this guy right now.
Nate Washington (Tennessee Titans)
With Kenny Britt out for the year now, Washington becomes the top WR on the Titans.
He's not going to give you Andre Johnson numbers by any means, but owning the top guy on the depth chart is always an attractive option.  In almost 60 percent of Yahoo! leagues at the time of this writing, you can be the guy or gal to pick him up.
David Nelson (Buffalo Bills)
Another decent performance on Sunday.  He's now hauled in 20 passes already this year, yet still sits on the bench in almost half of Yahoo! leagues.  A MUST-add in PPR leagues and a good option in non-PPR formats as well.
Lance Moore (New Orleans Saints)
He's back and healthy.  He's a good flex or bye week option until he gets hurt again.
Ignores (don't fall in love yet)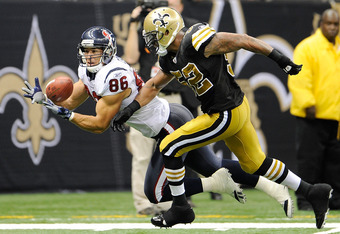 Stacy Revere/Getty Images
Listed as a running back as well in some places, Casey appears here due to a double position listing on Yahoo! as a tight end.  I don't expect him to see action like he did this past week, as he's too valuable as a run blocker.  He saw his opportunities because the Texans saw something on film and because Ben Tate can't seem to catch as well as he can run.  Don't rush to grab him off the wire.
Victor Cruz (New York Giants) 
Not sold yet.  With Mario Manningham out, Cruz cruised to a big day, but it was due to double teams on Hakeem Nicks with Manningham on the bench hearing bells.  Manningham appears ready to come back in now.
Donald Jones (Buffalo Bills) 
While it looks like the Bills may be one of those teams where all offensive weapons are a good choice, I don't see Jones having the opportunity to post Sunday's numbers on a weekly basis right now with so many options on the field for Buffalo.
Drops (that sound on the floor should be these guys)
Kenny Britt (Tennessee Titans) 
Britt came out of Sundays game with one less knee than he entered with.  He's gone for the year, dump him.
Chad Ochocinco (New England Patriots) 
You'd think Ocho's knee was gone, too, but he's just not doing anything despite shootouts, huge Tom Brady stats and an injury to Aaron Hernandez that had some fantasy gurus talking him up last week.  With so many productive guys on the wire, there's no reason to keep him around right now.