2011-12 Predictions for the NHL Regular Season, Postseason and Awards
September 27, 2011
Bruce Bennett/Getty Images
Eastern Conference
Atlantic Division
Philadelphia Flyers - In perhaps the most economic upgrade, they added rival Maxime Talbot from the Pittsburgh Penguins for five years, $14M. Talk about value. They also upgraded in goal with former Phoenix net minder, Ilya Bryzgalov stopping the revolving door in net. He should be good—until the playoffs like usual. Added Jaromir Jagr for nostalgia sake whom I don't expect much out of.
New York Rangers - They didn't really lose any impactful free agents. They added former Star Brad Richards in the annual overpaying of a player. He'll have a rough adjustment to the bright lights of the big city. Expect another early playoff exit.
Pittsburgh Penguins - They would be above the Rangers if Crosby was fully healthy. Who knows what, if anything, they'll get from him. Personally, I'm torn between him ever playing again (to which I have my doubts) and if he does come back, he'll never have the impact he once had. I think he'll be a shell of himself. The Pens lost Jagr and Talbot and didn't really upgrade that lost production.
New York Islanders - The Devils should be higher? Was last year's early slump a misnomer? Lots of young talent here locked up long term, most recently the No. 1 pick from two years ago, John Tavares. It's time they take the next step. Don't be shocked if they flip places with the Penguins and steal the No. 8 seed. Also, don't forget they have former Shark Evgeni Nabakov who is an intriguing wild card in net.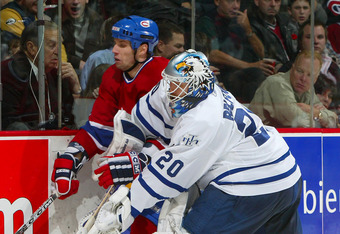 Charles Laberge/Getty Images
New Jersey Devils - They lost veteran presence Brian Rolston to the Islanders. Their loss is the Islanders' gain. Rolston was one of those locker room guys who played well for Jacques Lemaire and isn't there anymore. The team has financial troubles which could cause them to dump more talent and not add depth or anything at the deadline should they actually compete.
Northeast Division
Buffalo Sabres - no team added more flash or opened up the pocketbook more creatively than Terry Pegula and the Sabres. They added defenseman Robyn Regehr, winger Ville Leino, d-man Christian Ehrhoff, all of whom bring a ton of playoff experience and balance the roster. Don't forget this team made the playoffs last year as the No. 7 seed with far less talent and depth. Derek Roy should come back fully healthy too.
Montreal Canadians - Added former Hurricane Erik Cole. Didn't really lose anyone. Solid playoff team. Wait until April where it really matters.
Boston Bruins - The champs have depth and experience obviously. They lost Tomas Kaberle to Carolina and Mark Recchi to retirement, but didn't add anyone either. The team will miss Recchi's leadership, experience and playmaking ability. Benoit Pouliot doesn't count. Still what they have left should be good enough for a playoff spot and they can go from there.
Toronto Maple Leafs - The playoffs just don't seem right without them there. They haven't made it since 2004. This could be the year as they rallied late to just miss out. Lots of young talent here and you know they have the cash to add pieces. Add veteran Tim Connolly formerly of Buffalo. I wonder if he still lives in his same house and commutes to work? John Michael Liles was a budding star in Colorado.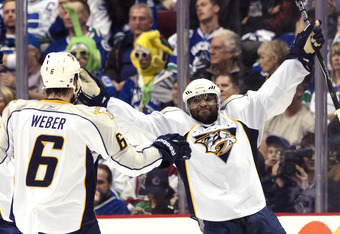 Rich Lam/Getty Images
Ottawa Senators - When does the fire sale start? Jason Spezza and Daniel Alfredson deserve better. Is this the year they finally get moved? Enigma team. They made the playoffs easily two years ago as a No. 4 seed and looked lost and terrible all season long last year. This is what small market Canadian hockey does with its limited payroll.
Southeast
Washington Capitals - They added playoff stud Joel Ward formerly of the Nashville Predators. At $3M per year, they paid handsomely for a few good weeks of work. But the most interesting move of the offseason was trading their backup goalie, a 25-year-old Russian Seymon Varlamov, to the Colorado Avalanche for what should be a Top Five pick next summer when the Avs gave up their lottery first round pick in a disastrous, desperation move.
Tampa Bay Lightening - They re-signed Steven Stamkos. They didn't really add anyone but didn't really have to. They didn't lose anyone important either. The Canadians of the Southeast, just a solid playoff team.
Winnipeg Jets - I still can't believe I just typed that. Welcome back, boys. Having watched them in preseason, the Jets are thin on depth and can't get many shots on goal. They traded for a few native Winnipeggers in Eric Fehr from Washington and signed Derek Meech. Meech likely won't  make the team but he is a good PR move along with the puck-moving Fehr.
Don't forget that as the Atlanta Thrashers, this team was in playoff contention all season until the final month. They re-signed Andrew Ladd and Nick Bogosian to go with Evander Kane, Dustin Byfuglein and Blake Wheeler. This year will be an emotional run that may just will them into the playoffs. They'll be treated like rock stars wherever they go, not to mention the energy of playing at the sold out MTS Centre every night.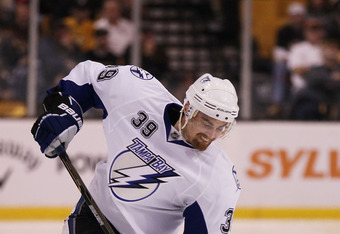 Elsa/Getty Images
Carolina Hurricanes - They added former Flyers goalie Brian Boucher and Sabre Alexei Ponikarovsky, but lost veteran Eric Cole. Jeff Skinner and Brandon Sutter are good emerging kids but there isn't enough here yet to take that next step and they lack the veteran presence.
Florida Panthers - They spent monopoly money on a slew of veterans just to get up to the cap. Most questionable was whiny Scottie Upshall who wanted to stay in Phoenix when it looked like they were returning to Winnipeg. They also added Jose Theodore and traded for Brian Campbell's massive contract,
Western Conference
Central Division
Detroit Red Wings - Steady as she goes. They lost veteran Brian Rafalski but retained Nikolas Lindstrom for another season. None of this matters until the playoffs anyway but the real storyline is, do they move to the Eastern Conference when realignment comes to put the Jets in the West and another team in the East? When do the Coyotes officially move to Quebec, which is going to create more geographic problems.
Chicago Blackhawks - When you have as much talent as they do, you don't have to do much. Ridding Campbell's contract likely prevented a another fire sale.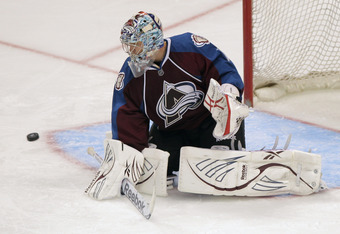 Doug Pensinger/Getty Images
Columbus Bluejackets - Opened up their wallets and overpaid defenseman James Wiesnewski for six years, $33M which they will soon regret. They also traded for former Flyer Jeff Carter which was sorely needed. This should result in a playoff birth, though.
Nashville Predators - They lost longtime veteran Steve Sullivan to Pittsburgh. They didn't add anyone and lost playoff stud Joel Ward to Washington.
St Louis Blues - All they did was sign a pair of ex-Devils in Jamie Langenbrunner and Jason Arnott. Both are past their prime and there isn't enough playmakers here to notice.
Northwest Division
Vancouver Canucks - Make no mistake they are still the class of the division, but Minnesota did the best at closing the gap. They lost Erhoff to the Sabres but re-signed Kevin Bieksa in a smart move. This is a tremendously deep team that should start right back where they left off.
Minnesota Wild - They upgraded their firepower in three separate trades with San Jose which landed them Dany Heatley, Devin Setoguchi and a slew of young kids that replenished their barren minor league system in Houston. These kids include the No. 28 first-round pick Zach Philips and Charlie Coyle, who was the Sharks' top prospect See more analysis here. http://bleacherreport.com/articles/758149-second-trade-in-10-days-for-the-san-jose-sharks-and-minnesota-wild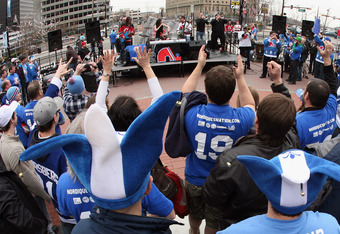 Bruce Bennett/Getty Images
Minnesota native Mike Lundin, formerly of the Lightning, will be another Greg Zanon in terms of blocking shots, moving the puck and keeping the puck out of the net. What Heatley and Setoguchi add to the top lines in offense, Lundin will have that same kind of impact on defense. Finally, They added tough guy Darrell Powe from the Flyers who should add hits similar to Cal Clutterbuck, a perennial league leader whose job just got easier. Minnesota made cold, calculated moves to increase their depth at both the major and minor league levels, some of which you won't see this year.
First year coach Mike Yeo got the most out of that lack of talent in Houston leading them to within a win of the Calder Cup trophy. He'll get the most out of the rest of the roster.
Calgary Flames -  Like Spezza, Jarmone Iginla is another vet who would benefit from a change of scenery. It ain't gonna happen here in terms of winning.
Edmonton Oilers - Taylor Hall, first-round pick Ryan Nugent-Hopkins and Jordan Eberle are a very nice core. They finally rid themselves of Sheldon Souray's cap-killing $4.5M contract and added former first-round bust Cam Barker and Eric Belanger in free agency. This team is coming and coming fast. They could jump Calgary if it all comes together. Can they get their new arena to stay in Alberta? That's the real long-term question.
Colorado Avalanche They have some nice talent in Matt Duschene, but made that boneheaded trade giving away virtually a Top Five pick next year for a young and promising goalie who had better be worth it. They just crushed their most prized asset and one they will sorely miss.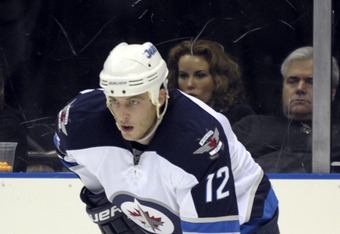 Sara D. Davis/Getty Images
Pacific
San Jose Sharks - Amazing how many Sharks fans actually think they got the better of the Wild-Sharks deals. Obviously I'm biased as a Wild fan, but if you really think Setoguchi for Havlat is an upgrade, or adding broken down first-round bust James Sheppard for a  third-round pick makes you better, more power to you. What you see is what you get in both, whereas Setoguchi is money in the playoffs as Shark fans should know. Plus he was a Wild killer, so it's addition by subtraction. They never appreciated Heatley but we'll take our best scoring threat since Marian Gaborik.
LA Kings -  They added former Flyer Mike Richards, who was dealt for solid playmaker Wayne Simmonds who really brought it in the playoffs. They also added Dustin Penner in an expensive and curious move at the deadline last year
Anaheim Ducks - They didn't add anyone but they didn't lose anyone either.
Dallas Stars - They barely made the playoffs with Brad Richards. They haven't gotten close to replacing that lost production. They added solid veteran Michael Ryder but he's no Richards and that move just seemed to spend money just for money's sake.
Phoenix Coyotes - Their last year in the desert isn't going to be a memorable one. They lost two of the big reasons why they overachieved in front of last year's apathetic fan base in Ilya Bryzgalov and heart-and-soul player Lee Stempniak, who went to Calgary for Damon Lankow.
Ouch, what a downgrade. They lost cheerleader Upshall as explained above. Without these competitors, their attendance should plummet forcing a much needed and welcomed move. The nostalgia and excitement Winnipeg will bring all season isn't going to help them either as Quebec continues to make progress on a new arena.
Coaches to get fired:
Dave Tippett, Phoenix Coyotes - The former Coach of the Year will be ousted right before the big move as Quebecor ownership and Pierre Karl Pedeleau will want to bring in their own men to run Le Nordiques
Davis Payne, St. Louis Blues - They're having ownership issues of their own. This prevents them from adding depth in order to make a difference on the ice. Wouldn't be shocked if Paul Maurice's run in Carolina came to an end although I think it would be the absolute wrong move.
Brian Sutter, Flames?
Awards:
Calder (top rookie) Brett Bulmer, Minnesota Wild
Vezina (top goalie) Roberto Luongo, Vancouver Canucks. Beats out Bryzgalov of the Flyers and Ryan Miller of the Sabres as finalists
Jack Adams (top coach) Lindy Ruff, Buffalo Sabres (even though we really should give it to Claude Noel for the pressure he's got in rabid Winnipeg)
Hart Memorial (MVP) Henrik Sedin, Vancouver (too much firepower/playmakers around him)
Rocket Richard (most regular season goals) Steven Stamkos, Tampa Bay Lightening, 55
Norris (top defenseman) Nikolas Lindstrom, Red Wings (the safest pick there is to make, six-time winner)
Lady Byng (Gentleman's) Sportsmanship award (the coolest, most underappreciated award there is) Can't we just give it to the whole Winnipeg Jets team? Seriously. In any event, Dustin Byfuglein, Jets.
Stanley Cup Playoffs
Eastern Conference
(1)   Philadelphia Flyers vs (8) Pittsburgh Penguins, Flyers in 5.
(2)   Buffalo Sabres vs (7) Boston Bruins, Sabres in 6.
(3)   Washington Capitals vs. (6) Montreal Canadiens, Canadiens in 6
(4)   Tampa Bay Lightning vs. (5) New York Rangers, Lightning in 6
Conference Semis
(1)   Philadelphia Flyers vs (6) Montreal Canadiens, Flyers in 6
(2)   Buffalo Sabres vs. (4) Tampa Bay Lightening, Sabres in 6
Conference Finals
(1)   Philadelphia Flyers vs. (2) Buffalo Sabres, Flyers in 6
Western Conference
(1)   Vancouver Canucks vs (8) Anaheim Ducks, Canucks in 5
(2)   Detroit Red Wings vs (7) Columbus Blue Jackets, Red Wings in 4
(3)   San Jose Sharks vs. (6) LA Kings, Kings in 5.
(4)   Chicago Blackhawks vs. (5) Minnesota Wild, Chicago in 5.
Conference Semis
(1)   Vancouver vs. (6) LA Kings, Vancouver in 5
(2)   Detroit Red Wings vs. (4) Chicago Blackhawks, Chicago in 6
Conference Finals
(1)   Vancouver Canucks vs (4) Chicago Blackhawks, Vancouver in 7
Stanley Cup Finals
Philadelphia Flyers vs. Vancouver Canucks, Flyers in 6
Conn Smythe (Playoffs, MVP) Maxime Talbot, Flyers (many clutch, OT goals)