San Francisco 49ers: The True Reason for the Offensive Struggles
September 27, 2011
Thearon W. Henderson/Getty Images
"Get out of here Alex Smith - Loser"

"Alex Smith is the best player the Bengals have!"

"Can we get Favre? He is old and busted but anyone but Alex Smith please."

"I wish the Niners would sign Garrard."
And my personal favorite:
"SACKED!!!!!! SMITH SUX!!!"
These are just a handful of quotes about San Francisco quarterback Alex Smith that I found on live 49er message boards during the game against Cincinnati last Sunday.
This isn't the first time we've heard this. There have been plenty of excuses for Smith as well—poor coaching, bad offensive line, etc. For years now, Alex Smith has been the scapegoat for San Francisco's offensive struggles.
But is Alex Smith really the problem?  After reading this, you might think otherwise.
There are some interesting facts out there about Alex Smith. For example, did you know he currently stands at No. 13 this year among all QBs in passer rating? That's ahead of Michael Vick, Phillip Rivers, Ben Roethlisberger, Jay Cutler and rookie phenom Cam Newton.
Did you know that his rating would be even better if the 49ers weren't second overall in most passes dropped? That's right, the 49ers receivers have dropped 8.1 percent of all of the passes Smith has put in their hands. Miami leads the league with 8.3 percent of pass attempts dropped.
Did you know that, last year, Smith finished with the best passer rating among NFC West QBs? Sure, Smith is no Tom Brady, but he's not the worst QB in the league either.
With the stifling defense the 49ers have, a new coach who understands the quarterback position, a veteran running back and several receivers who can make big plays, there's no reason this offense shouldn't thrive.
So what's the problem?
As a 49ers fan, I haven't been able to figure out why the blame has always been so heavily on Alex Smith, especially over the past two or three seasons. Sure, Alex has had his ups and downs, but San Francisco running back Frank Gore has been downright atrocious.
I, like every 49ers fan, appreciate the effort and loyalty Gore has shown to the franchise. For years, just as Alex Smith has been consistently thrown under the bus, Gore has been given a pass in spite of his pitiful performance.
Thanks to a stellar defense and good game management by Alex Smith, the 49ers are at 2-1 and one overtime loss away from being 3-0 on the season. Frank Gore has done absolutely nothing to contribute. San Francisco ranks 30th of 32 teams in the NFL in yards per game. Gore ranks 44th in the NFL in yards per carry.
But this type of dismal play isn't anything new for Frank the Tank.
Last year, he finished 25th in the league among running backs with a 4.2 yard-per-carry average. Ask yourself this: When was the last time Gore averaged over 5 yards per carry for a season? Two, maybe three years ago? Not since 2006 has he done it. Gore had a whopping three rushing touchdowns last year, and has only gotten into double digits once in his career (2009).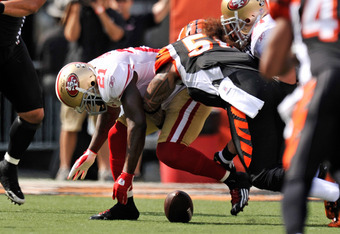 Jamie Sabau/Getty Images
Watching Gore, he lacks the power and quickness he once had. He looks old and seems to fall down after first contact too. Running backs have an early and short-lived prime. At 28, and with such major injuries as shoulder surgery, a broken hand and fractured hip, Gore is past his prime.
Alex Smith is doing everything he can to get the 49ers wins each week. Think about how much he must want to succeed if he has a desire to play for a team where his own fans boo him every time he throws an incomplete pass. Think about how much better he could do if the team actually had a running threat. Think about how many fewer teams would double or triple team tight end Vernon Davis if opposing defenses had to use more players to stop the run.
Instead of booing Smith, why don't they boo Gore each time he gets stuffed at the line on 1st-and-10 or 3rd-and-1?  
It may be difficult, but you 49ers fans need to face it. For the past two seasons, the problem hasn't been Alex Smith. It's been Frank Gore.