Randy Johnson: Where Does He Rank Among Left-Handers All-Time?
September 27, 2011
Christian Petersen/Getty Images
Finally, the beatwriters are coming around on how to grade pitchers. For the last several seasons, they have not given the Cy Young award to the pitcher who led the league in wins.
That will likely end this year with Justin Verlander, but Verlander deserves it. Hopefully, that increased knowledge will make its way to the Hall of Fame.
Randy Johnson definitely is in the Hall of Fame, but he has so many competitors for the top lefty slot on the all-time list. He has the 300 wins. He has the 4000+ strike outs. He has the Cy Young awards. Today, we are going to see if he has what it takes to claim the top spot among lefties.
The Hall of Fame Index set to evaluate pitchers the same way it evaluated position players. Won-loss records aren't as important as wins. Sometimes pitchers pitch great and don't get the win. Sometimes they pitch poorly and win.
So, let's take a look at how the index works before we look at how Randy Johnson stacks up.
The Formula
The idea behind the Hall of Fame index was the fact that the Baseball Beatwriters Association of America (BBWAA) and Veterans Committee often overlook certain players based on prejudices they have.
In the sabermetric field, there have been numerous "ubermetrics" designed to evaluate the whole player. Unfortunately, all of those have their own sets of assumptions that sometimes overlook or overvalue certain things.
The most popular of these are called win shares, wins above replacement player (WARP), and wins above replacement (WAR). What I did was combine these three numbers into one number. I also added an element for peak value as well. The end result was that the combination did a better job of matching the selections made by the BBWAA.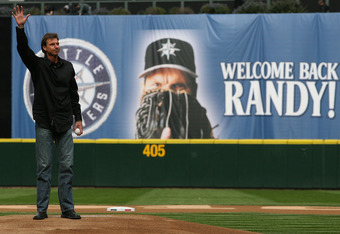 Otto Greule Jr/Getty Images
The implication here is that if it does a better job of explaining what has been done in the past, then it will do a better job of predicting who will make it in the future.
It also will help the voters separate the deserving candidates from the pretenders. Naturally, it can also help rank players, but that was not its intended purpose.
Career Value= Win Shares/3 + WAR + WARP3
Peak Value= Win Shares best 10 years + WAR best ten seasons + WARP3 best ten seasons.
The book was published at the end of 2010, and the data was compiled as of the end of the 2009 campaign. Therefore, the numbers have changed since then, and WARP3 doesn't even exist anymore. At the time, it was compiled to allow for differences in length of schedule. The current formula is similar, but not exactly the same. 
Career Value
Win Shares: 108.67
This is one area where win shares tends to have a huge problem. Bill James gave more credit to pitchers for limiting runs than the other two formulas. Therefore, pitchers in the early game were rewarded for going long innings.
Modern pitchers have higher strikeout totals and that favors the newer formulas. Of course, Johnson will get in regardless.
WAR: 91.8
Remember, WAR is usually considerably less than win shares, but here we see Johnson close the gap some. Simply put, modern pitchers are more valuable because of the larger strikeout numbers. So, the gaps in innings pitched end up getting closed.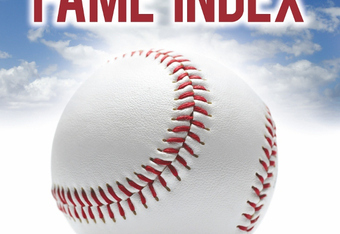 WARP3: 115.0
The transformation is complete. WARP3 really gives a lot of credit to the modern pitcher, so Johnson has a chance to shine. Obviously, pitching well into his 40s helped him enjoy some high career value numbers.
Career Value: 315.47
Peak Value
Win Shares: 76.33
Again, win shares gives tremendous credit to some of those individual seasons where pitchers pitched ungodly innings. Lefty Grove was the first of the big-time lefties and he frequently went over 300 innings. It's hard to compete with that.
WAR: 72.1
Remember what we said about Griffey Jr. When you average 7.2 wins above replacement over 10 seasons it means you likely deserved a half dozen Cy Young awards.
WARP3: 87.1
Another awesome total for an awesome pitcher. While Johnson didn't hurl the innings in those individual seasons, he put up some gaudy numbers.
Peak Value: 235.43
Total Value: 548.9
Putting it all together
Typically, anyone with 500 or more index wins is what I would call a first ballot type of Hall of Famer. Anyone between 450 and 500 is comfortably in. Anyone between 400 and 450 is what I would categorize a borderline Hall of Famer. 
Randy Johnson didn't fare as well as might have expected because modern pitchers get hurt so much by the win share data. He ends up in third place behind Lefty Grove and Warren Spahn.
Lefty Grove is a no-brainer. He led the league in strikeouts in his first 10 seasons and led the league in ERA nine times. 
Spahn is not as easy a call. He pitched forever and is No. 1 on the all-time wins list for lefties, but he never reached Johnson's peak. Plus, Johnson pitched in a much more difficult era.
Want More?
If you are interesting in reading more about the Hall of Fame Index you can find it at Amazon and Barnes and Noble. Both sites have them available in paperback and ebook form.