Cam Newton vs. Blaine Gabbert: Which Rookie QB Shined in Week 3?
September 26, 2011
Streeter Lecka/Getty Images
Cam Newton may not have had another 400-plus yards passing in Sunday's meeting against fellow rookie Blaine Gabbert and the Jacksonville Jaguars, but coming away with a win seems much more important than another personal notch on the kid's scorecard.
A bevy of defenders are waiting to get their hands on Newton or any ball that becomes dislodged from his fingertips, but Sunday it was the "more complete" rookie quarterback Blaine Gabbert who was picked off while Cam walked away from the game with zero interceptions and his first career NFL win. But, besides the INT that Gabbert was responsible for, which aspects of each rookie QB stood out and when compared could place one ahead of the other?
Well, it cannot possibly be wins. While both the Jacksonville Jaguars and the Carolina Panthers are neck and neck with 1-2 records at the end of Week 3, Newton's start came in Week 1 with an impressive 422-yard performance against the Arizona Cardinals. Gabbert's first start came only this week after the Luke McCown experiment began to fail miserably.
What did Jacksonville expect? For a quarterback who seemed no greater than the rookies most recently feathering their way into the league, McCown should never have been second in the chain of command. David Garrard's dismissal should have been for the sole purposes of declaring Gabbert ready for takeoff—not to prove that McCown had a taste of starter syndrome in him.
Gabbert has been brought to the forefront, I assume permanently, and even though Andy Dalton sits cozily in Cincinnati as a rookie himself, the comparison between Gabbert and Newton will be the most enticing and argumentative. Therefore, analysts must find creative ways to evaluate each QB. Not just wins and losses.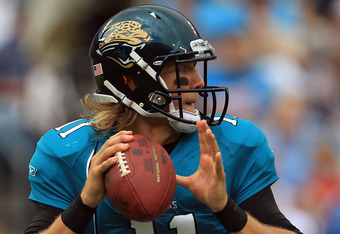 Streeter Lecka/Getty Images
The Panthers put up 10 passing first downs while Gabbert and the Jaguars only tallied four. This cannot be attributed to a lack of time of possession because the Jaguars held on to the ball for about a minute longer than Carolina. However, Newton managed to iron out enough wrinkles that the weather presented his offense to throw for more yards than Gabbert and get the Panthers in a good field position three times, two that translated into a field goal and one drive that resulted in eight points for the rookie's squad (a touchdown and a short pass to Greg Olsen for a two-point conversion).
Anyone who watches football even on occasion knows how smoldering the goal line is once an offense closes in on it. As those gaps narrow, it is harder for a team to wriggle their way into the end zone, more less add an additional two points onto their score with a two-point conversion pass to the same tight end that scored the aforementioned TD.
Gabbert may have been more accurate than Newton, but that was with less throws and an interception tacked onto his performance. Besides a QB's solo passing performance in a game, the two can also be compared by lining up their rosters to see under what pressures they were to perform solely as a passer and far less as a distributor.
Gabbert had a safety blanket in Sunday's game. Maurice Jones-Drew was his insurance policy. If he ever got into trouble there was always one man in stellar position to receive or run. Jones-Drew finished the game with 24 carries and 122 yards, not to mention he came second to Jaguars' WR Mike Thomas in the receiving category with an additional 45 yards receiving.
Newton, on the other hand, did not have that security blanket. Usually, one can look directly towards Panthers' WR Steve Smith for those life-altering statistics, but on Sunday he had only two receptions for 15 yards. Newton showed decent reads and spread the offense accordingly. Newton started off a bit unsteadily in the first portion of the game, but in the second half he began showing patience as he did in the previous games against Arizona and Green Bay.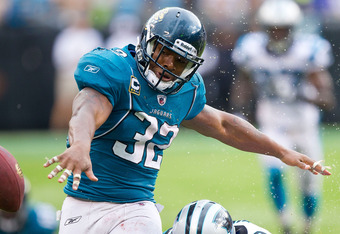 Brian A. Westerholt/Getty Images
Once again the conditions did not play the greatest assistance to the rookie with home field advantage, but he barreled through it and made plays like a solid quarterback is asked to do on a consistent basis. The fact that his rushing statistics were greater than DeAngelo Williams, the seemingly overpaid Panthers' RB, is something that should be discussed within ranks. But, with the lack of his contribution, Newton still managed the game and came out with his first NFL win.
While Blaine Gabbert was proposed to be a more complete QB than Cam Newton, I would bet my last dollar that hindsight presents Jerry Richardson and Coach Rivera no inkling of regret.
Cam was their man and will continue to be their guy as he pushes through this season with a chip on his shoulder and the Panthers' offense on his back.