Lewis Hamilton: Another Crash, Another Penalty, the Soap Opera Continues.
September 25, 2011
Paul Gilham/Getty Images
Yet another episode of frustration has been added to the soap opera that is Lewis Hamilton's career at an interesting yet unexciting Singapore Grand Prix.
As we have come to expect from the younger McLaren pilot, there was brilliance tempered with a clumsy and seemingly unnecessary collision which damaged the car and saw the Brit hit with another penalty.
After picking up a puncture in the final qualifying session, Hamilton could only manage to qualify fourth after being widely expected to challenge for the front row and possibly break the stranglehold that Red Bull managed to take at pole position in 2011.
Hamilton got off the line brilliantly, but had the misfortune of being behind the perennially slow starter Mark Webber. He got trapped on the dirty side of the track while he was passed by Ferrari's Felipe Massa and the Mercedes of Nico Rosberg and Michael Schumacher.
Fortunately, there was none of the Shumacher-Hamilton shenanigans that became the main talking point of the Italian Grand Prix. The 2008 World Champion scythed past with little fuss and repeated the dose with Rosberg a lap later.
Then it all went downhill.
As it appeared obvious that Hamilton would get past Massa with a couple of probing moves and obvious speed differential, Hamilton turned in on Massa and took a sizable chunk of his front wing off in the process.
Unfortunately, in the process of making the front of his car a bit lighter, Hamilton put a hole in the right rear tyre of the Ferrari and brought himself squarely into the cross-hairs of the stewards.
Watchers of Hamilton's career will be well aware that any time he attracts the attention of the stewards, it usually ends badly. The Singapore stewards saw no reason to deviate from tradition and handed him a drive-through penalty for causing a collision.
Even the most fervent Lewis fan would have a difficult time arguing his innocence on this occasion, but they would certainly be impressed with how their man responded after the fact.
After being down as low as 16th, Hamilton proceeded to climb back through the pack and at one point asked his engineer whether it was worth the effort.  
After being convinced that it was, Lewis decided to fight for some points.
Hamilton has a reputation for doing one of two things after his race plan has been thrown out.  He can either throw the toys out of the cot and end up getting himself into more trouble or put his head down and show us what he's really capable of.
In the end, Hamilton brought his car home in fifth place, behind Fernando Alonso, 67 seconds behind Vettel, however when you factor in the two extra 30 second trips through the pits that he made, it was a pretty good result.
Despite a creditable effort in Singapore, the 2011 championship is now officially out of reach for Hamilton—as it is for Fernando Alonso, Mark Webber and everyone else in the field except teammate Jenson Button.
And therein lies Hamilton's real problem. At the beginning of 2010, most F1 followers would have pegged Hamilton as the number one driver at McLaren, despite the team's protestations that both drivers were equal.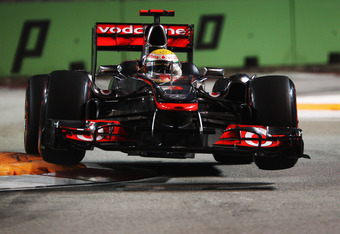 Mark Thompson/Getty Images
At the end of season, those assertions would have been vindicated as Hamilton finished 26 points ahead of his teammate.
This year, things have changed and now many pundits are suggesting the wise head of Button is the better choice as leader, which Button has backed up by being the only remaining challenger who can mathematically stop Sebastian Vettel from claiming consecutive titles.
Lewis Hamilton is damned no matter what he does. If he races hard, as he did in Singapore and makes a small misjudgement, he's criticised for being reckless and dangerous. If he's circumspect and cautious as he was at Monza, he's criticised for not being attacking enough.
Then again, he's brought it all on himself by making some big and sometimes arrogant and inflammatory statements in his career.
Still, he gives us something to talk about about other than DRS and KERS and the soulless automation that has become the hallmark of F1.
He brings passion to the sport—and that can't be bad, can it?