Arsenal: Potential Contract Crisis for Van Persie, Walcott, Song and Vermaelen
September 24, 2011
Scott Heavey/Getty Images
With all the negativity, panic and "crisis" talk swirling around the Emirates Stadium (and the newspapers) at the moment, the last thing that Arsenal fans needed was this.
But after a summer when we've lost two of our best players, including our captain Cesc Fabregas, it's a relief that the club have acknowledged the importance that this issue deserves.
Robin van Persie, Theo Walcott, Alex Song and Thomas Vermaelen have all entered the last two years of their respective contracts, and if status quo remains when we reach next summer's transfer window, Arsenal fans could be forced to witness the encore of a soap opera that no one connected with the club enjoyed at all.
If you think I'm talking in riddles, let me spell it out (not so) nice and clear:  If Arsenal do not sort out (read "renew") these four players' contracts by next summer, we will, in all likelihood, allow them to "do a Nasri", i.e. risk losing them for nothing in 2013.
Getting players to renew their deals is no easy task.  There's more to it than a wage increase, a shake of the hand and a signature.  There are multiple angles, a myriad of points of view and way too many interested parties.  
To top it all, there's Arsene Wenger, no easy negotiator at the best of times.  He will steadfastly stick to his prudent (occasionally known as stubborn) principles and do what he believes is best for the club.
Let's first look at the wage aspect. I've heard a number of fans wonder why Arsenal didn't sign Kun Aguero, Samuel Eto'o or Wesley Sneijder during the summer.  We had the transfer funds, after all, and these players were all available for £35 million or less. Then why not?
Well, it's the wages.  Arsenal, being a financially prudent club, have a strict wage structure in place. As per that structure, our top earner, Robin van Persie, makes about £90,000 a week.  Eto'o, Aguero and Sneijder all wanted more than double that amount, which is also why Sneijder didn't go to Manchester United (surprise, surprise, they have a wage structure too).  And if we had paid one of them a crazy wage like that, Arsene Wenger would have had a highly disgruntled squad (or conversely, CFO) to deal with. 
Fast-forwarding to next year, if Theo Walcott's agent thinks he can get his client £120,000 a week at Chelsea or Manchester City (or PSG!!), Wenger is in trouble.  Because if he pays Theo that much, he will definitely have to pay van Persie, Vermaelen, Wilshere, Song and Sagna more, on account of them being more valuable to Arsenal than Theo (my opinion).  
How he juggles these competing forces—players, agents, other clubs and his budget—is anybody's guess, but it will be one helluva job.  Now multiply that by four, and you will understand the enormity and complexity of the task that awaits him.
How about the market? Currently, it isn't really a fair economy we're dealing with. Clubs like City, Chelsea, PSG, Malaga and Anzhi Makhachkala (I admit I had to Google that for the spelling) exist in a Mickey Mouse economy.  No rules, an endless supply of funds, a mismatch between income and expense, the list goes on. 
Even when Financial Fair Play kicks in, there is no guarantee that they will be reined in (e.g. City's "sponsorship" deal with Etihad).  So if one of these clubs comes in and offers a crazy salary to one of our players, there's nothing anyone can do about it, not even the player. I still can't get my head around Eto'o playing for Anzhi in the prime of his career.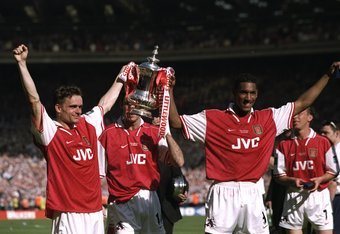 Ben Radford/Getty Images
Which finally brings us to the murky world of the football agent.
Don't get me wrong, there are agents who nurture and promote their players, act in their best interests and safeguard their futures.  But such agents are few and far between.  And I haven't heard of one in a while.
Just like a footballer realizes that he has a short shelf-life, an agent realizes it too.  He knows that it isn't easy to land a contract with a top player.  And once he does, unless that player is Nicolas Anelka (NO, Robbie Keane was NEVER a top player, he played for Spurs rwice.  Need I say more??), he will sign only two or three big contracts in his career.  That means two or three opportunities for the agent to hit the jackpot. 
So the agent is out to ensure that when his client can be the goose that lays the golden egg, he can sell that egg to the highest bidder and maximize his own share of the spoils. Whether that is to the detriment of the player or not is often secondary. Looking at Arsenal itself, the examples of Alexander Hleb, Emmanuel Adebayor and Anelka are clear for all to see.  Wrong deals, wrong time and the player suffers.
The point I'm trying to make is that, while the player may want to continue at Arsenal to develop his game under Wenger's watchful eye, there may not be enough in it for Mr Agent. Who will then use every trick in the book to engineer a move for the player, be it via Twitter, the Sun, the player's wife (Mrs Tevez hates Manchester, for example), an unknown interviewer in Azerbaijan or the player's international teammates (anyone remember Mr "I love Cesc" Pique?).
I don't know about you, but I'm worn out already. Don't you sometimes wonder when football coaches actually manage to find the time to conduct training sessions?
All said and done, Arsene Wenger faces an unenviable task next summer.  Van Persie, Vermaelen, Song and Walcott are no ordinary players.  He needs to ensure that all these prized eggs remain in the basket.
Or else it will be his goose that is cooked...