IMPACT 9/22: Hogan/Sting, Angle/Storm, Queens' Qualifier, X Division (Humor)
September 23, 2011
Oh boy. What a week it was.
Anyone who reads these weekly reviews knows about my ongoing feud with Jay Lethal and Sonjay Dutt. They issued a match down at the Pink Taco, most popular taco place in the universe, and I accepted!
I thought the match was terrible mainly because Dutt and Lethal teamed up and kicked my ass for a while. There was tables, ladders, chairs and tons of weapons!
After Sonjay went to get a pin fall on me, Lethal broke it up and they started to fight! SoCal Val is on the line in this match.
As they fought, I pulled out the "Mysterious Text Message" trick. Who'd I text? My man, Monty Brown!
Monty came, kicked ass and I used my finisher and the best move in all of wrestling: the notorious roll-up pin. 
It was a brutal match and Sonjay kicked me in the throat really, really hard so I'm taking it easy now.
To answer all your questions: I won Val back!...sort of. After the match, she walked out with Monty Brown. He is the "Alpha Male" after all.
Being too scared of Monty's physical appearance, I decided to let this one go and Sonjay, Jay and myself all talked about Gears of War 3 over some tacos. That's what I call a party.
Opening Segment
"The Insane Icon" Sting came out in a Hogan t-shirt and jeans. He had a contract in his hand probably for his match with Hogan at BFG.
Hogan came out and said he's not medically cleared. 
Sting showed a video of Hogan kicking his ass and said that he still got 'it.' I don't know what Sting meant by 'it.' Maybe he meant Hogan's mustache because I for one don't think he can wrestle anymore. 
It is a nice stache...
Bischoff, or Bi*choff, comes out and starts to ramble. He asks if Sting is listening and Sting says, "You say something?" and punches him. Bischoff is down.
Sting says the match will happen.
"Ta ta for now!"
Backstage, Karen is with her sidekick/slave Traci talking to Brooke Tessmacher and Mickie James. Karen kind of likes Brooke's jacket. Mickie and Brooke leave because they're up next.
Karen starts to talk down to Traci when Kazarian (real-life husband) comes up and basically calls Karen a prostitute. Traci and Kaz walk off while Karen whips out the Blackberry and starts yelling into the phone at someone.
This would be the perfect time for a "Knockout Announcement." Mickie James, Brooke Tessmacher and Tara all have new photos on their profiles at IMPACT Wrestling's web site! Go quick! They're sporting their favorite football teams' jerseys!
Queens' Qualifier
Brooke Tessmacher vs. Mickie James
My younger brothers, un-wrestling-educated prediction for who wins: Mickie James. Why? He says she's overrated.
Brooke wears a Texans jersey in her pictures on IMPACT's site while Mickie sports the Cowboys.
In the ring, they are equally as hot.
It was a pretty good match and Brooke seemed dominant much of the time. She had a good showing. After getting all Ass-tastic (Think of Rikishi's Stink face just with red-hot Brooke Tessmacher) in Mickie's face, Mickie got pissed and put Brooke away with her jumping DDT.
Winner: Mickie James
Turns out that the Queens' Qualifier will have three winners and those three will face Winter in a four-way for the title at BFG.
Velvet, now Mickie and next is either Tara or everyone's favorite, Madison Rayne!
In some strange, yet sunny, parking lot, Anarquia tells his mexican friends he wants a chest tattoo and they all mark out, jump in Hernandez's truck and drive off.
Also, backstage Al Snow talks to Jeff Hardy. Same talk Devon gave him. Boring. Let's see someone else get pissed at Jeff.
X Division Championship
Jesse Sorensen vs. (c) Austin Aries
This is Aries' first match as champion.
Sorensen earned the right to be number one contender after beating Kid Kash at No Surrender.
Sorensen had a lot of offense in this match and keeps impressing me, for sure. At one point, Aries slide out of the ring and ran around with Sorensen's football.
After a Heisman pose, Sorensen sling-shotted himself over the ropes and onto Aries. Cool.
Aries started to build some steam but Sorensen drop kicked him after jumping off the top rope. Aries slid out of the ring and Kid Kash was nearby watching his younger foe.
Sorensen got in Kash's face and Kash shoved the football into his chest and started to walk off. Sorensen threw a quick pass which smacked against Kash's back and the referee stood between the two.
Aries hit Sorensen with a running drop kick to the back of the head and got a roll-up win.
Winner: Still champion, Austin Aries
Assist goes out to Kid Kash.
Good X Division style match. Kash/Sorensen continues and we have to wonder who will challenge Aries next. C'mon Zema, Nese, Haskins or Shelley!
RVD and Mr. Anderson...ANDERSON! are backstage talking about kicking some ass in a tag match later on tonight. 
Mexican America is shown in a tattoo parlor and Anarquia tells the ladies to go get some tequila. The tattoo artist steps out of the room for a second and Anarquia has to tell Hernandez something.
Where's JB when you need him to yell, "Revelations!" Spin Cycle, fans?
Anarquia has a fear of needles, despite his multiple tattoos. He wants Hernandez to pray with him but then guess who? 
Ink Inc attacks!
Yes! Jesse Neal is finally back!
Neal goes back and forth with Hernandez until he just spine busters him through a table and Shannon and Anarquia are fighting in the front of the store.
Anarquia tried to hide behind a tattoo artist who elbows him in the face and Ink Inc whoop his ass. They grab him, hold him down in a chair and Jesse tells Shannon to tattoo him.
Just before Shannon starts, Neal tells the camera guys that they won't want to see this.
After some commercials, we get back.
Hardy stops into Morgan's dressing room and asks if he's seen Kurt Angle. Uh, no. Magic Camera Productions was working this shot through a window in the trailer.
Morgan says he deserves a second chance since he was once addicted to pain killers. But that was four years, eleven months and seventeen days ago. Morgan knows the exact date but I'm not too far off with my take.
Morgan says if Hardy screws up again, he'll beat his ass.
Hardt finally finds Kurt Angle. Hardy asks for forgiveness but Angle tells him to leave. Hardy asks who is Kurt to judge him. 
Hardy thinks Kurt doesn't want him around since he knows he's Kurt's biggest threat.
Kurt tells Jeff that he's an Olympic Gold Medalist, multi-time World Champion, three time DUI arrestee! Okay, that last bit was just me.
Kurt Angle comes out and calls out Roode. Angle says he has someone who will step in his way and "Cowboy" James Storm comes out to a chorus of boos.
Storm asks Roode if he thinks that Immortal bought him out. If so, then they don't know each other that well and Storm calls out Angle on the spot. He issues a match against him tonight and says "Sorry 'bout your damn luck."
Mr. Anderson vs. Bully Ray & Jerry Lynn
RVD was found backstage knocked out and this was turned into a handicap match.
Anderson was holding his own pretty fine against these guys. He had two near falls that had to be broken up by Lynn.
Soon enough, the numbers caught up with Anderson and Bully clotheslined him with his chain for the win.
Winners: Bully Ray & Jerry Lynn
It was a pretty good showing for Anderson. Prior to the match I questioned his in-ring skill and potential main event talent but he proved it here to me.
Anderson vs. Bully Ray and RVD vs. Lynn is scheduled for BFG and this was a good build towards those matches.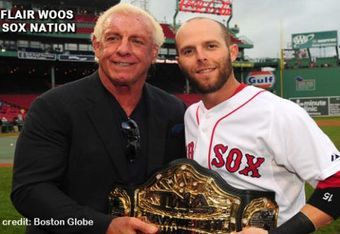 Bobby Roode vs. Daniels
Daniels comes out first in casual clothes, not dressed to wrestle.
He says he has nothing left to prove since he beat a former World Champion, AJ Styles, like three weeks ago.
AJ comes out and wants to know why Daniels keeps bragging. He says they'll have one more match if they need to. AJ asks him to stop the name dropping.
Daniels calls AJ a sore-loser and a b*tch. Thank you, Ron Simmons.
He's my special senior analyst.
AJ punches Daniels and the two brawl through commercials.
Kazarian comes out and breaks it up. Both guys stop and Kazarian asks if they're good. Daniels kicks AJ in the nads (Beavis & Butthead are coming back!) and says, "Now I'm good!"
The Roode/Daniels match never happened.
After commercials, Magic Camera Productions catch up with the Fortune guys. Kazarian is yelling at Daniels and Daniels says he's tired of being in AJ's shadow.
Kazarian them stops in on AJ who is icing his yambag region. He starts talking about Fortune being a family but AJ says Daniels shown his true colors. 
Main Event
James Storm vs. World Heavyweight Champion, Kurt Angle
I give this match the title of "Match of the Night."
It was a good showing for both guys and Storm did really good against Kurt and proved that he can hang with the biggest and best the company has to offer.
The match was given good timing and an interesting ending.
Storm went for a super kick on Angle who ducked, Storm hit Brian Hebner but then hit Kurt with another Last Call. Storm went for the pin and Earl Hebner came out and was on the verge of a three when Gunner pulled him from the ring.
Gunner belted Storm with the title but Bobby Roode ran out and chased Gunner away.
Roode picked up the title as Kurt got up. Roode held the title above his head as the two had a stare down.
Roode placed the title on the mat, Angle grabbed it and Roode tended to Storm as Angle left.
Match was Thrown Out
It was a great match. Ankle Locks, Angle Slams, Last Calls, Elbow drops off the ropes, it had almost everything. James Storm is a great talent to have and, like Roode, deserves a World title.
I personally thought the ending was cool the way Angle and Roode had a stare down as Bobby Roode held Angle's championship.
I think IMPACT tonight was another solid show. Let's recap:
Pros:
Sting's segment and punching Bischoff out
Tessmacher looked good and impressive in the ring
X Division title match was good and Sorensen looked strong again
Jesse Neal and Ink Inc are back!
Mexican America's segments were entertaining
Morgan/Hardy talk felt real
Bully and Jerry won
AJ/Daniels brawl
Storm/Angle
Cons:
Hogan's acting...Pfft...
Mickie James wins...again
Snow/Hardy was boring
Hardy being Angle's biggest threat? Really, Jeff? Really?
Anderson looked too strong against veterans like Ray and Lynn
Bobby Roode vs. Daniels - the match there never was
Gunner pulling Earl Hebner out of the ring
Good showing and-put on your surprised faces-the IMPACT Zone was loud! It was alive!