Les Miles: LSU Tigers Coach Leads SEC with Consistent, Conservative Approach
September 23, 2011
Ronald Martinez/Getty Images
For LSU fans, Les Miles is an enigma.
On the one hand, Miles holds a 65-17 record since taking over when Nick Saban jumped to the Miami Dolphins. With a 5-1 record in bowl games—including the 38-24 victory over Ohio State in the 2008 BCS National Championship Game—Miles has already earned his place as one of the greatest head coaches in LSU football history.
On the other hand, "The Mad Hatter" often frustrates fans with his tendencies towards a pro-style offense and shaky clock management, to say the very least. 
Many times, he's left us Tiger fans gritting our teeth as the inching and clawing our way to victory could presumably be avoided with some big plays by some bigger-name athletes.
The best case in point happened in the championship season of 2007. Visiting Death Valley were the No. 9-ranked Florida Gators, led by Mormon extraordinai...I mean, QB Tim Tebow. Entering the fourth quarter down 24-14, the Tigers hoped for impressive defense and a couple of solid runs for an offense held mostly in check by the Gator defense.
Instead of living and dying with big plays, Miles and QB Matt Flynn engineered the third and fourth of four long, nail-biting touchdown drives of 5 and 15 plays (the early two scoring drives totaled 31 plays and 14:48 off the clock).
Continuously hammering through the Gator defense, the Tigers went for and got all five fourth-down plays, leading to Jacob Hester's two-yard push into the end zone for the game-winning touchdown to defeat Florida 28-24 in what was, in this humble columnist's opinion (because I was there, deep within the student section), "The Greatest Game Ever Played."
Consider LSU's scoring plays in that game: a one-yard TD run by Ryan Perriloux, a four-yard TD run by Keiland Williams, a four-yard TD grab by Demetrius Byrd, and Hester's now legendary two-yard score.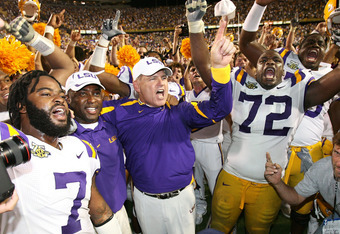 Doug Benc/Getty Images
All short plays, well within the red zone, created by draining drives that suck the life out of defenses.
That's always been Miles' style. Beat down, beat down, beat down.
That's the reason why Tiger fans, to this day, have a love-hate relationship with Miles. Any one of those four athletes with touchdowns in that game were potential mega-stars, primed for elite performances that grace the SportsCenter Top 10 on a weekly basis. But not in Baton Rouge.
Because for Miles, football exemplifies teamwork. There is no one play or one athlete that will be singularly responsible for the success or failure of the LSU Tigers.
Miles' conservative attitude towards game-calling allows for the unit as a whole to shine, looking less for superstars to do their thing, but to mold and bend together for the common cause, which is not gaudy stats but great seasons and championships.
Miles is blessed with an all-star defense, in performance and reputation, and it allows for the kind of disciplined game The Hat likes to call. When you're a big-play offense, you live and die by those stats.
That's exactly what No. 3 ranked Oregon learned in this year's opener. The Ducks offense relies on big-name athletes and a hurried tempo to maximize points scored. Their razzle (and equally so, their dazzle) puts record-breaking points on the scoreboard, but when you live and die with that offense, it can become easy to stop.
When you do stop those big plays, you can't immediately go conservative to try to switch it up. That's your plan for the rest of the game, and if the defense knows how to stop it, that's pretty much all she wrote.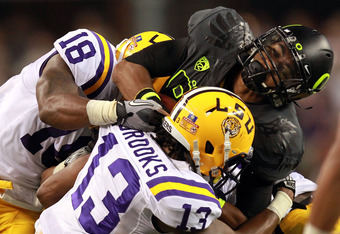 Ronald Martinez/Getty Images
LSU's defense figured it out early, forcing Oregon to make bad decisions while trying to be too clever. Meanwhile, the LSU running attack went relatively unimpeded, with running backs Spencer Ware and Michael Ford leading the way with a combined 40 carries, 195 yards and three TDs.
In addition to a scary defense, the Tigers' offense was well-managed—to say the least—by senior QB Jarrett Lee, somewhat shoved into the starting spot after Jordan Jefferson's arrest and suspension.
The Jefferson/Lee situation is exactly the type nullified by Miles' coaching style. The fact remains that whatever differences exist among Jefferson and Lee, fan opinions and legal situations will not change the proven method of winning Miles has successfully employed during his tenure at LSU. 
If the fans, before the Jefferson episode, expected LSU to lead the league in passing, throwing, running, catching, and every other offensive statistic that makes ESPN anchors swoon, then they were sorely mistaken the whole time.
Not only was it not a realistic prediction of Miles' Tigers, the fans shouldn't have wanted a highlight-reel offense so readily. 
The talent on the Tiger offense, however, leads one to believe that maybe Miles' conservative approach might not be necessary. After all, between Ware, Ford, wide receivers Rueben Randle, freshman sensation Odell Beckham and the returning Russell Shepard, the Tigers have ample weapons were they a team that went all-in on every play. But that kind of change would run counter to Miles' proven success at the helm.
Besides, there's no reason to start a new plan of attack based on high-profile grabs and plays. This style of play only breeds complacency, with no way to switch back to the fundamentals when you're in it deep.
The highlight-reel plays should be reserved for an option after a defense has to cope with so many four- and five-yard runs and passes that they exhaust themselves.
Tired defenses lead to big plays. Slow and steady does it. Slow, steady, consistently ruthless aggression. And the Tigers can pull it off as a great team.
On both sides of the ball, LSU has talent for Miles.