Rolando McClain Needs to Be an Anchor for the Oakland Raiders' Defense
September 22, 2011
Thearon W, Henderson/Getty Images
Ever since Greg Biekert was relieved of his duties as the Raiders' middle linebacker in 2002, Oakland has tried to fill his shoes with a trio of different draft picks.
The first was Northwestern linebacker Napoleon Harris, who was selected in the first round of the 2002 NFL draft. He immediately replaced Biekert, who joined the Minnesota Vikings at the beginning of that season, manning the middle linebacker spot for the team that went on to reach the Super Bowl.
He was not without his share of mistakes during the season, however. Yet, with a defense full of veterans many of those mistakes were compensated for, and he was learning as he went along. Harris was thought of to be a promising centerpiece of a defense that needed an influx of youth.
Fast forward to the 2005 offseason, when Harris was traded to the Vikings as part of the deal for Randy Moss after a disappointing 2004 season for the free-falling Oakland Raiders.
In his place came San Diego State linebacker Kirk Morrison, drafted in the third round by the Raiders.
Hailing from Oakland, Morrison had always been a fan of the Raiders growing up, so the pick seemed like a perfect match. In his first season, Morrison compiled 116 tackles. In every season he started for the Raiders, he led the team in tackles.
Morrison, however, was the poster boy for a defense that had floundered and underachieved over the years. Since the year Oakland went to the Super Bowl, the Raiders consistently were one of the worst teams in the league and ranked near the bottom in most statistical categories, both on offense and defense.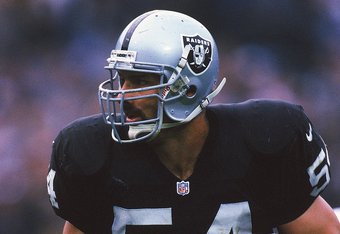 Harry How/Getty Images
Morrison, in addition to his counterpart on the outside, Thomas Howard, was known more for excelling in pass coverage. When it came to the run defense, an Achilles heel for Raiders over the years, Morrison and Howard were easily manhandled. Their smaller frames made it easier to get taken out of plays by blockers. Though the two had a lot of speed, they lacked the size and physical toughness. 
Like Harris before him, Morrison was traded away, this time prior to the 2010 NFL draft. He was made expendable when the Raiders used the eighth overall pick on Crimson Tide linebacker Rolando McClain.
McClain certainly busted onto the scene early in his career with Oakland. In his second game, he body-slammed St. Louis Rams wide receiver Danny Amendola, which drew an unnecessary roughness penalty. The fans in Oakland during the game could not care less; they cheered for their new middle linebacker, who soaked it all in. The Raiders finally had toughness at the linebacker position for the first time since Bill Romanowski lined up on the outside in the early 2000s.
McClain had a productive 2010 season that showed a lot of promise. He finished with 85 tackles and one interception, and was also credited half a sack. He missed some time due to injury and even though the Raiders' problem at run defense was not solved, the development of McClain would figure to play a key role in changing the culture of a defense that for many years was considered a doormat.
During this past training camp, defensive coordinator Chuck Bresnahan, who was the defensive coordinator for the Raiders during Greg Biekert's tenure at middle linebacker, along with head coach Hue Jackson had done nothing but praise for McClain's work ethic and maturation. They felt confident he would take that next step during the season.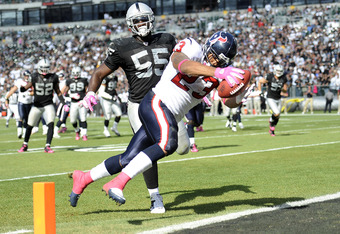 Thearon W, Henderson/Getty Images
Thus far, McClain has been a huge disappointment, and that statement in itself might be a gross understatement. Against the Buffalo Bills, he had one of the worst performances I have ever seen at the middle linebacker position. The stats are deceiving, as he is credited for eleven total tackles in the game and four passes defensed. But in total, he had seven missed tackles— simply inexcusable for a position that requires solid tackling.
This alone is not why I rank McClain's performance this past Sunday as one of the worst performances for an Oakland linebacker. It was the complete lack of effort on his part that was most troubling.
On Fred Jackson's 43-yard touchdown run, McClain was nowhere to be found. He was not unblocked—unless you count not being able to get around his own player as being blocked. To add insult to injury, once Jackson ran past him, McClain gave a half-hearted effort to chase Jackson—and that might even be giving him too much credit. His "chase" of Jackson consisted of light jogging.
Another play that stood out for McClain in the game was David Nelson's touchdown reception in the final seconds. As the signal caller on defense, it is his responsibility to make sure everyone knows their assignments and are lined up in the right places. For three players to shadow Jackson swinging out of the backfield, leaving Nelson wide open in the middle of the field is embarrassing. Having McClain be one of those players is simply unacceptable.
When looking at McClain the problem is twofold. On one hand, he seems slow to read the play, whether it is run or pass, which hole he needs to fill, etc. On run plays, this allows blockers to get to that second level and occupy McClain. Other times, as in the touchdown run against the Bills, he is late in getting to the hole; and when point of impact should be happening, he is a few feet out of position and cannot make a play.
The other problem is the angles that he takes to the ball carrier. Whether is is a running back hitting the hole on the inside, a running back bouncing a play to the outside, or a wide receiver or tight end catching a pass and running downfield, McClain often times takes poor angles. Perhaps it is McClain looking to deliver a big blow that gets him out of position, but there is a pretty good middle linebacker in Baltimore that makes big hits and is able to get into the right position to make a tackle.
Biekert certainly was not the most imposing middle linebacker for the Raiders; but it was his intelligence and savvy play that made that defense click. He was solid, not spectacular, but that was exactly what the Raiders' defense needed and precisely what they need now.
Coincidentally, Biekert is now the linebackers coach for the Raiders, hired by Hue Jackson over the offseason. You can be sure that he sat down with McClain during the week and went through with him each and every play that he was out of position for.
The Raiders need McClain to be that run-stopping force in the middle they have lacked for many years if they want to be more than a mediocre defense who allows their opponents to run against them at will.
It is time for McClain to take a page out of Biekert's book and play heads-up football. If not, his career will be more similar to that of former Raiders draft picks Napoleon Harris and Kirk Morrison.