Manny Pacquaio, Floyd Mayweather: Bored with Boxing? Follow More Than 2 Fighters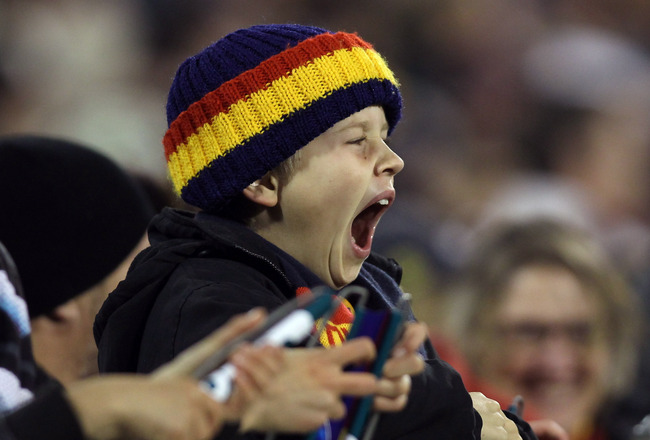 Morne de Klerk/Getty Images
Enough already! One bad fight happens, and people start spouting all sorts of nonsense. They're saying that fight is the one that killed boxing, that boxing lost a ton of fans to MMA who will never come back, that Mayweather is a coward and all boxing matches are fixed.
Nonsense!
Yes, the criticism of boxing we are hearing from fans is valid and real. Boxing promoters can be maddening. But, in actuality, it's up to the fans to find ways to enjoy the sport.
Casual boxing fans are partly at fault for their frustration, because they are following only two fighters, and resting their hopes on the sport on one fight that may never happen.
Boxing, which had rules established in 1743 by British heavyweight champion Jack Broughton, might be the oldest organized sport on Earth. If sports are just a form of organized and sanctioned combat, then boxing just might be the purest sport.
It certainly appeals to a broad cross-section of people, being one of the most widely-followed sports on Earth, and one that is practiced in some form in every country on Earth. It's not going away any time soon, so you might as well find a way to enjoy it.
In this slideshow, I go through a list of ways to enjoy the sport of boxing again, without breaking out the pocketbook.
Arum and De La Hoya Protect Their Top Fighters, so Look Elsewhere for Action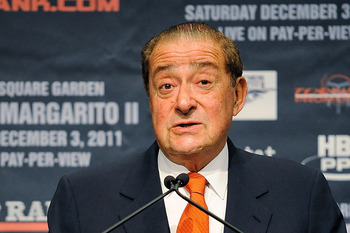 Patrick McDermott/Getty Images
Part of the immense frustration of boxing fans right now, is the fact that Bob Arum (Top Rank Promotions, who promotes Pacquiao) and Oscar De La Hoya (Golden Boy Promotions, who represents Mayweather) are coddling their top fighters by booking them in in-house matches and against semi-credible, but ultimately irrelevant, opponents.
Pacquiao fighting Juan Manuel Marquez—who was primarily represented by Golden Boy, but recently severed ties with them—is a nice change, and should be an entertaining fight.
However, it doesn't take long to see a predictable pattern—promoters want their guys in in-house matches so they get double the income and don't risk all their fighters.
Most of Pacquiao's last opponents (Miguel Cotto, Antonio Margarito, Joshua Clottey) have been Top Rank fighters, and the two who weren't (Marquez and Mosley) had to play some "musical chairs" to appease Golden Boy, who had represented them.
How about Mayweather?
Well, aside from the fact that he has hardly fought at all lately, the three opponents he has faced in the past four years (Marquez, Mosley and Ortiz) have all been represented by Golden Boy at the time of the fights.
How? By Digging Deeper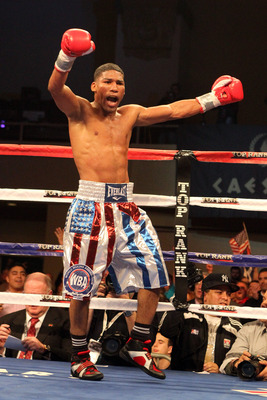 Yuriorkis Gamboa will soon be in the top 10 pound-for-pound rankings.
Hunter Martin/Getty Images
Why spend $60 every few months, just to be disappointed with a lackluster in-house fight designed to protect top fighters?
There's plenty of good boxing available for free, or for just a small premium, that will leave you much more satisfied.
Here is a helpful list for how you can truly enjoy the Sweet Science (still the greatest sport on Earth, in my opinion) in the weeks and months ahead.
Unfortunately, this list is mostly relevant to U.S. fans, but I encourage international fans to give their tips in the comments.
Cable: ESPN2's Friday Night Fights
Joe Tessitore and Teddy Atlas
Want to see quality fighters without paying extra? ESPN2's Friday Night Fights—which is entering its 14th season in January—is your best bet.
Each week during its seven to eight-month season (early January—late August), you get at least two quality fights, featuring up-and-coming prospects, top-level contenders or both.
Almost all of the sport's top fighters have done a FNF card or two, and to this day you'll see quality guys like Chris Arreola, Pawel Wolak, Erislandy Lara, Hammerin' Hank Lundy, David Diaz, David Lemieux and Marco Antonio Rubio.
These are quality guys—some former champions, some future champions, all legitimate contenders in their divisions.
The past season was one of the best. It featured a Fight of the Year candidate in Pawel Wolak (fresh off a big win over Yuri Foreman) vs. Delvin Rodriguez. In addition, we saw five or six big upsets of undefeated prospects.
The people who book this show try to make sure the fights are quality bouts —not easy ones—and the entertaining ringside commentary of Teddy Atlas and Joe Tessitore might be the best in the business.
In addition, if the main fights end early, then they have more up-and-coming fighters ready to give you action—like Rene Luna vs. Ramsey Luna (one of 2010's best bouts).
Looking for great boxing on a shoestring budget? Look no further than Friday Night Fights. The new season starts in January.
Cable: Spanish Language Boxing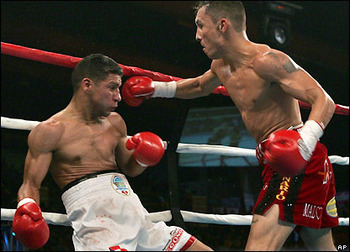 Sure, the language may be a barrier to some, but if you have some friends who can carry the conversation, or if you just need to see some great boxing action, then watching some Spanish-language boxing (or "boxeo") is a good way to go.
We all love watching all-action Mexican fighters, and this is a way to see a lot of them. A lot of these guys aren't vaunted prospects. They're guys whose pride and paycheck depend on them giving an all-action fight, and they rarely disappoint.
After watching the joke fight between Zab Judah and Amir Khan a few months ago, my friends and I wanted to see some real boxing. We turned the channel, and Orlando Salido (you may know him as the guy who knocked out pound-for-pound top 10 fighter Juan Manuel Lopez in his previous fight) was in an absolute war against a Japanese fighter named Kenichi Yamaguchi.
In the ring that night, boxing was unquestionably a universal language.
Telefutura, Univision, Fox Deportes and Telemundo are among the best networks for this. Look for "Boxeo," "Solo Boxeo Tecate" or "Boxeo Mundial" on your cable box, and prepare to be blown away by the action.
Cable: World Series of Boxing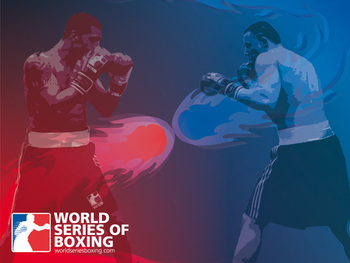 About two years ago, the Versus network foolishly decided to scale down its coverage of professional boxing in favor of MMA reruns, professional bull riding and mildly entertaining sports-related talk shows.
That decision didn't last for long. Within a year, Versus boxing was back with the World Series of Boxing (WSOB).
The premise is simple: 30 times a year, regional teams (Los Angeles, Memphis, Mexico City, Miami and 12 new international teams) of boxers face off in a five-fight card spanning all weight divisions, with the winner of each fight gaining his team some points in the standings.
It's semi-professional, but all action, and the fighters are hungry for their big chance. Unlike amateur boxing, there's no headgear, but the fighters still retain their Olympic status.
Each broadcast gives you four to five quality, five-round boxing matches across multiple divisions, and you get to see some of the sport's next stars honing their craft.
Check out Versus for times and broadcast dates in your area.
Cable: Promoter-Specific Boxing Cards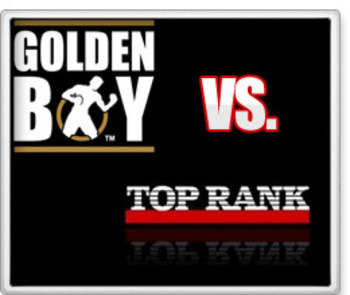 I hesitate to put this in the slideshow because I avoid promoter-only boxing cards, but the truth is, that sometimes these broadcasts do produce good fights.
Top Rank and Golden Boy, unsurprisingly, are the ones who do these cards most often. You can find them by searching "Boxing," "Top Rank Boxing" or "Golden Boy Boxing," and they'll usually be on a Fox-sponsored sports network.
One nice benefit is that you do sometimes get to see the next big star-in-the-making. Promoters like to build up their fighters on these broadcasts before going for major PPV and premium cable slots.
Still, it's definitely not my favorite way to watch boxing.
Premium Cable: HBO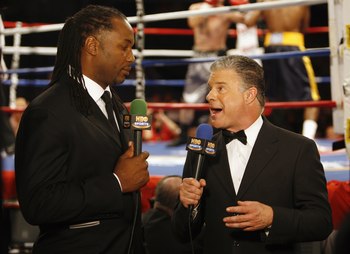 Joe Murphy/Getty Images
Though Showtime is definitely gaining ground, HBO boxing is still the place for boxing on premium cable shows.
Almost every month, HBO has two major boxing broadcasts: HBO World Championship Boxing and HBO Boxing After Dark. Both provide quality action, with headliners who are usually among the sport's pound-for-pound elite.
The best news?
Instead of using your $60 to pay for one fight card every four months, you're getting eight fight cards during that span, and you get all the other HBO programming on several channels for free.*
Sergio Martinez, Nonito Donaire, Juan Manuel Marquez, Amir Khan, Timothy Bradley—everyone except for Pacquiao and Mayweather—and the fights are often a lot more interesting. Victor Ortiz vs. Andre Berto is probably the frontrunner for fight of the year, and it was on a regular HBO boxing broadcast.
*Can you tell I'm a boxing enthusiast? Most people will tell you that HBO also has original programming (Entourage, True Blood, Mildred Pierce and formerly shows like The Wire and The Sopranos) and a lot of good movies, and the boxing is an added bonus.
Premium Cable: Showtime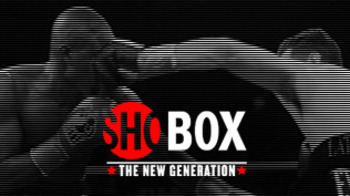 After a few low years, Showtime has really started to stake a claim as the king of premium boxing channels. Its flagship show—Showtime Championship Boxing—hosts mostly world title fights, but its sister show, Shobox, has an awesome philosophy, and has been bringing quality boxing to people for 10 years now.
This, in addition to their inspired Super Six super middleweight tournament, and a recent four-man bantamweight tournament as well. They have a way of making great fights happen.
Perhaps the best fight on Showtime this year was the grueling war between heavily-favored (top 10 pound-for-pound) Juan Manuel Lopez and grizzled veteran Orlando Salido.
But honestly, every Super Six bout has been worth watching too—it has been an awesome tournament, with the upcoming final (Andre Ward vs. Carl Froch next month) certain to be a good one.
A lot of people also say Al Bernstein is the best boxing announcer on TV right now.
Oh, it's also Showtime, which is the most popular premium cable channel for its many original offerings. Ditto what I said about HBO, except you get to watch shows like Dexter (in my opinion, the best show on TV right now), Weeds, Californication, Shameless and The Big C.
NOTE: Showtime also showed a replay of Pacquiao vs. Mosley just one week after the fight (for those who cared).
Online: ESPN3, YouTube

Unfortunately, the illegal ways to watch boxing online get all the attention, but there are a lot of very legal ways to watch great boxing on your computer.
ESPN3.com is a streaming video website where you can catch some good fights, such as most of the fights the Klitschko brothers are in. You might have to adjust your clocks to German time (the fights are usually between noon and 5:00 p.m., depending on where you live in the U.S.), but your girlfriend will be pleased that you have Saturday night free.
Unsurprisingly, YouTube also happens to be a great place to watch a lot of boxing.
Promoters don't seem to file copyright claims on fights that are more than five years old and don't feature today's megastars (Pacquiao or Mayweather, mostly). What this means for you, is you get to watch all-time great fights:
- Hearns vs. Hagler
- Leonard vs. Duran (or Hearns, or Hagler)
- Gatti vs. Ward
- Ali vs. Frazier, Ali vs. Foreman
- Chavez vs. Taylor, Chavez vs. Whitaker
...and many more, all from the comfort of the chair you're in right now. Checking out old Ring Magazine Fights of the Year can be a good place to start. One great perk of watching classic bouts—if they're good enough that people remember them, then they must be great fights.
There's also a lot of great women's boxing on YouTube. Yesica Bopp, Natascha Ragosina and Cecilia Braekhus are three names to get you started.
Small-Scale Pay-Per-Views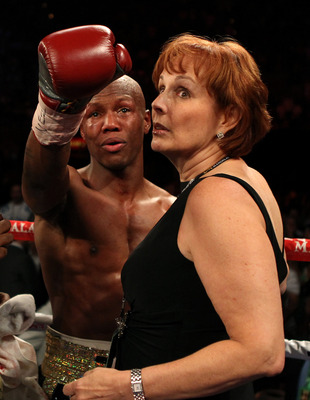 Scott Heavey/Getty Images
Not all Pay-Per-Views are created equal. Some PPVs have a much lower price than the ridiculous $60 we often see.
Longtime readers know I'm a big fan of promoter Kathy Duva, CEO of Main Events Promotions. Though she's had a rough year, with major fighters Zab Judah and Tomasz Adamek suffering tough defeats, Duva has what I consider the best policy in boxing—challenge your fighters in every fight to create a fan-friendly, old-school boxing experience.
Main Events PPV goes for about $20, and lets you see some of the best fighters that aren't with Top Rank or Golden Boy.
A lot of other broadcasts, such as culturally-themed ones like Pinoy Power (Filipino boxing) or Latin Fury, offer quality pay-per-views for a fraction of the price.
This can be especially appealing if you like a particular style of fighting or weight division, as many Filipino fighters tend to be lighter, and Latino fighters usually range from small- to middle-range weight divisions, with a few heavyweights like Chris Arreola or Odlanier Solis.
Live Local Boxing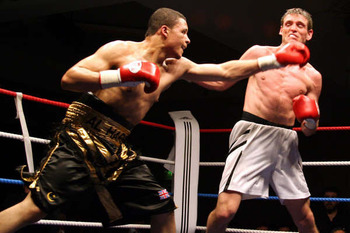 I had been following boxing for years before I attended Pacquiao-Margarito in Dallas last year, thanks to Bleacher Report community leader King J.
Watching televised boxing has its advantages—sometimes better camera angles, plus commentators' input—but few things compare to the experience of watching live boxing, and local shows give you a great way of getting close to the action.
Both amateur and professional boxing matches are probably happening somewhere in your area, and good prospects fight frequently, so it's a great chance to watch the development of "the next big thing" and say you knew about him first.
Upcoming Fights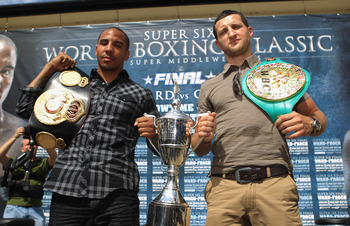 Tom Shaw/Getty Images
Now we get to the second part of this article: A preview of upcoming fights you can catch on TV, most of them not requiring a sizable financial investment.
Ring keeps a good list of all upcoming fights featuring major fighters, as well as where to find them on TV, if applicable.
But I'd like to evaluate some of the highlights and make some recommendations. Unfortunately, I only know ways to access these fights in the U.S., but international fans can probably find some of these broadcasts on TV or online.
I factored in money and my projections for how the fights will go. Without further ado, the list of upcoming fights.
October 1: Sergio Martinez vs. Darren Barker (HBO)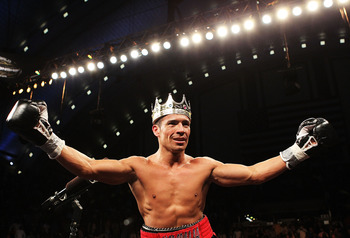 Al Bello/Getty Images
Sergio Martinez vs. Darren Barker, Andy Lee vs. Brian Vera
Sergio Martinez (ranked No. 3 pound-for-pound) is probably my favorite fighter right now, and the quick, athletic Argentinian southpaw is always fun to watch. However, he's many miles beyond Darren Barker (an undefeated fighter, and one of the few middleweights not running from Martinez right now), so this fight could end early.
Still, you can never count out an undefeated fighter, and Barker may surprise us if he has the speed and toughness to deal with Martinez.
However, Irish Andy Lee—trying to avenge his only career loss—generally makes for interesting fights. He's powerful and impressive, but has a bit of a Rocky Balboa-esque quality to him. He's definitely available to be hit, and Bryan Vera has beaten Lee before.
Verdict: You're going to see last year's Fighter of the Year—one of the most gifted and exciting fighters in boxing. You'll also get to see three other contender-level guys, and I think there's bound to be a good fight among these two. I will definitely be watching this one.
Bonus: Sergio Martinez is widely considered the handsomest man in boxing, so this fight might generate some additional interest from female fans and fans-to-be.
October 7: Sharif Bogere vs. Francisco Contreras (Showtime)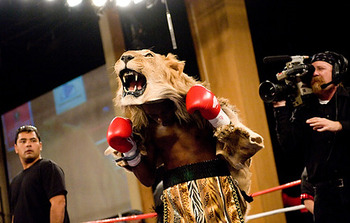 Sharif Bogere in his trademark lion garb.
So far, I'm most familiar with Sharif Bogere as a well-regarded prospect and the king of entrance attire, and I don't know much about Contreras. There will be no lightweight titles on the line.
Still, Shobox has a good ability to make unexpectedly good fights between soon-to-be-stars, and this might be no exception.
Don't bet your Friday night on it, but it has a chance to be a decent scrap, and if Bogere ends up becoming the next big star, you can tell people you watched him back when he was fighting Francisco Contreras.
October 8: Raul Martinez vs. Rodrigo Guerrero (Fox Deportes)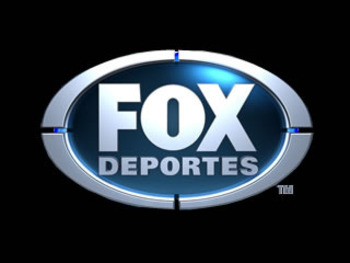 Raul Martinez vs. Rodrigo Guerrero (for vacant IBF junior bantamweight title)
If you're into lighter weight divisions and can handle the non-English commentary, this could be quite a good fight.
There are several other good international fights going on that evening, but I'm not sure if they will be part of the broadcast, or available on TV in the U.S.
October 8: Kell Brook vs. Rafal Jackiewicz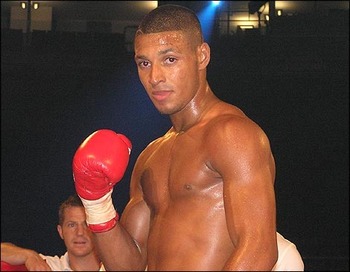 Kell Brook
Kell Brook vs. Rafal Jackiewicz (No network yet)
No U.S. network has picked up this fight yet, but they would be wise to do so. It's not a can't-miss fight, but it should be a good one.
Kell Brook is a 25-year-old British prospect, who many people think is "the real deal," and is taking a big step up in class against Jackiewicz, who is a very worthy opponent.
Jackiewicz (38-9) has gone 23-1 since October 2005, and boasts wins over Jan Zaveck and Delvin Rodriguez. The only loss during that span was a relatively close, majority decision loss to Zaveck in the rematch.
Brook enters the fight 24-0, and is ranked as the No. 10 welterweight by Ring Magazine. Jackiewicz is ranked 7th.
It's not unlikely that the winner of this bout moves further up the rankings and lands a title shot in his next bout.
Oct 15: Bernard Hopkins vs. Chad Dawson (HBO Pay-Per-View)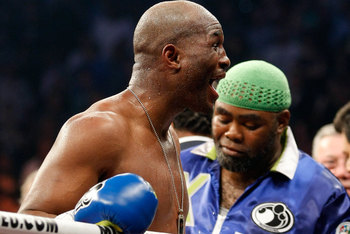 Richard Wolowicz/Getty Images
Bernard Hopkins vs. Chad Dawson, Antonio DeMarco vs. Jorge Linares, Kendall Holt vs. Danny Garcia, Paulie Malignaggi vs. Orlando Lora
I'm not big on pay-per-view cards, and some fans will swear that Hopkins is the most boring fighter on the planet. However, I disagree with that assessment, and I think this PPV could be better than most.
For one, you're getting a lot of "name" talent on the undercard'—everyone except Orlando Lora is at least a credible contender, and there are a number of former champs on the list too.
Plus, you get a good storyline with the main event, and one that's not going to end too early. Bernard Hopkins is the oldest world champ ever, and he continues to amaze with his craftiness.
"Bad" Chad Dawson was the No. 1 light heavyweight until a narrow loss to Jean Pascal last year. After a Pascal-Hopkins draw, Hopkins beat Pascal recently, and it gives Dawson another chance to become the division's best. Chad Dawson is a nice guy and family man, who sometimes doesn't get the attention he deserves, so this is a big chance at redemption for him.
Verdict: If you're a true fan of skillful, artful boxing, then this card will deliver. Hopkins, Dawson and Malignaggi all have the kind of skills that we love in the sweet science.
Holt and Linares have definite KO power, too. For those who were disappointed with a four-round main event and somewhat non-compelling undercard bouts in the last major pay-per-view—you definitely won't find that here. There are definitely much worse pay-per-views that people have spent a lot of money on (not to name names or anything).
October 22: Nonito Donaire vs. Omar Narvaez (HBO)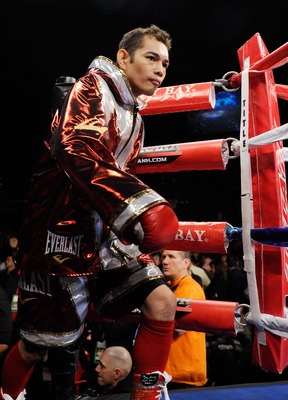 Ethan Miller/Getty Images
Nonito Donaire vs. Omar Narvaez, Mikey Garcia vs. TBA
Nonito Donaire is my choice for Pound-for-Pound No. 1 by 2014. He has talent that rivals Pacquiao's, and is taller and arguably quicker for his weight division. His fights are always impressive, if not always well-balanced.
Donaire has the ability to quickly crush an opponent with his superior skill, speed and power, which he showed against No. 7 Pound-for-Pound fighter Fernando Montiel earlier this year in a second-round KO.
Verdict: Donaire can end any bout with one punch, but Narvaez is a very good opponent, and could give Donaire a good fight. Even if not, Donaire is one of the great treasures of boxing (both as an athlete and as a person), and watching him is a thing of beauty. True boxing fans should at least consider devoting part of their evening to watch this fight.
Mikey Garcia is not a bad name for an undercard, but since an opponent hasn't been named yet, I can't say much except that you'll get to see Mikey Garcia showcase his skills.
October 28: Eddie Chambers vs. Tony Thompson (Showtime)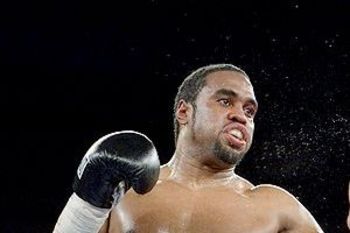 Eddie Chambers vs. Tony Thompson, Shawn Estrada vs. TBA
Off the top of their heads, many boxing fans can name the Top Five heavyweights according to Ring magazine: Wladimir Klitschko, Vitali Klitschko, Tomasz Adamek, Alexander Povetkin and David Haye.
Unless they're diehards, they'll struggle with the sixth, though. It's "Fast" Eddie Chambers, a 29-year-old heavyweight from Pennsylvania. He and Robert Helenius are the most unheralded heavyweights in the world right now, and Chambers is taking on a tough foe in 39-year-old Tony Thompson. Thompson is just outside the Ring Top 10, but Boxrec has him eighth in the division.
Verdict: This fight lost a lot of its clout because it was going to be a "companion piece" to the Carl Froch-Andre Ward Super Middleweight unification bout, before the injury that pushed the Ward-Froch fight back a couple of months.
If you're a diehard fan of boxing or heavyweights, catch this fight. If not, it's easier to skip than the fights in the weeks surrounding it. Then again, it's early on a Friday night, so it might be easier to fit into your schedule than something on a Saturday.
Undetermined: Carl Froch vs. Andre Ward (Showtime)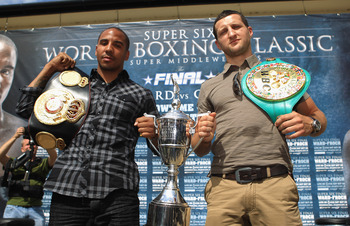 Ward (left) and Froch
Tom Shaw/Getty Images
Carl Froch vs. Andre Ward (Super Six Tournament Final)
This fight, originally slated for October 29th, has been pushed back due to a cut Ward sustained during training. I still think this fight, when it happens, offers the best matchup boxing has to offer over the next few months.
People have been anticipating the Super Six Tournament final for years now, and with a few delays, it's finally happening. It's an interesting mix of styles, and the super middleweight division has a great combination of power and speed that makes it fun to watch.
Verdict: Watch this, when it happens. Hopefully they'll get another fight on the rescheduled card, but this fight can stand alone.
Plus, it's just regular Showtime, not pay-per-view, so it shouldn't be hard to find someone to watch with if you don't have the channel yourself.
Nov 5: Great Fights, Dueling Networks (Showtime, Probably HBO)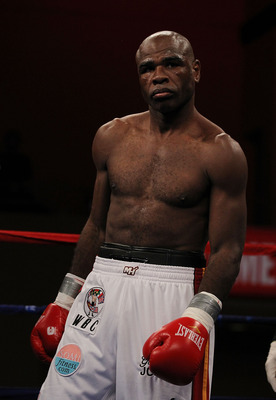 Al Bello/Getty Images
Showtime: Lucian Bute vs. Glen Johnson, Steve Molitor vs. Sebastien Gauthier, Robert Stieglitz vs. Mikkel Kessler
Also: James Kirkland vs. Alfredo Angulo (likely HBO card)
Lucian Bute is one of the great stars of boxing right now, and the 42-year-old Glen Johnson never, ever, makes for a bad fight. Johnson is game for anything, and will likely lose, but will help us learn some things about Bute.
Steve Molitor and Mikkel Kessler on the undercard, both fighting decent opponents. That could be a card of its own.
Showtime clearly wins this night, but James Kirkland and Alfredo Angulo are both hungry, talented fighters, and could give people a reason to consider watching HBO, if HBO picks up the fight.
November 12: Manny Pacquiao vs. Juan Manuel Marquez 3 (HBO PPV)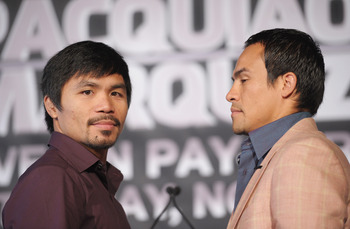 Michael Loccisano/Getty Images
Manny Pacquiao vs. Juan Manuel Marquez
Pay-per-view fights have been so disappointing lately that I hate to say this, but I think this could be a really good fight.
Obviously, any opportunity to watch Pacquiao is worthwhile (as is any opportunity to watch Juan Manuel Marquez).
These two also have a good track record against each other. This fight could turn Pacquiao-Marquez into one of the all time great trilogies. Pacquiao and Marquez have the kinds of styles that just create great fights when you put them together.
Marquez is more technically masterful, but also has the heart of a great Mexican warrior. Pacquiao is faster and will probably be stronger, but also has a good sense of timing that creates an interesting interplay with Marquez's style.
On the other hand, Marquez is getting older and isn't in his best weight division, and Pacquiao has probably gotten better since their last fight three-and-a-half years ago. Fighters can turn old in one bout, and it could be that night for Marquez.
Until they put something worthwhile on the undercard, I'm not totally convinced I'll throw down much money for this fight, but I can't blame anyone who does.
December 3: Miguel Cotto vs. Antonio Margarito (HBO PPV)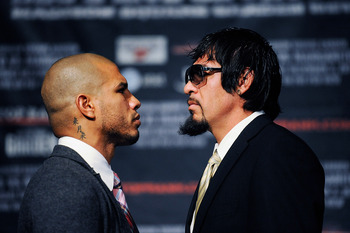 Patrick McDermott/Getty Images
Miguel Cotto vs. Antonio Margarito
This fight has the best storyline in boxing this year.
When they last fought in July 2008, Cotto was a rapidly-rising superstar and the aggressive, swarming Margarito stunned the world when he wore down Cotto and eventually knocked him out in the 11th round.
We all know what happened next: before his next fight with Sugar Shane Mosley, Margarito was caught with a plaster-like substance in his handwraps. Margarito was the one on the receiving end of the upset this night, and since serving a one-year suspension, he hasn't been the same.
People automatically wondered whether Margarito's upset over Cotto was achieved by ulterior means.
Realistically, this is a make-or-break fight for both guys, and both fighters have a shot at redemption.
Verdict: This happens to be one of the few fights where two well-matched opponents are represented by the same promoter (Top Rank), and is significant in charting the futures of both men's careers. It could honestly go either way, and should be quite exciting.
If you're not ready to throw down $60 for a pay-per-view, get some of your non-boxing-fan friends and go to a sports bar for this one. The back story is great, and the action should be good too.
Expect Cotto to start out strong, and the big question is whether Margarito's sprawling style can wear him down in the middle rounds.
January 2012: Friday Night Fights Returns (ESPN2)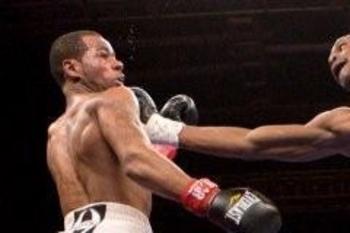 I'm not sure of the exact date, but the Friday Night Fights season usually starts in mid-to-late January and carries on until August.
Teddy Atlas might be the most entertaining announcer in boxing (his fight previews definitely are—and filled with cheesy analogies as only Teddy can spin them), and there's generally pretty good action and analysis with contender-level guys in the main event.
Last season was stunning, and next year could be better.
Friday Night Fights is the best free (with basic cable) boxing you'll usually see, and I personally can't wait.
Keep Reading