Seattle Mariners and Jack Zduriencik in the Final Analysis
September 20, 2011
Otto Greule Jr/Getty Images
Jack Zduriencik had high hopes for the season at the beginning of the year, but those dreams were dashed when the club had a huge losing streak in the middle of the season. Yet, that losing streak may have been a blessing in disguise. It forced the team to look to the future and the future is brighter than a lot of people may think.
In a lot of ways, 2011 is a changing of the guard. The team had been built around Ichiro Suzuki and his speed game for so long, but Ichiro is finally beginning to show signs of age. Unless Ichiro can somehow find 25 hits in the last week and a half, this will be the first year of his career where he does not collect 200 hits.
At age 37, he can be forgiven for finally showing signs of let down. When you combine his Japanese numbers, you could call him one of the 10 best baseball players from the past 25 years.
Key Statistics
Team Payroll: 86.5 (16th)
Lineup: 22.0
Rotation: 7.3
Bullpen: 26.8
Composite: 18.7
Analysis Score: -2.7
Lineup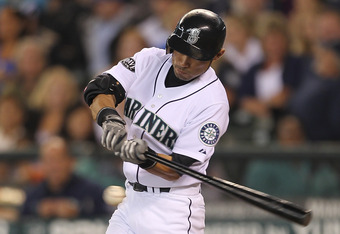 Otto Greule Jr/Getty Images
In many respects, the end of the Ichiro era will be a good thing. Ichiro is very similar to Tony Gwynn. They both were terrific hitters and legitimate Hall of Famers.
However, with the way the salary structure works, they weren't particularly good for their team. Having Ichiro as the highest paid player on your team is not a winning formula.
The Mariners are a study in how speed and defense can almost be overemphasized. They signed Chone Figgins to a huge contract before the 2010 season and now regret it because he can't hit. He can still run and field his position well, but paying a guy ten million or more to field and steal bases doesn't make sense.
Brendan Ryan is a lot cheaper and a better fielder, but again you are talking about a limited offensive attack.
Franklin Guitterez had been all-world defensively, but he had a stomach problem that landed him in the Mayo clinic. After his visit, he became the old Franklin Guitterez, but nearly half of the season was lost.
Meanwhile. Justin Smoak and Carlos Peguero proved to not be ready for prime time. They might be in 2012, but both gave at bats to Mike Carp who is ready for prime time. Yet, it will be players like Dustin Ackley that revitalize this team and make it a contender again.
Rotation
The so-called crooked hat company almost single-handedly kept the team in the hunt for half the season. Michael Pineda has since come back to earth, but Felix Hernandez has been as good as ever. Of course, when your team is last in the AL in runs scored it is hard to muster any kind of momentum on the mound.
Doug Fister was a breath of fresh air, but he was dealt to the Tigers in exchange for some prospects. Erik Bedard was productive, but he was dealt as well. Both deals were good for the Mariners in the sense that both pitchers aren't likely to repeat their performance.
So, the rotation was left with only Jason Vargas and Blake Beaven to provide support.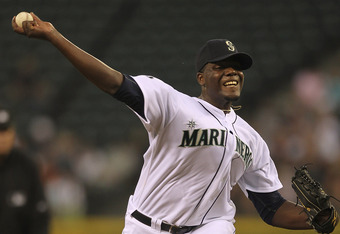 Otto Greule Jr/Getty Images
Bullpen
Thank God for Brandon League. He was the one person that kept the entire season from going off the tracks. David Aardsma went down with an arm injury and left the team without a closer.
League stepped into the breach and did an admirable job in Aarsma's absence. The club traded away David Pauley with Doug Fister and released Aaron Laffey. This left them with Jamey Wright and a bunch of filler.
Wait a minute, isn't Jamey Wright filler?
Response to Crisis
The main crisis turned out to be a godsend. The Mariners luckily were not tricked into thinking they were contenders. Getting good value for Fister, Pauley and Bedard will help with the rebuilding process.
Also, they are finally rid of Milton Bradley's contract. The 2012 season will depend a lot on guys like Justin Smoak. The young hitters must develop or this team will again be on the hunt for runs.
Analysis Score: -2.7 (18th)
The Final Analysis
Jack Zduriencik just might be the American League version of Ed Wade. He inherited a mess from his predecessor.
Next year represents the first year where he will be out from under that mess. Yet, he has created a mess of his own with signings like Chone Figgins and not getting enough for veterans like Cliff Lee.