MLB: New York Mets and Sandy Alderson in the Final Analysis
September 19, 2011
Chris Trotman/Getty Images
Sometimes it is difficult these days to determine who was more responsible for the Mets downfall: Omar Minaya or Bernie Madoff.
Well, Minaya was fired and Madoff is in the slammer, so the Mets are moving on. Sandy Alderson was a good choice to clean up the mess. He brought with him a couple of old friends from Oakland (J.P. Ricciardi and Paul DePodesta).
2011 was more about cleaning out the garbage than it was about competing. The team was loaded with bad contracts, and about half of them are due to clear after the season. Carlos Beltran, Jose Reyes and Luis Castillo were not going to be back one way or another, so the 2012 season was always going to look a lot different.
Key Statistics
Team Payroll: 118.8 (7th)
Lineup: 11.6
Rotation: 14.0
Bullpen: 18.8
Composite Ranking: 14.8
Analysis Score: -7.8
Lineup
Keep in mind that when we talk about this squad and its limitation, we are really talking about Omar Minaya and not Sandy Alderson.
Alderson made immediate waves when he simply cut Luis Castillo outright. He ended up doing the same with Oliver Perez in the rotation. Yes, it meant eating a lot of money, but the message was clear. You weren't going to have a spot simply because you made a lot of money.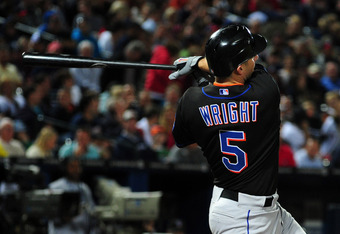 Scott Cunningham/Getty Images
Carlos Beltran and Jose Reyes bounced back to have very good seasons. The Mets were able to parlay Beltran's performance into getting the Giants No. 1 pitching prospect. Unfortunately, Castillo was hurt at the deadline or he may have been gone too.
Looking up and down the lineup, David Wright and Jason Bay are now the only two high-priced ticket items left. Both have long-term deals, so getting rid of them will be difficult.
Rotation
Johan Santana went on the shelf with a bum left arm and so the chances for the Mets went down with them. However, he is recovering and there is talk of having him make a start before the end of the season.
Either way, he should be back 100 percent in 2012. He needs to be the Santana of old because he is making around $20 million a season from here on out.
The Mets pitching was actually decent most of the way.
R.A. Dickey has been the most consistent pitcher on the staff and anchors it with a 3.35 ERA in nearly 200 innings. Dillon Gee came out of nowhere to have a very solid rookie campaign. His ERA ballooned at the end of the season, but that could be explained due to fatigue.
Add a healthy Santana and a decent Mike Pelfrey, and this has the makings of a good rotation.
Bullpen
The Mets regretted signing Francisco Rodriguez almost the moment they signed him. He got in trouble off the field, and while he was still very good, he wasn't the dominant closer he once was.
His contract was set to run out following this season, but they were able to get a couple of prospects for him in a trade with the Milwaukee Brewers. Now, the Brewers get the joy of working with him down the stretch.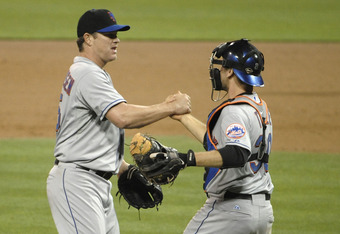 Denis Poroy/Getty Images
Jason Isringhausen (yes, that Jason Isringhausen) took over for him down the stretch and managed to notch his 300th-career save along the way. The club is bringing back Tim Byrdak and has a few other solid pitchers in the pen.
People may question their ability to close games consistently and that is valid, but at this point, you fix the bigger problems first.
Analysis Score: -7.8 (28th)
Final Analysis
We are going to have to get creative when grading Sandy Alderson. That grade above is all about Omar Minaya. In fact, it might have been worse if it not for some of Alderson's moves.
More than $40 million will be clearing the books after the season. Alderson could make some moves to get better or he may wait another season for more money to clear.
Whatever happens, you have to know they aren't competing for the back pages anymore. Alderson is more of a surgeon with a budget than the butchers that inhabited his chair in the past. They may add a starter and a veteran arm for the pen, but I wouldn't expect them to sign anyone that will break the bank.