Floyd Mayweather Jr. Won Because He Was Smarter, Faster Than Victor Ortiz
September 19, 2011
Ethan Miller/Getty Images
Enough already.
I'm sick of seeing all these fans try to claim that Mayweather's actions were illegal, or that they were cowardly, or that somehow he is to blame for a fight that his opponent decided to make dirty.
There were two "controversial" moments in the fourth round Saturday night, but only one was truly illegal. Guess what? It was the seemingly intentional headbutt of Ortiz (and not the knockout punches landed by Mayweather) that was actually a penalty.
So how does all the blame rest on Mayweather for a fight that disappointed some (but led to a conclusion some of us expected)?
I don't know.
Look, none of us love Mayweather's antics or the fact that he seems to be avoiding a mega-fight with Manny Pacquiao. However, that doesn't mean that we should discredit his performance in the ring.
If Mayweather had been the recipient of a knockout from an alert-minded Ortiz, would our tone be different? Would fans be protesting the "illegality" of the punches from Ortiz?
How about if Mayweather landed the headbutt in the corner instead of Ortiz? The disgust from fans would be palpable. Yet nobody seems to mention Ortiz's indiscretions. It's a predictable narrative, and the kind of narrative that is all too easy for fighters to manipulate.
If fans fall victim to silly "good guy/bad guy" antics so easily, fighters like Mayweather have no incentive to treat us like the intelligent fight fans we are supposed to be.
Let's face it: Mayweather won because he's smarter and faster.
I implore you, fellow boxing fans, to drop the conspiracy theories, the allegations of a "fixed fight" and the assertions that Ortiz somehow was going to pull off a huge upset.
Mayweather is not a cheater because of his actions in this fight. He never has been. The closest Mayweather came to being a "cheater" was coming in two pounds over weight against Marquez. That was a borderline case, and he paid a steep $600,000 fine, but nowhere else has Mayweather ever appeared to be a cheater.
So, stop making your assertions about the guy based upon his personality. Look at the facts.
I've enumerated many reasons why Mayweather isn't at fault. Ortiz acted erratically and foolishly, and that's what doomed him in this fight.
Ortiz landed probably his best exchange of the fight, but decided to punctuate it with a headbutt—not just an incidental one, but a full upper-body thrust that led Joe Cortez (not always known for accurately catching rules violations) to decided it was worthy of a penalty. I agree. You probably do, too. You definitely would if it was anyone other than Ortiz versus Mayweather.
So after receiving a headbutt like that to the mouth area, Mayweather could very well have been breathing blood the rest of the fight. It's not in his best interest to go on with such a fight and just hope for the best to come out of the penalty. Mayweather's best strategy was to end the fight early.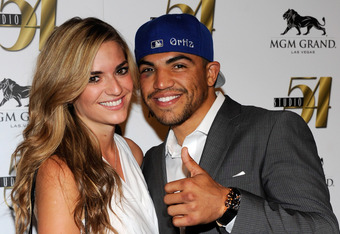 Ethan Miller/Getty Images
Ortiz, having just thrown a cheap headbutt, decided to apologize three separate times, including one after Cortez had gestured his hands together to indicate the fight had been restarted. One more reason we know Cortez had restarted the fight, beyond his obvious arm signals: the fact he ruled Ortiz's knockdown as just that—not a rules violation, but a genuine knockdown.
And where was Ortiz's mind when this was going on? He clearly violated the most famous doctrine in all of combat sports: "Protect yourself at all time." He also violated the "good clean fight" requests referees regularly make, and he also violated another of boxing's sanctified commands of "obey my commands at all times."
Cortez had ruled for the fight to be restarted, and Ortiz—clearly not wanting to be held culpable for a clearly intentional headbutt—decided he wanted to apologize yet again. He would be the "good guy" who happened to throw the dirty shot. It's the kind of naivete that Ortiz is susceptible to, and which never fools Mayweather.
Mayweather fights to win, and he knows the fight game. Ortiz seemed to forget (or perhaps he never knew) some of the most obvious truths about boxing. If you take a cheap shot at a fighter, like Ortiz did, that fighter will probably be very inclined to retaliate by making a similar move toward you. A fighter must be aware of that.
Now, it's almost a no-brainer that the fighter who received the cheap shot will certainly want to punish the offender within the rules. That's exactly what Mayweather did, and Ortiz, being the inexperienced, sometimes absent-minded fighter he is, wasn't ready for it. He should have been.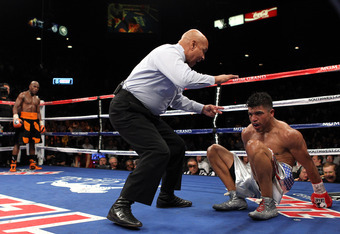 Al Bello/Getty Images
A third hug was unnecessary, and certainly didn't require another break in the action. Ortiz made a mistake, and he needed to just accept that. Instead, he tried to color himself the good guy at an entirely inappropriate time and paid the price.
That's not dirty boxing by Mayweather. It's reasonable. If Mayweather had been off guard after the hug, we would be calling him clueless and the perpetrator of a clear mental lapse. Why, then, does Ortiz get a free pass while Mayweather gets lambasted for being the only boxer in the ring who didn't get penalized any points on Saturday?
The shot by Ortiz was cheap. The shots by Mayweather weren't. The excessive apologies by Ortiz for his obvious misconduct were on the verge of cowardly. Mayweather's victory wasn't.
When the dust clears, the anger and rancor will fade, and this fight will be remembered for what it really was: one more indication that Mayweather is possibly the smartest in-ring practitioner in boxing, and proof Ortiz clearly wasn't ready for the responsibility of a multi-million dollar megafight.
Congratulations, Floyd. You accrued another win. This time against a fighter who fought dirty and paid the price. There's no shame in that.
It's hard enough to win a boxing match by the rules, no matter what legal advantages you claim during the fight. If you're good enough to do that and still have people question you, then you must be one of the all-time greats.
That's what we saw yesterday. It's a shame so many fans couldn't recognize it.