College Realignment: Time to Merge the Big 12 and Big East Football?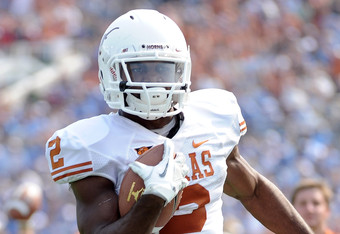 Harry How/Getty Images
Hello, college sports fans!
If you are wondering why you should read this article, keep in mind that I had suggested last Saturday for the Big Ten and/or ACC to "save Pitt, Syracuse and UConn." We all know what happened.
While the move prevents the Big Ten from expanding their east coast presence and giving Penn State a conference rival, at least Pittsburgh and Syracuse are now in a conference entirely east of the Mississippi River (unless they do invite Texas).
That leaves the Big East with seven members. UConn and Rutgers may be next to join the ACC. With increased penalties for withdrawing for the ACC, it looks like no one from the ACC is going to leave for the SEC.
With all the ACC teams off the table, I suggested in my "Schmolik 14" realignment proposal for West Virginia to be invited to the SEC.
I also suggested that with the Big East rumoring to pick up teams from the Big 12, they might as well merge the remaining teams in the Big East and Big 12. I named the conference the "Big Mess." In that proposal, I had Pitt, Syracuse, UConn and West Virginia leaving and Houston and Central Florida joining the Big Mess.
Right now, if no more teams from the Big East and Big 12 other than the Oklahoma schools and Texas A&M leave, the remaining teams right now are:
Which conference is more of a train wreck?
Big 12: Baylor, Iowa State, Kansas, Kansas State, Missouri, Texas, Texas Tech
Big East: Cincinnati, Connecticut, Louisville, Rutgers, South Florida, TCU, West Virginia
If the two conferences merge, the Big 12 could become the Big Mess' "West" division and the Big East could become the "East" division. They could move TCU to the West with the Texas schools and Iowa State to the East. Or they can go North and South.
North: Connecticut, Iowa State, Kansas, Kansas State, Missouri, Rutgers, West Virginia
South: Baylor, Cincinnati, Louisville, South Florida, TCU, Texas, Texas Tech
Of course, if more teams get invited to the ACC, SEC, Big Ten or Pac-Whatever, then the divisions can be shuffled appropriately.
I also think that it's time for the Big East to get out of football and split the non-football members, especially if Connecticut goes to the ACC. Why would Villanova and Georgetown want to keep playing South Florida or TCU or start playing Baylor, Iowa State and Kansas State?
The seven of them (Villanova, Georgetowm, St. John's, Seton Hall, Providence, Marquette and DePaul) can then rid themselves of the college basketball dead weights and then add other top basketball programs like Xavier and Dayton, maybe even non-Catholic schools like Temple and Massachusetts or Colonial League schools like VCU or George Mason.
What do you think about the Big East and Big 12 merging?
The football programs might miss the Big East Tournament in Madison Square Garden, but the only football-playing original member of the Big East still in the league is UConn. Rutgers could care less about basketball. Louisville, Cincinnati and South Florida have been in the league less than a decade, and TCU has yet to play in the Garden.
As for Texas, they should be able to keep their Longhorn Network in this conference (I would think the ACC is now in a stronger position to demand concessions from Texas). If anyone doesn't like it, they can leave (and I'm sure some of them will).
The Big East wanted to please everyone (football members and non-football members) but wound up pleasing no one. A 20-team basketball conference was never going to work. Having teams in New England, the Southwest and the Great Plains was never going to work.
So, let the football schools that can care less about basketball (yes, I'm talking to you, South Florida, TCU and Rutgers) play in a "football" conference and let the Big East be a basketball conference instead of being diluted by every basketball-challenged school the Big East wanted to take.
To anyone who is upset about Big East basketball being diminished with the loss of Syracuse and Pitt, don't blame Syracuse and Pitt. Big East basketball had been going down since they decided to take Rutgers instead of Temple in the 90s, take South Florida last decade, take TCU this past year in all sports and talk about inviting other Big 12 schools (other than Kansas, which of course is a legitimate basketball gain).
Pitt and Syracuse didn't give up on the Big East, the Big East gave up on Pitt and Syracuse.
The Big East has made one wrong decision after another since they rejected Penn State back in the 80s. I'm glad Pitt and Syracuse escaped that sinking ship.
Now if the Big 12/Big East merge occurs and the Big East goes back to being a basketball conference, what happens to Notre Dame? I'm sure Notre Dame isn't going to join the Big Mess. Will they stay with the Big East (Villanova, Georgetown, etc.), or will they finally come to the Big Ten.
As I said before, the best way to get the Irish in the Big Ten is to get the Big East to fold. Maybe the dominoes have begun to fall and the golden road to the golden arches will end up in State College, Columbus, and Ann Arbor in a few years. If this all happens, you can thank me later.
This article is
What is the duplicate article?
Why is this article offensive?
Where is this article plagiarized from?
Why is this article poorly edited?