Floyd Mayweather Easily KOs Victor Ortiz in Round 4: On to Manny Pacquiao!
September 18, 2011
Al Bello/Getty Images
I said it. I said it strongly. And then I said it again.
Victor Ortiz was no match for Floyd Mayweather. Is anyone truly surprised?
For all the work HBO and Bleacher Report were trying to do to make Mayweather seem formidably challenged by "Vicious" Victor Ortiz, there didn't seem to be much worth seeing.
Ortiz won one round, if any. He got overly excited. He threw a headbutt in the corner. He couldn't handle Mayweather's speed and punching prowess.
So what if the inevitable loss happened in a controversial way? That's what you get for letting your guard down. Joe Cortez is becoming a worse ref by the day, but even he remembered to say "Obey your commands at all times, protect yourself at all times." Ortiz decided not to. Retaliation is what you get for headbutting an opponent intentionally.
For anyone who thought Ortiz actually had a chance, you need to have your head checked. Victor Ortiz wasn't a legitimate opponent, he was a guy who was one fight removed from being a non-contender in two different divisions. Then, suddenly, he gets Berto on an off night, and isn't even that impressive (Ortiz did get knocked down twice by a clearly "off" Berto).
Ortiz wasn't going to win this fight. He didn't even seem to believe himself when he said that he would beat Mayweather. Victor Ortiz is a nice guy. A good guy for boxing. And he's a good fighter.
But Ortiz isn't in Mayweather's league.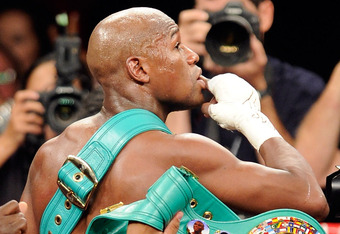 Ethan Miller/Getty Images
There are two guys who are: Manny Pacquiao and Sergio Martinez. Nonito Donaire is too, but there is about a 30-pound difference between those guys, so that's about as likely as a Floyd Mayweather Jr. repent-a-thon.
I honestly believe Mayweather would be smartest to take on Pacquiao, rather than Martinez. Martinez is too powerful, too crafty and too used to taking punches from guys a lot stronger than Mayweather. Martinez, I think, would have the best chance against Floyd, because his style matches up better.
So now it's Floyd's chance to finally solidify his legacy. There isn't much left to do.
We all know he's one of the greatest fighters of all time. He proved that again tonight.
No matter what I say about Victor Ortiz, he was good enough that Ring magazine considered him to be the second-best guy in the division. Yet he didn't stand a chance.
For everything you hate about Mayweather, we all go back to watching him because he is that good. Mayweather is that good.
He's so good, that I think he would be a slight favorite against Manny Pacquiao.
So let's settle it. I don't think boxing's a dying sport, but a lot of people do. Fights like tonight make their case stronger. Who wants to throw down $12.50 a round for that?
Floyd Mayweather: you said you want Pacquiao next. You've proven you're vastly better than any contender in the sport. Is there anything left for you to do other than fight Pacquiao? I think not.
A win over Pacquiao would make you among the top 10 in the sport's history. Heck, a well-fought loss to Pacquiao would put you in the top 25.
Until then, you're not cracking my top 30, and I happen to be a well-regarded expert on All-time Pound-for-Pound Rankings.
The way I see it, there are only three options for Floyd "Money" Mayweather.
1. Retire, and find a way to pay your bills.
2. Fight Sergio Martinez at 154 or 156, risk losing, and then hear the fans call for you to fight Pacquiao.
3. Fight Manny Pacquiao, and go down as an all-time legend. Either way, you'll do better with a Pacquiao fight than without one. Trust me.
Let's go.
Dave Carlson is a UCSD Physiology and Neuroscience student and boxing historian whose boxing articles have amassed over 250,000 reads since September 2010. He writes as a Featured Columnist for Bleacher Report, and as a columnist for KissingTheCanvas.com. His article on the Top 100 Pound-for-Pound Boxers of All Time has been referenced over 100 times by various sports websites.