Philadelphia Flyers: 5 Reasons They're Legitimate Cup Contenders in 2011-12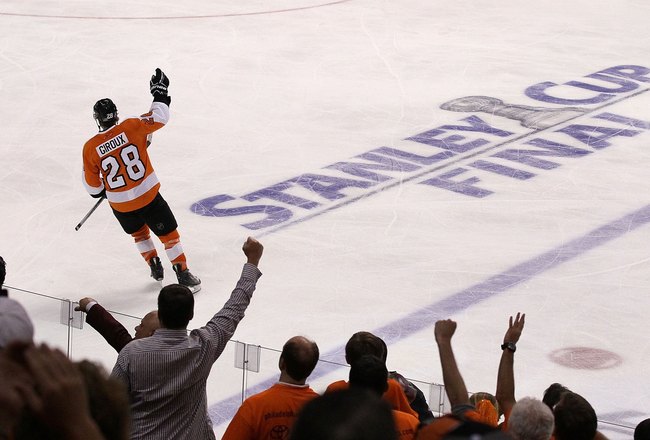 Jim McIsaac/Getty Images
The Philadelphia Flyers have a lot of questions to answer during this upcoming 2011-2012 NHL season.
The names and accompanying stories are well-known to any hockey fan by now...Ilya Bryzgalov. Mike Richards. Wayne Simmonds. Brayden Schenn. Jeff Carter. Jakub Voracek. Ville Leino. Jaromir Jagr.
The 2010 runner-up spent much of the 2011 regular season atop the Eastern Conference standings before eventually losing that spot to the Washington Capitals.
Still, the Flyers entered the playoffs as one of the favorites to win the Stanley Cup until being swept in the second round by the Boston Bruins.
Despite being an excellent team, the Flyers had many weaknesses to fix. General Manager Paul Holmgren addressed those needs.
In the process, he improved a team that is now one of the league's strongest Stanley Cup contenders.
Offense Is Still Good Enough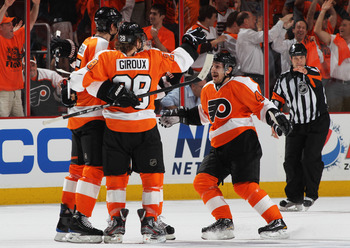 Bruce Bennett/Getty Images
When the Flyers traded away Mike Richards and Jeff Carter, the team lost over 120 total points of offensive production.
Acquiring Wayne Simmonds (30 points last season) and Jakub Voracek (46 points) does not make up for that. Not even the signing of Jaromir Jagr, who scored 71 points in his latest NHL season, will make up for that.
However, the concept that the Flyers do not still have a productive offense is completely mythical.
Danny Briere lit up the scoreboard with 68 points last year. Claude Giroux's team-leading 76 points is only going to rise.
James van Riemsdyk has developed into the power forward the Flyers expected him to be, with 40 points in his second NHL season and a solid playoff performance.
The team will not be scoring 259 points next season, but neither did the most recent Stanley Cup Champion.
Compare the Flyers' 2011-2012 expected production with that of the 2010-2011 Boston Bruins.
| | | | |
| --- | --- | --- | --- |
| 2011 Boston Bruins | PTS | 2012 Philadelphia Flyers | PTS |
| Milan Lucic | 62 | Claude Giroux | 80 |
| David Krejci | 62 | Danny Briere | 60 |
| Patrice Bergeron | 57 | Jaromir Jagr | 50 |
| Nathan Horton | 53 | James van Riemsdyk | 50 |
| Mark Recchi | 48 | Jakub Voracek | 50 |
| Brad Marchand | 41 | Scott Hartnell | 50 |
Looking at these totals, it's very clear that the Flyers have enough offense to win the Stanley Cup.
Additionally, the Flyers' third line will likely consist of Max Talbot, Brayden Schenn and Wayne Simmonds.
Simmonds has scored 40 points in a season before, and could easily do it again next season. The highly-touted Schenn is a mystery, but there is a chance he could step right into the NHL as a productive player.
This would give the Flyers a third scoring line, and even further depth.
Dynamic Offense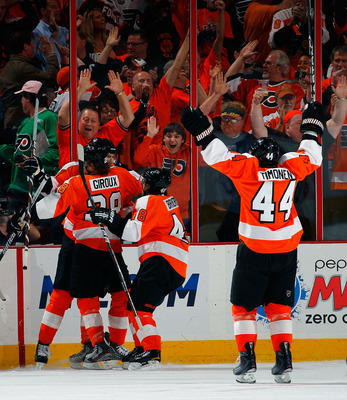 Paul Bereswill/Getty Images
Despite being a very productive offense, there were many issues with the Flyers' forwards last season.
Jeff Carter blew more scoring opportunities than he finished, resulting in many well-created plays to go wasted.
Ville Leino held the puck too long and attempted plays which had no chance of being successful. At times, he neglected to shoot the puck despite being wide-open.
With Carter and Leino gone, the offensive opportunities they wasted will not be squandered.
The team also lacked the prevalence of large bodies who could skate through checks or win puck battles along the boards.
Adding Jagr and Simmonds fixed that.
The team can now skate through checks with those two players, plus Scott Hartnell and James van Riemsdyk.
They can set up shots with the deking and passing abilities of players such as Giroux and Voracek.
They can finish plays due to the excellent shooting abilities of players such as Giroux and Briere.
The team can score on any team in a number of ways, and if a defense is going to stop them, it will have to be equally as dynamic.
Defense Is One of NHL's Best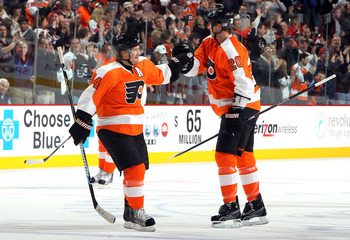 Jim McIsaac/Getty Images
Despite rotating two backup goaltenders last season, the Philadelphia Flyers gave up the 11th-fewest goals against.
The teams in front of them were laden with five Vezina-nominated goalies and another four Stanley Cup winners.
Even the Buffalo Sabres, backed by Vezina-winner Ryan Miller, gave up more goals than the Flyers.
The reason the Flyers were able to do so well defensively were the six men in front of Sergei Bobrovsky and Brian Boucher.
Chris Pronger, Kimmo Timonen and Andrej Meszaros would be the best defensman on many NHL teams.
Braydon Coburn is a very solid shutdown defender. Furthermore, despite being surrounded by these players, it was Matt Carle who managed to tie for the Flyers' lead in plus/minus this season.
The Flyers can confidently run three lines and not have to worry about a hole in their wall.
Goaltending Tandem Is Incredible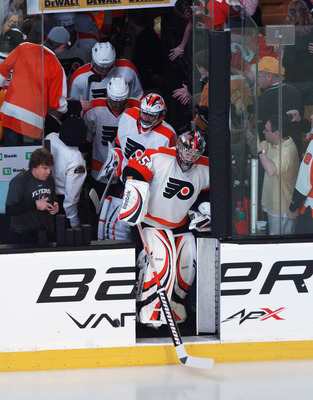 Bruce Bennett/Getty Images
Find a team with a Vezina-nominated goaltender.
How many of those teams have a backup that has a career save percentage above .915?
Only last season's Stanley Cup finalists do.
Signing Ilya Bryzgalov brought a legitimate No. 1 goaltender to Philadelphia, in order to stop any opportunity that the impeccable defense might surrender.
Bryzgalov played in more than 65 games each of the past three seasons in Phoenix. In Philadelphia, he will not be expected to carry the team that heavily.
When Bryzgalov is given a night off, Bobrovsky is more than capable of handling the job as a backup. After all, he was the starting goaltender of the team that was 11th in goals-against last season.
Leadership Issue Is Resolved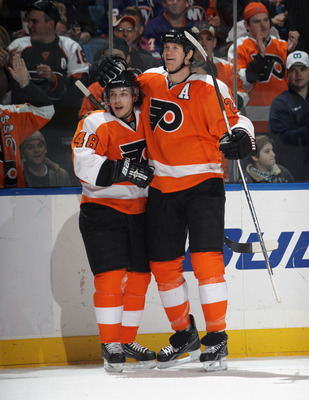 Bruce Bennett/Getty Images
When the Flyers traded Mike Richards and Jeff Carter, they eliminated complacency and misplaced leadership.
Both players showed a lack of fire this past season. Richards did not play in a manner that showed he deserved the "C" on his chest. Carter should not have been an assistant captain.
Contrarily, newly-named captain Chris Pronger has been the Flyers' true leader since arriving in Philadelphia.
Three different times in his career, his presence on a team has transformed that team into a Stanley Cup finalist. In his first seasons with the Edmonton Oilers, Anaheim Ducks and Philadelphia Flyers those teams went to the Stanley Cup finals. Additionally, he was captain of the St. Louis Blues.
Danny Briere served as a captain with the Buffalo Sabres prior to joining the Flyers. A few words of his helped keep the Flyers from elimination in the first round this past offseason.
With the Flyers one period away from elimination in Game 6 of the opening round, it was Briere who stood up and got the team fired up for the final period.
Former Nashville Predators captain Kimmo Timonen will wear the other "A" next season, and also contribute in that area.
Acquiring Jaromir Jagr also helps this cause. Jagr was captain of two different NHL teams, and the living legend can easily get a team going. Furthermore, he is a former Stanley Cup champion.
Like Pronger, he knows what it takes to get there.
Adding Maxime Talbot and Andreas Lilja put two more Cup-winners on the team. Talbot is regarded as an excellent teammate and will only add positive energy to the Flyers' locker room.
The result of all these moves has transformed the attitude of the team.
Briere told NHL.com this summer,
[T]he message that I got from that was…our goal is to win the Stanley Cup. The last two years, we had the team to win the Stanley Cup and we didn't succeed, we didn't reach our goal. This organization isn't going to sit back and let the parade go by. That's the message I got. Come next year everybody better be ready to go. They're not going to just sit back.
Keep Reading

Philadelphia Flyers: Like this team?