UFC 137 Fight Card: Will Matt Mitrione Become a Star in the UFC?
September 16, 2011
The components of skill, charisma and controversy are three of the necessary ingredients for UFC stardom. Currently, the three most popular fighters are Georges St-Pierre, Anderson Silva and Brock Lesnar. Although they are three very different fighters, the reasons they are popular are the same; they all combine skill, personality and just a little bit of controversy, although in Lesnar's case it is more than a little bit.
Does Matt Mitrione have the necessary star qualities to make the leap to superstar?  Let's find out. 
Skill
Mitrione is trying to become the first former NFL player to be a major success in the UFC (I am not counting Lesnar, who only played a short time in the NFL). He is an elite athlete who moves well for his size and has shown vast improvement in all areas. When Mitrione came on TUF 10 he looked soft and clumsy, and I figured him for the most recent James Toney experiment. I assumed Mitrone would get killed on the ground and end up out of the sport before anyone knew how to pronounce his name. 
But I was wrong. 
"Meathead" has gotten better—A LOT better—between each fight and has turned himself from a football player with heavy hands and no cardio, into a MMA fighter with precise striking and vicious kicks. If Mitrione continues to get better and develops a bit of a ground game, he will be among the most skilled big men in the UFC. Mitrione looked impressive in his most recent KO of Christian Morecraft, but will need continued improvement to beat Cheick Kongo, who will be his toughest fight thus far.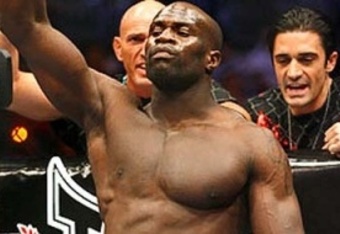 Charisma
I can say with an unblemished and staunch record of heterosexuality that Mitrone is a good looking guy with an engaging personality, which should take him a long way in the UFC. Mitrone is articulate and humble in interviews and is always the first to admit that he has a long way to go while at the same time threatening to punch holes in people's faces. UFC fans respond to confidence, but not usually cockiness, especially from a guy who is still a relative newcomer to the sport. Mitrione walks that line expertly. He even hosted his own segment called the "Mitrione Minute," which brings me to the next point.
Controversy
Mitrione is no stranger to controversy, starting with his stint on The Ultimate Fighter. Whether you thought his antics on TUF 10 were the stupid acts of a "Meathead," or carefully planned efforts to psych out his opponents, you have to admit it made for compelling television. His weigh-in shoving- match with James Sweeney was one of the highlights of the series. Sweeney eventually beat Mitrione in the octagon, but "Meathead" was the real winner, as he was one of the more memorable members of a TUF season that included Roy Nelson, Kimbo Slice, Rashad Evans and Rampage Jackson.
Since signing a UFC contract, things have gotten even more controversial. Mitrone made some jokes about Jenna Jamison during a "Mitrione Minute," which started a Twitter war and eventually led to a confrontation between Mitrione and Tito Ortiz. Personally, I think Mitrione's jokes were funny (so did Jenna Jameson) and that Tito needs to find room in that planet-sized head for a sense of humor, especially if he is going to continue to date porn stars. Tito's loyal minions hate Mitrione, while Tito haters wish Mitrione had put his fist through the back of Tito's head. This type of controversy makes people want to watch.
Obviously Mitrione still has a lot to prove, but beating Chieck Kongo would be a huge step, especially if he can do it in convincing fashion. Fans love the heavyweights, and Mitrione has the right combination of skill and personality (with a dash of WWE villain) to be a star in the UFC.