New York Giants' Antrel Rolle Could Learn from Terrell Thomas' Example
September 16, 2011
This past week was a tough one to tolerate if you are a fan of the New York Giants. First came the monumental let down in Washington. That was then followed by the announcement of an injury to Hakeem Nicks directly resulting from that game.
A day later Giants Safety Antrel Rolle made his first media splash of the season by stating on WFAN that "the Redskins were not a better team than the Giants". While on the surface those comments don't seem too harmful, other than to give Washington locker room material for their bulletin board, they still are out of place.
Why? Though the Giants lost as a team in all phases, Rolle committed a dumb penalty while the game was close late. He hit a receiver after a third down play was over and the receiver was already on the ground. He was flagged for 15 yards.
That 15 yards led to an automatic first down for the Redskins and extended a drive that otherwise would have ended on that play. Washington scored a TD to take a two score advantage. While the rest of the team failed that day, still, they were in it toward the end. It was close. His penalty aided Washington in the victory.
If a player had that much of a role in the team's loss, they should not be shooting off their mouth a few days after the fact. They should accept responsibility and help the team focus on their next opponent. They should vow to be more disciplined and make sure that it doesn't happen again.
However, Antrel Rolle is not like that. He prefers to go on talk radio and boast about his team, his skills and all the things that most of today's arrogant players seem to boast about. He has not lived up to the potential of his contract. He is valuable, no doubt.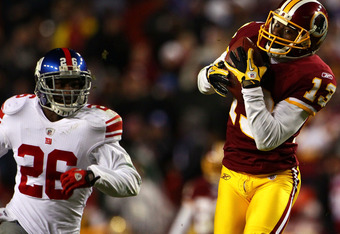 Win McNamee/Getty Images
But as long as he continues to create media stirs and force stupid penalties due to his own lack of discipline, he is a distraction. If there is one thing this team has too much of, it's distractions. One more is too many. Especially one that creates it with his mouth and doesn't back it up on the field entirely.
There are players like Rolle, and then there are the real humble players. The ones that make you thankful to be a fan. The ones who not only take responsibility for their own mistakes, but for their own injuries. An injury is nothing to apologize for. It happens. It's as much a part of the game as the field goal. Yet, apologize for his injury is exactly what Terrell Thomas (T2)did today on his website.
He said "I truly appreciate all my fans and followers; I feel that I let everybody down". He feels he let everybody down? He was hustling to make a play. In preseason, when no one cares, he was hustling to make a play. That is a teammate and a leader.
He owes absolutely no one an apology. He did what all of the fans, all of the players and coaches want every player to do: play hard and play to the whistle. To accept his role as both a leader and a teammate. An example and a soldier in the trenches.
That is the type of player the sport needs to honor and pay attention to. That is the type of integrity that needs to be exalted in this league and this society. That character is what this team and this league needs more of.
For every T2, however, there are a dozen Antrel Rolle types. That is a part of a bigger issue and a much larger problem. For now, I think the Giants should make a positive example of T2's attitude and a negative example of Antrel's attitude.
They are two entirely different attitudes. One is self-serving that is masked as being team supportive, while the other is truly humble and of high integrity in nature, sincere. Which would you rather have prevalent in the locker room?
I think the trash talking days need to come to an end. The players must show their words by their play on the field. Then, and only then, will they gain the respect they are always demanding for at the top of their lungs.
Fans respect T2 for his play and his team first attitude. They will never respect players like Antrel Rolle for the trash talking and the selfish, undisciplined play. Rolle came here to be a part of a winning team. He has shown himself to be the worst sport so far.
He needs to take a page from Terrell Thomas' playbook. He needs to learn what to say and what not to say. Then maybe he can figure out the difference between how and when to say something and how and when not to say something.
That is integrity. That's the example the Thomas has shown and will continue to show. That's why he has the team's respect and Rolle doesn't.
For more on the New York Giants, please visit Big Giants Boom