Sebastian Vettel Secures His Place Amongst F1's Greats
September 15, 2011
Mark Thompson/Getty Images
As Sebastian Vettel charges headlong towards his second consecutive Formula 1 world championship, any lingering doubts about his abilities have been well and truly extinguished.
He is revealing himself as one of the greats.
In only his fifth season in the sport, Vettel has cemented himself at the very top of the F1 tree. An upstart driver, in an upstart team, he has shown himself to be all but untouchable in qualifying and his strike rate in races is equally impressive.
In the last two seasons, Vettel has found himself starting from further back than the second row only once, has secured 20 pole positions and has been on the front row of the grid a staggering 24 times out of 32 races so far.
He has an uncanny ability to put together one final blistering qualifying lap to snatch pole after the chequered flag has dropped, leaving his opponents with no opportunity to react.
In 2011, he has already outstripped his 2010 championship-winning points tally and still has six races remaining in the season. He has an almost unassailable lead of 112 points over a field with four other former world champions, who between them have amassed 11 world championships.
After 75 Grands Prix, Vettel's figures compare favourably with some of the all-time greats of the sport. He has secured 18 race wins, which compares with Michael Schumacher's 19, Ayrton Senna's 13, Alain Prost's 16 and Jackie Stewart's 19.
He has also outstripped arguably his greatest rival and contemporary, Lewis Hamilton, who had 15 wins after 75 races.
By comparison, Nigel Mansell, who The Times ranked in the top 10 F1 drivers ever, took 75 races to secure his first win.
Vettel's list of accomplishments is impressive.
He is the youngest F1 world champion, the youngest championship runner-up, the youngest person to claim pole, the youngest to win a race. He is now set to become only the 15th multiple world champion and youngest to secure two consecutive title.
And he's only in his fifth championship season.
There is an old argument that in F1, the only person you really need to beat is your teammate, something Vettel has managed to do that in every year the he has raced in F1.
In 2007, he outscored Toro Rosso teammate Vitantonio Liuzzi despite competing in only seven races compared to Liuzzi's full season.
In 2008, he made Sebastien Bourdais look like an amateur and has eclipsed the vastly more experienced Mark Webber since joining Red Bull in 2009.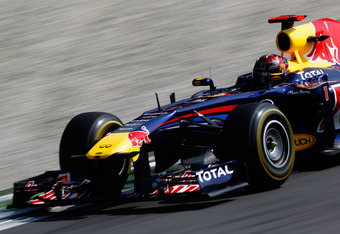 Paul Gilham/Getty Images
Not that it has been all smooth sailing. Vettel had some interesting incidents in 2010. He ran into teammate Mark Webber when attempting a pass in Turkey and later slammed into Jenson Button in the wet at Spa.
The incident with Webber brought to light serious intra-team rivalry in the Red Bull garage, with Vettel getting seemingly unwarranted support from principal Christian Horner and RBR 'consultant' Helmut Marko, despite the rest of the world seeing the incident as largely Vettel's fault.
When it really mattered most, however, Vettel switched up a gear. In the 2010 season decider, he drove the perfect race to clinch the championship despite going into the race in third place and 14 points adrift.
Vettel also had significant difficulty defending his pole positions in 2010 as the RB6 (and subsequently the RB7) showed itself to be a challenging car to get off the line.
Despite the difficulty with starts, many argue the secret of Vettel's success is founded in the superlative Adrian Newey-designed RB6 and RB7 cars.
While that is a strong argument, the fact remains that there are two other highly competitive manufacturers in McLaren and Ferrari, and while the Red Bull cars seem well suited to the newer, Hermann Tilke-designed tracks, they have been outclassed on the street circuits and traditional, faster tracks.
Mark Thompson/Getty Images
Vettel has, however, learned from his mistakes. After a handful of errors in 2010, he has returned this year to deliver almost flawless driving, culminating in the stunning victory at Monza.
The brilliance of Vettel's victory in Italy should not be underestimated. Quite apart from the stunning passing manoeuvre that he pulled on Ferrari pilot Fernando Alonso, he at no stage looked like being beaten after that point.
He out-qualified his rivals with a trademark blistering lap that sliced a half second off the previous best time, and he did it in a car that conventional wisdom tells us is completely unsuited to the Monza track.
While Monza is the fastest track on the F1 calendar, Vettel won the 2011 Italian F1 Grand Prix in the slowest car on the track (as measured through the speed trap during qualifying), quite a brilliant achievement.
Vettel's understanding of the technical side of his car's performance could well be his greatest strength. His car was geared to get him out of corners better than his rivals, giving the necessary buffer against overtaking in the high-speed sections of the track—a strategy that worked perfectly.
The one remaining criticism of Vettel is that he only knows how to win from in front. His move on Alonso showed that not only can he drive fast and smart, he can also drive with courage.
Besides, criticising someone for only being able to lead from the front implies that it's easy to get there.
If that were the case, wouldn't the others have tried the same thing?