Attention NBA: Jordan Crawford Ready to Take League by Storm
September 14, 2011
Rob Carr/Getty Images
One player that took the NBA by storm towards the second half of the 2010-11 season was none other than Washington Wizards rookie shooting guard Jordan Crawford. After barely playing in a crowded Atlanta Hawks backcourt, he showed his skills once he saw playing time in the nation's capital. Crawford may be worth keeping around, and with his abilities he can be a difference-maker on any NBA team.

Crawford, an All-American who attended high school in the Detroit area and is somewhat famous for dunking on LeBron James during a summer basketball game, started his college career at Indiana University, where he would only spend one season under former coach Kelvin Sampson. Crawford then transferred to Xavier (OH) University, and after sitting out for one year led the Atlantic 10 in scoring with 20.5 points per game during the 2009-10 NCAA basketball season. Crawford's older brother, Joe, played college basketball at the University of Kentucky and spent a little time in the NBA.

Crawford was drafted by the New Jersey Nets with the 27th overall pick in the first round. The Nets then traded the draft rights to Crawford and European big man Tibor Pleiss (who was dealt to the Oklahoma City Thunder later) to the Atlanta Hawks in exchange for former University of Texas player Damion James. During the first part of the season in Atlanta, with the crowded backcourt, Crawford was not a part of the regular rotation and picked up some minutes playing behind Jamal Crawford, Joe Johnson and Damien Wilkins amongst others. Even with his reputation as being a scorer (as he showed in the NCAA tournament and throughout the NCAA season), the minutes were not there in Atlanta.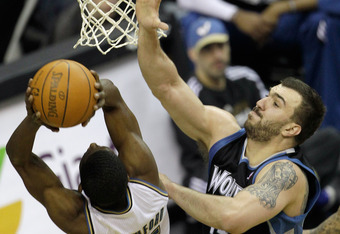 Rob Carr/Getty Images
Things changed close to the NBA trade deadline. On Feb. 23, 2011, Crawford—along with Maurice Evans, Mike Bibby and a 2011 first-round draft pick—was traded to the Washington Wizards in exchange for Kirk Hinrich and Hilton Armstrong. Crawford got to see playing time right away in Washington as the Wizards had players out with injuries and were also evaluating their players to see whom they would keep next year as the team was not going to clinch a playoff spot.

While with the Wizards, Crawford showed his scoring ability to the entire league by scoring 22 points against the Milwaukee Bucks, scoring 27 points in a loss to the Chicago Bulls one week later, scoring an impressive 39 points against the Miami Heat and on April Fools notching his first career triple-double versus the Cleveland Cavaliers. Even Atlanta Hawks general manager Rick Sund said that the club did not want to trade Jordan Crawford at all knowing he is a talented player who needed minutes on the court. Rumor was that the Hawks offered Jamal Crawford and other players on their roster to the Wizards, who insisted they wanted Jordan Crawford if the Hawks wanted Kirk Hinrich.

The Washington Wizards may indeed have a new tandem to work with going forward. Point guard John Wall, shooting guard Jordan Crawford, small forward Nick Young and big man Andray Blatche could be a dynamic group if all pieces remain with the team in the years to come. The team is still very young and it will be interesting to see what this team decides in the next couple of seasons.
However, one thing is for sure: They have gotten one heck of a player in Jordan Crawford.