Fantasy Fallout: Knowshon Moreno and Brandon Lloyd Injured in Week 1 Opener
September 13, 2011
Doug Pensinger/Getty Images
The statuses of Denver Broncos running back Knowshon Moreno and receiver Brandon Lloyd are taking center stage as the two fantasy football stars had sustained injuries that could hamper their performances going forward.
NFL.com's Adam Rank has been monitoring this situation and has reported the injured players will be evaluated by medical personnel on today.
Moreno aggravated his hamstring in Denver's opening game against the Raiders and will undergo an MRI to see the extent of the injury.
Moreno's hamstring injury is yet another injury timeout for the running back as he has a history of these problems which could limit his production in the 2011 season.
Running back Willis McGahee is set to assume the primary duties if this recent injury proves to be something considerable and the Broncos coaching staff has already declared that they will rely on the "hot" running back in the ground game.
Outside of a possible true running back committee in Denver, Moreno owners should be concerned for two reasons.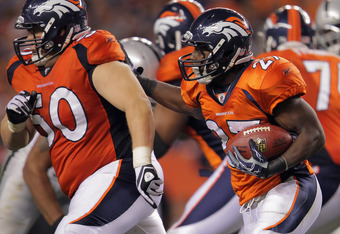 Doug Pensinger/Getty Images
The first is obviously his injury, keeping him limited if it pans out to be something similar to Arian Foster's hamstring issue, and secondly they should be concerned with John Fox's preference to veterans.
If McGahee can have a rebirth in Denver, he could spell Moreno for the starting role and leave him useless, for the most part, to fantasy owners.
Wide receiver Brandon Lloyd has reportedly "tweaked" his groin in NFL action against the Raiders and is also undergoing an MRI to see if there is anything significant to the area.
If the Broncos lose Lloyd for any period of time, they face a very tough time moving the ball effectively as the receiving positions after Brandon are filled with mediocre talent.
Fantasy owners should monitor these situations extremely close to see what, if anything, will arise out of the Broncos camp.
Even if these players are cleared or are limited, I wouldn't expect them to be able to post worthy numbers so you may want to consider other options on your fantasy team if it proves to be serious for Moreno and Lloyd.