Seahawks vs. 49ers: Jim Harbaugh, Vinny Chase Fail to Meet Expectations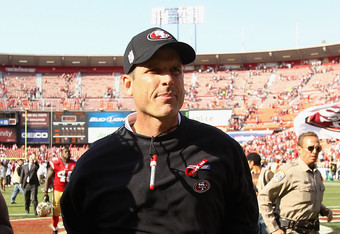 Ezra Shaw/Getty Images
Still not sure which was more disappointing on Sunday, the series finale of Entourage or the return of the West Coast offense to Candlestick.
Sure, both accomplished what they set out to do—Entourage set the stage for the movie, Jim Harbaugh earned his first NFL victory—but educated fans of either turned off their television sets wanting more.
Moving away from Vince and the boys for a minute, let me begin by reiterating that for the 49ers a win is a win is a win.
Too often over the past years San Francisco has achieved moral victories instead of actual ones, and given the importance of winning the home opener against a division rival you have to say the start to the Harbaugh era was a success.
Having said that, to quote from another HBO favorite, I'm beginning to worry that rumors of Harbaugh's status as an offensive guru were greatly exaggerated.
During the preseason you could justify the vanilla play calling as a grand attempt at deception, refusing to show the real playbook in order to better unleash a torrent of offensive ingenuity in Week 1 vs. Seattle.
Instead, we got a steady stream of Frank Gore runs up the middle and Alex Smith dump-offs to the flat.
What was especially mystifying was the 49ers' play calling in the red zone, which looked like Harbaugh lost the page of his playbook that had the passes on it.
The only offensive touchdown was even the product of a running play, a tremendous effort by Smith which was made doubly cool because it led Harbaugh and Smith to execute a man hug that would make Ari Gold jealous.
Look, the Seahawks are so bad the 49ers could have won the game running the Wing-T, but that doesn't mean they should have tried.
You can try and spin the play calling as conservative or good game management, but what I saw was an offense that has sputtered and faltered for the past few season, once again fail to put up points against an inferior opponent.
What's worse, I saw a coach that was scared to let his veteran quarterback throw the ball downfield or in the end zone.
Somewhere around the third quarter Jimmy Raye must have awoken from his afternoon nap and dialed up Mike Singletary to ask why the hell they got fired.
The optimist in me—you might not be able to tell but I have one—is still holding out hope that Harbaugh is deliberately bringing the offense along slowly and in practice they are secretly running no-huddle quick slants out of five-wide receiver sets.
The pessimist in me saw that first quarter highlight of Toby Gerhart running through the USC line and panicked, remembering that before Andrew Luck showed up, Harbaugh's offense consisted of handing the ball off to a 230-pound white running back so many times he almost won the Heisman.
Like Entourage, you can only hope that Harbaugh's uninspired performance Sunday was simply setting the stage for bigger and better things down the road.
Unlike Entourage, we will only have to wait a week to find out.
This article is
What is the duplicate article?
Why is this article offensive?
Where is this article plagiarized from?
Why is this article poorly edited?

San Francisco 49ers: Like this team?