What Does an F1 Driver Do in The Offseason? (Part Two)
November 22, 2008
What does an F1 driver do in the off-season?
Well, for the first time in history, this series will uncover the answer by delving into the deep dark world which is the F1 off-season.
Last week in Part One, we brought you Lewis Hamilton, Robert Kubica, Felipe Massa, Kimi Raikkonen, and Sebastian Vettel. This week we bring you Heikki Kovalainen, Kazuki Nakajima, Fernando Alonso, Mark Webber, and Nelson Piquet.
Heikki Kovalainen keeps the kids safe
Heikki, whom himself has seven children, loves to volunteer at the local school as a Lollipop lady, sorry man whilst he isn't busy racing his F1 car backwards down the grid.
The Finnish driver came seventh in comparison to his teammates first in the F1 WDC 2008. Heikki has been taking the time to weigh up being in Hamilton's shadow all the time and continuing in F1, or leaving and becoming a full-time paid Lollipop lady, sorry man. We are expected to find out in February.
Kazuki Nakajima feels the credit crunch at Kazuki Motors
Don't confuse it with Suzuki Motors, this is Kazuki Motors, the best car dealership in Japan.*
With the credit crunch taking a hold on the motoring industry, Kazuki has cut his prices by up to 85 percent on all luxury tin cans. One even features electric windows; the list price says $2,000 but I know you could barter that down to at least $1,950.
* for legal reasons, this statement is not true, and Toyota rules!
Nando loves to cart people from A to B
CryBaby Cabs is Alonso's latest business venture; he loves to cart the Spaniards around town and catch up on the latest gossip. Rumour has it that he never lets people in his cab whose names begin with "R," nobody is quite sure why, or even if it's true.
Mark Webber takes the time to cycle the world
Mark Webber is embarking on a 20 week, round-the-world cycling trip which will take him from now until the first race in March. Webber has always been a keen cyclist, often holding charity events, which involve cycling 50km as well as running and swimming.
In real news: Mark Webber was airlifted to hospital after having a head on crash with a car, whilst competing in his charity bike race. This is serious news, and is not part of this article. Mark is said to have suffered a broken leg, and will miss winter testing. A Red Bull spokesman has said he will compete in the opening race.
Nelson's Butchers reveal the owner to be none other than Piquet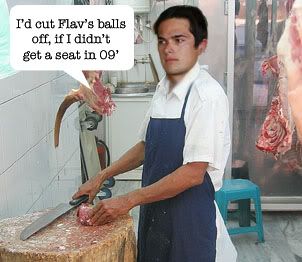 The well-known British butcher chain, Nelson's has always had a dark secret. Nobody has ever known who owns the chain of butchers, but in a breaking article which has already given you nine other secret F1 identities, we can reveal the chain is owned by none other than Nelson Piquet, who inherited the meat machine from his father.
In a statement to the Brasil Times, Piquet said; "Eu Cortarei Flav's esferas de s fora se I don't comec um assento em 2009," which roughly translates into English as, "I will cut Flav's balls off if I don't get a seat in 2009."
Next Week
We bring you five more drivers and their secret careers whilst the F1 season is on "off mode."