What Does an F1 Driver Do in the Off-Season?
November 14, 2008
In this brand spanking new ground-breaking series, set to rival the "Formula One Times" (yea right), Bleacher Report brings you the answer to the question which has literally been on one person's mind for the past minute or two:
What does an F1 driver do in the off-season?
Well, for the first time in history, this series will uncover the answer by delving into the deep dark world which is the F1 off-season.
This week we bring you, Lewis Hamilton, Robert Kubica, Felipe Massa, Kimi Raikkonen, and Sebastian Vettel.
Lewis Hamilton takes time to film the new Bond film.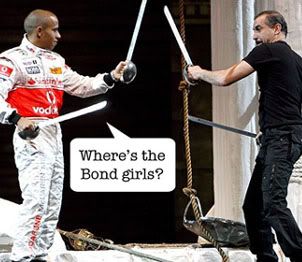 In this secret shot obtained illegally from the next James Bond film, "Swords in Singapore at Dawn," shows that the new Bond, set to replace Daniel Craig, will be none other than Lewis Hamilton himself. 
The current world champion stated that "winning by just one point is what James Bond would have done, he loves to live dangerously, as do I, this is why they chose me."
James Bond, "Swords in Singapore at Dawn" will be in cinemas May 2009.
Robert Kubica shows off his bricklaying skills.
Robert Kubica was caught in this shot building a new house situated in lovely Milton Keynes. The BMW driver loves to show off his circular brickwork, and believes consistency with his Cement mix is they key to getting the roundest shape.
Robert was overheard saying that the economic crisis has really dented the housing market, and he's worried he won't have enough work too keep him busy until March.
Felipe Massa has always been good with numbers.
Felipe knew after China that his chances of winning the WDC in 2008 were just 37.459 percent in favour. Most people don't know that Massa owns an accountancy firm back in Brazil called Massa-sive Numbers & Co.
The Brazilian loves to play with his Calculator in his spare time, and is in fact the person who discovered you can type 'Boobless' into a calculator by using the numbers 55378008, then turning the calculator upside-down.
Raikkonen is well known for his love of Vodka, but not his Barman skills.
Something you didn't know about Kimi Raikkonen is the fact he is a Barman at a Gentleman's club back in Finland when the F1 season winds down. He's a dabb-hand at cocktails, and his bar's motto is: "You can have anything, as long as it's Vodka."
Massa was in charge of Raikkonen's accounts last year, and discovered that Bar-Kimi made an operating loss of $122,000 in 2007. This debt was written off because it was though Kimi spent the entire 2008 season celebrating his 2007 WDC.
Vettel Goes Back to School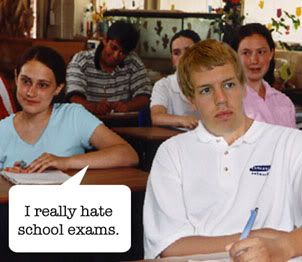 Sebastian Vettel has returned to school to finish his ninth-grade exams. The 12-year-old Red Bull driver is currently studying Maths, English, Italian, Science, and Geography. Seb, as his school mates call him, has to juggle driving lessons (yep, he doesn't even have a license yet) with schoolwork, he's a busy boy.
Next Week!
Next week, in this new ground-breaking series we will have another five drivers...