NASCAR Sprint Cup Power Rankings: Top 15 Drivers Coming out of Richmond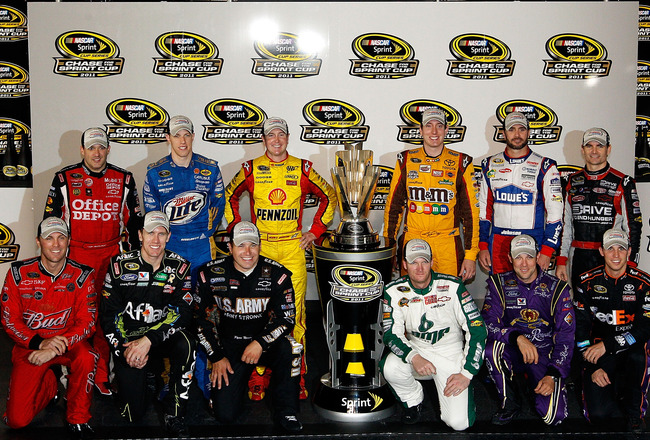 Tom Pennington/Getty Images
Ladies and gentlemen, meet the 2011 field for the Sprint Cup Chase for the Championship.
Despite the wreckfest otherwise known as the Wonderful Pistachios 400 at Richmond International Raceway, the Chase field remained unchanged in the final race before the Chase.
Tony Stewart, Dale Earnhardt Jr. and Denny Hamlin did what they had to do to maintain their positions within the field. In added drama, Hamlin and Earnhardt were forced to battle back from early wrecks.
Kevin Harvick pulled off an impressive victory by holding off Carl Edwards in the closing laps at Richmond. With the win, Harvick tied Kyle Busch for the series lead in victories and joined Busch atop the standings with the points reset for the Chase.
But the real story of the race was the series of wrecks and retaliations between five-time defending champion Jimmie Johnson and long-time antagonist Kurt Busch.
The drivers in the Chase field obviously make up the bulk of the power rankings this week. Who else makes the top 15?
No. 1: Kevin Harvick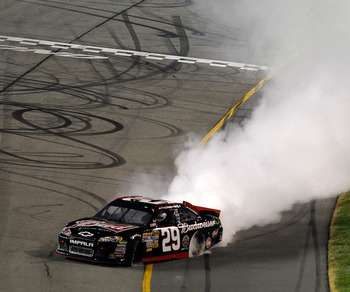 Chris Graythen/Getty Images
After a relatively rough couple of summer months, Kevin Harvick is storming into the Chase on the heels of his most dominating performance of the year.
A few weeks ago I had basically written off Happy's chances of winning a championship, but now he's tied for the points lead and has momentum on his side. After his Richmond win, Harvick has to be considered one of the favorites for the title.
Richmond: Winner, 202 laps led
2011 Standings: co-leader
No. 2: Jeff Gordon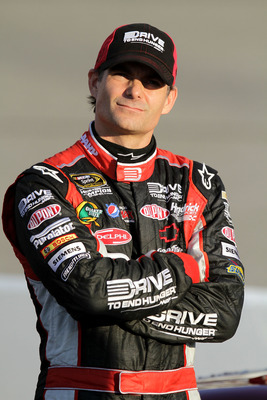 Jerry Markland/Getty Images
Jeff Gordon was one caution away from winning back-to-back races heading into the Chase, but let there be no doubt: The Drive for Five is as alive as ever.
With three wins in 2011—his most since making six trips to victory lane in 2007—Gordon is at the top of the list of challengers seeking to end Jimmie Johnson's five-year championship stranglehold.
The Rainbow Warrior is showing signs of youthful vigor and would love nothing better than to dethrone his one-time protege.
Richmond: third, seven laps led
2011 Standings: third, -3 points
No. 3: Kyle Busch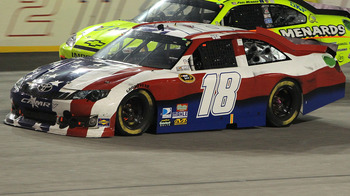 Justin Edmonds/Getty Images
Kyle Busch had one of the most patriotic cars on Saturday night but I'm sure he would have traded some of the stars and stripes for a little more speed if he had the opportunity.
Still, a sixth place finish isn't bad, though Shrub certainly hoped for more at a track where he'd won three of the five previous events.
Busch is tied for the points lead heading into the Chase. The million-dollar question is: Can he put together 10 solid races while avoiding catastrophic wrecks, engine failures, brake failures and temper tantrums?
The list goes on and on for arguably the most talented but incendiary driver in the sport.
Richmond: sixth
2011 Standings: co-leader
No. 4: Jimmie Johnson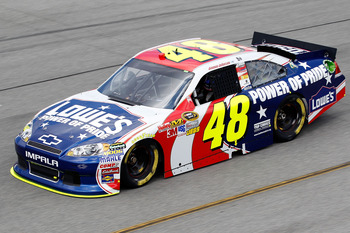 Todd Warshaw/Getty Images
Like Kyle Busch, Jimmie Johnson had a patriotic color scheme on the 10-year anniversary of 9/11. Unlike Busch, Johnson's car had speed and he led 38 laps early, third most of any driver.
Unfortunately, Johnson was wrecked by Busch's older brother Kurt. His retaliation attempt failed to accomplish much more than being temporarily parked by NASCAR, hardly a good omen heading into the Chase.
But he's the five time defending champion, so no one is about to count him out until, well, he's mathematically eliminated.
Johnson, crew chief Chad Knaus and the whole No. 48 team doesn't plan to see that happen.
Richmond: 31st, 38 laps led, 38 laps down
2011 Standings: tied for fifth, -9 points
No. 5: Matt Kenseth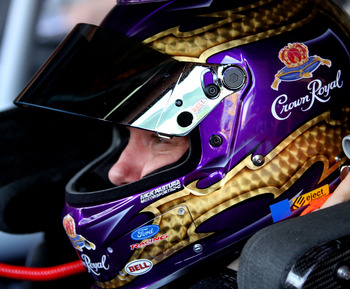 Jerry Markland/Getty Images
Matt Kenseth led 15 laps at Richmond, but overall had a rough night and finished off the lead lap.
Prior to Saturday night's race the 2003 champion had been on a roll and he still has to be considered a legitimate title threat.
Perhaps he's not on the level of Gordon, Johnson and Kyle Busch, but Mr. Consistency should be right there if the top contenders falter.
Richmond: 23rd, 15 laps led, one lap down
2011 Standings: fourth, -6 points
No. 6: Carl Edwards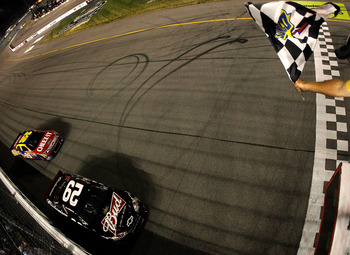 Edwards couldn't quite pass Harvick with the win on the line.
Todd Warshaw/Getty Images
Carl Edwards wasn't quite able to get to Kevin Harvick's bumper in the closing laps of the Wonderful Pistachios 400, but he led over 100 laps and is rounding into championship form after a tough stretch at the end of the summer.
With the ink still damp on his brand new contract, Cousin Carl is looking as strong as he has since finishing runner-up to Jimmie Johnson in a 2008 title fight.
If he can win a couple of races in the Chase, Edwards should be in the mix when the series heads to Homestead for the season finale.
Richmond: runner-up, 113 laps led
2011 Standings: tied for fifth, -9 points
No. 7: Kurt Busch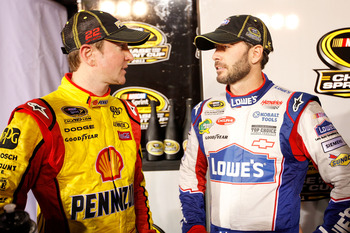 Chris Graythen/Getty Images
Another chapter was added to the Jimmie Johnson vs Kurt Busch saga on Saturday night. Whether or not it will destroy either drivers' title hopes remains to be seen.
I doubt it will matter for Busch. The No. 22 team has been brilliant at times this season but not consistent enough to make a serious bid for the title.
Richmond: fifth
2011 Standings: tied for fifth, -9 points
No. 8: Brad Keselowski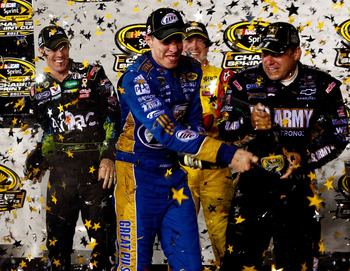 Jeff Zelevansky/Getty Images
No, Brad Keselowski didn't get to celebrate another win on Saturday night. But he did get to celebrate making the Chase in just his second season as a full-time Sprint Cup driver.
Keselowski's turnaround is remarkable. In 2010 he had no top-10s at this point in the season and would score just two before the end of the year.
This time around, BK has three wins and a ton of momentum heading into the Chase. But will he be able to keep it up and make a run at the championship?
Richmond: 12th
2011 Standings: tied for ninth, -12 points
No. 9: Ryan Newman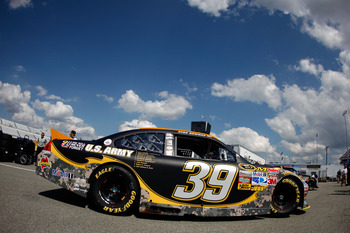 Chris Graythen/Getty Images
Ryan Newman has been running fairly consistently all year, and he heads to the Chase after a solid eighth place run at Richmond.
That type of running did fine to get Newman into the Chase, but now that the Chase is upon us it won't keep him in the championship mix for long unless all the top drivers run into serious trouble.
I wouldn't bet on that happening.
Richmond: eighth
2011 Standings: tied for fifth, -9 points
No. 10: Tony Stewart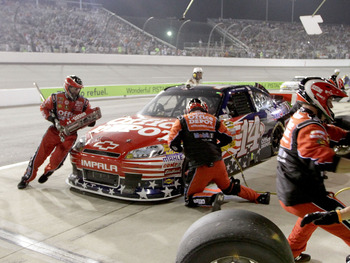 Jerry Markland/Getty Images
Tony Stewart would have us believe his team doesn't even belong in the Chase. The No. 14 team has actually been pretty good lately, with three top 10s in the last four races.
However, Smoke hasn't led a single lap since July so I tend to agree with Stewart that he won't be a factor in the title hunt.
Richmond: seventh
2011 Standings: tied for ninth, -12 points
No. 11: Denny Hamlin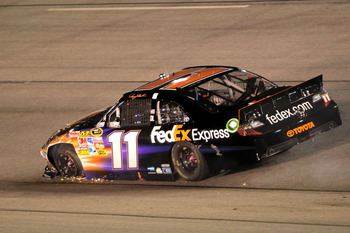 Justin Edmonds/Getty Images
A year after dominating the Sprint Cup Series with eight wins and losing the title in the season finale, at times nothing has gone right for the No. 11 team this year.
Despite a gritty performance at Richmond, fighting back from an early wreck to finish in the top 10, I don't believe Hamlin's team is in position to make another run for the title.
Just barely sneaking into the Chase as the second wild card isn't likely to be a recipe for winning a championship.
Hamlin and crew chief Mike Ford too often are on different pages and the team chemistry just hasn't been there in 2011.
Richmond: ninth
2011 Standings: tied for ninth, -12 points
No. 12: Dale Earnhardt Jr.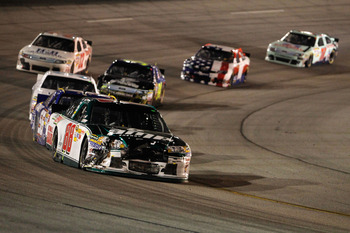 Tom Pennington/Getty Images
Earnhardt may have been at the head of this pack of cars momentarily, but with that ornamentation on his grill I doubt he was going faster than most of them.
Nonetheless, it was an impressive performance to take his battered No. 88 car to the finish, and on the lead lap no less.
But entering his first Chase since 2008, does Earnhardt have enough in the tank to make a serious charge at his first Sprint Cup title? I doubt it, but only time will tell.
Richmond: 16th
2011 Standings: tied for ninth, -12 points
No. 13: A.J. Allmendinger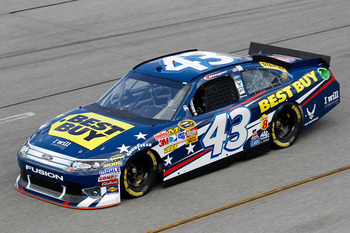 Todd Warshaw/Getty Images
2011 has been another year of what-ifs for the driver of the famed Petty No. 43 machine.
A.J. Allmendinger narrowly missed the Chase and is winless so far in 2011. Five new Sprint Cup winners have been anointed, but not the 'Dinger.
The focus will now be on preparing for the 2012 campaign, although I'm sure Allmendinger hasn't given up on scoring that elusive first victory this season. If he's going to do it, Dover is likely the place it will happen.
Richmond: 11th
2011 Standings: 13th
No. 14: Mark Martin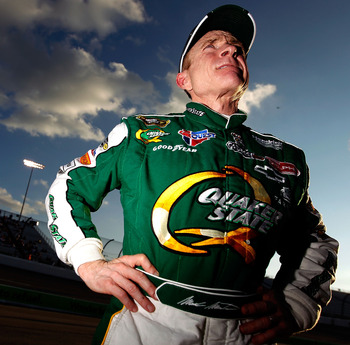 Tom Pennington/Getty Images
Speaking of disappointing seasons, perhaps no driver has had as high of hopes and yet accomplished so little as Mark Martin in his final year with Hendrick Motorsports.
Winless and on the outside of the Chase looking in for the second consecutive year, the only news about Martin for the rest of the year will probably be speculation surrounding his plans for the 2012 season and beyond.
I, for one, hope to see Martin come back for another year or two. The fans of NASCAR aren't ready for to see Martin hang up his steering wheel just yet.
Richmond: 10th
2011 Standings: 16th, 37 points behind 13th
No. 15: Greg Biffle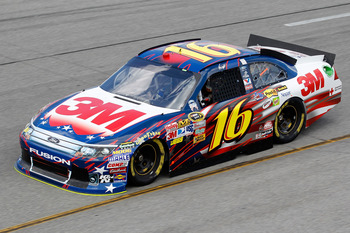 Todd Warshaw/Getty Images
The 2011 season has been frustrating for Greg Biffle, to say the least.
Biffle squandered a chance for victory not once, but twice, at Michigan in the June and August races.
With a solitary top-5 this year, Biffle is threatening to set a career low in that category, as well as go winless for just the second time in his career.
The next 10 races will give an indication if Biffle is primed for a turnaround next season. I wouldn't be shocked to see him rip off a couple of wins, but the lack of strong results is worrisome.
At least Biffle doesn't have to worry about his contract status, having signed an extension with Roush Fenway Racing earlier this year.
Richmond: 13th, six laps led
2011 Standings: 15th, 18 points behind 13th
Keep Reading