USC Football 2011: Trojan Challenges for Syracuse Orange Game in Week 3
September 11, 2011
Stephen Dunn/Getty Images
Both the Syracuse Orange and USC Trojans are undefeated after the first two games. The Trojans will be favored but there are some areas where continued improvement is needed for USC to avoid another close game.
Syracuse beat the Wake Forest Demon Deacons in overtime 36-29 in overtime and the Rhode Island Rams, 21-14.
USC is 2-0 after defeating the Minnesota Golden Gophers 19-17 and Utah Utes 23-14, and ranked the equivalent of No. 27 in the Week 3 AP rankings.
One thing that these two teams have in common is a fighting spirit.
Syracuse played Wake Forest tough the entire game and should have easily lost based on the stats but found a way to win in overtime. Wake Forest beat North Carolina State 34-27 on Saturday.
The Orange were heavily favored over FCS opponent Rhode Island last Saturday but entered the fourth quarter tied at 14-14. QB Ryan Nassib threw the winning TD pass to Michael Acchione to win. He had a career-high 318 yards, three TDs and one interception on 29 of 37 attempts. Syracuse had only 36 yards rushing and converted only three of 12 third downs.
Syracuse may have lost four key players on defense for the USC game: DE Chandler Jones, S Orlando Fisher, CB Ri'Shard Anderson and LB Dyshawn Davis.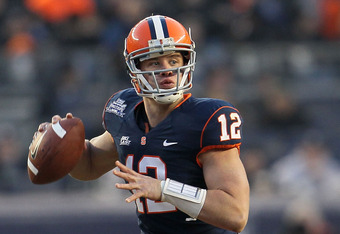 Chris McGrath/Getty Images
The Trojans have been hurt by turnovers and untimely penalties in its two close victories against Minnesota and Utah.
USC was dominating Minnesota 19-3 at the half, when a bad snap turnover in the third quarter led to a Gopher TD and changed the momentum of the game. The Trojan offense was plagued with seven dropped passes and penalties to keep them from scoring again. Fortunately the defense held on for the win with a game-saving interception in the last minute.
Utah escaped a lopsided loss, when USC turned the ball over twice in the red zone and once at midfield with fumbles leading to both TDs by the Utes. The Trojans only scored one TD in the second half due to untimely penalties and the last turnover. Fortunately, the USC defense played very well and special teams blocked a game-tying FG with time running out—CB Torin Harris ran it back for a TD.
Here is an ESPN comparison of USC and Syracuse stats after the first two games.
What do the Trojans need to improve on to beat Syracuse by more than the point spread? USC opens as a 13-point favorite.
First, USC must achieve a positive turnover margin. USC must avoid fumbles and any pass interceptions while using its physical defense to force turnovers.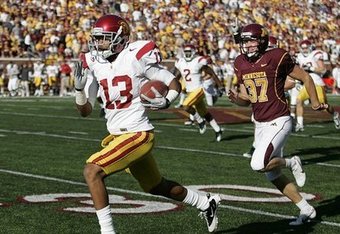 Second, the Trojans need to continue to reduce penalties, especially at critical times. Most of this has occurred with inexperienced players but they now have two games under their belt so it should improve.
The Trojan special teams have done some good things so far, but this would be a good time for some long kickoff or punt returns, several FGs and better punting than the Utah game.
Next, the pass coverage must continue to improve. USC used more man-to-man coverage but has to avoid pass interference while maintaining tighter coverage.
Finally, USC needs to do everything they are doing right. This includes continued improvement of the offensive line, a balanced running and passing attack, spreading the ball to the talented USC receivers while avoiding drops, and great defensive play by the front seven (stop the run, more sacks and pressure the QB into bad throws).
If this happens, not only will Trojans fans avoid a heart attack but more of the inexperienced but talented USC players will get into the game.
That will be good for everyone, except Syracuse.
Prediction: USC 41 - Syracuse 17