USC Football
USC Football 2011: Trojans Answer Many Questions vs. Utah Utes in Week 2
Harry How/Getty Images
September 11, 2011
Welcome to the Pac-12, Utah. Although outmanned, you played hard and kept the first Pac-12 conference game close while the USC defense preserved a 23-14 win for the Trojans.
Last week we discussed the 10 questions for USC to answer in this game. Many were answered, but there is work to be done for the Trojans to have the successful season desired.
After the game in a national TV interview, USC coach Lane Kiffin congratulated the Utah Utes for playing very well and expressed his praise for the Trojans players. Kiffin told reporters at the post-game press conference, "I'm excited to finish this way. The energy on the sideline and energy on the field brings a team together." Here is his post game interview courtesy of SCPlaybook.com.
Game Summary
Utah stayed in this game when the Trojans offense uncharacteristically coughed up three turnovers in the red zone. Two fumbles by freshman RB D.J. Morgan and TE Xavier Grimble resulted in all 14 points for the Utes.
Meanwhile, the USC defense held Utah to 319 total yards with only 81 yards rushing. Time and again, the Trojan defense stopped the Utes. This defense is much better than the 2010 USC defense ranked 83rd nationally.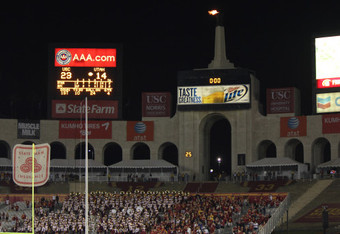 Here is the USC-Utah final score for anyone still confused.
The Trojans gained 416 yards with a balanced offense with QB Matt Barkley's 264 yards passing (20 of 32) and 152 yards rushing on 39 attempts. USC could have easily scored another 21 points without the turnovers.
Senior RB Marc Tyler made a huge impact on the running game with 113 yards on 24 carries and one TD.  Sophomore WR Robert Woods had a "quiet" eight receptions and 112 yards, but the ball was spread to six other receivers for 12 receptions and 151 yards.
Special teams blocked the Utah game tying FG attempt and CB Torin Harris ran it back for a TD.
Contrary to last season, the Trojans held on in the fourth quarter of a tight game for the second week in a row.
Here is game report card from ESPN's Pedro Moura and excellent video highlights courtesy of T-Wire.
Answers to Questions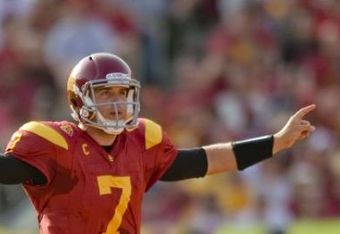 USC QB Matt Barkley
1. Will the Offensive Line open holes and give Barkley more time to pass down field?
Yes.
Utah has a very good front seven. The USC OL played better than expected giving QB Matt Barkley time to throw and opening holes for the running game. LG Martin Coleman made his first start and did well. However he left in the second quarter and Jeremy Galten relieved him.
2. Will more receivers get involved in the passing game?
Yes.
Lane Kiffin was criticized somewhat unfairly for the play calling in the second half of the Minnesota game. He realized that WR Robert Woods would be covered differently and there were eleven pass completions to seven different receivers in the second half. Unfortunately there were also seven drops including four by freshmen TEs Randall Telfer and Xavier Grimble. Together with penalties at the wrong time, those drops stalled USC drives and the USC offense looked as bad in this half as they looked good in the first half.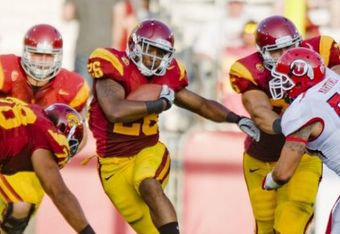 USC RB Marc Tyler ran for 113 yards on 24 carries in his first 2011 game against Utah
The Trojans had seven receivers catch passes in the Utah game. However, both Grimble and Telfer had excellent games except for a fumble turnover by Grimble. Grimble was the second leading pass receiver with five receptions for 65 yards and one TD. Telfer had two receptions for 28 yards. Kiffin found a weakness in the Utes coverage and exploited it. Woods was the leading pass receiver again but with less than half the pass receptions in this game.
3. Will a running game be established?
Yes.
The experience and power of senior Marc Tyler made a big difference this week. While most of his runs were in the three to five yards range (averaging 4.7), he maintained positive yardage keeping drives alive. That was very important against the very tough Utah front four.
At the post-game press conference, Marc Tyler told reporters, "I just feel good. This is something I dreamed about."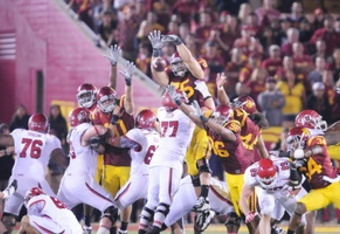 USC OT Matt Kalil blocks Utah FG to save game
The balanced running and passing attack made the USC offense more difficult to stop (except for turnovers and some penalties in the fourth quarter).
4. Will Penalties be reduced especially at key times?
Yes, partially.
The Trojans had six penalties for 54 yards. However, too many were at key times, however three penalties in the fourth quarter almost cost USC the game.
In a drive starting with 12:27 remaining and USC ahead 17-14, a Trojan WR lined up in an ineligible receiver position and this caused a 36 yard reception by TE Randall Telfer to be called back and the Trojans penalized five yards. The Trojans were forced to punt after the third down failed.
With 6:04 remaining WR Brandon Carswell committed an illegal block (due to a new rule) that resulted in 14-yard penalty and the Trojans were forced to punt after the long third down failed.
Utah got the ball back with 1:01 remaining and drove to the USC 39 yard line when the Trojans were penalized 15 yards for pass interference by Tony Burnett. Fortunately the FG attempt from the 24 yard line was blocked by Matt Kalil to save the game.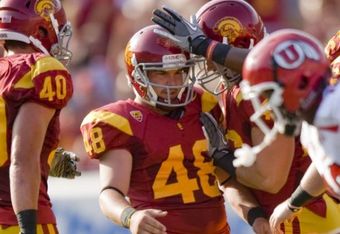 USC Freshman kicker Andrei Heidari congratulated after first USC FG, a 47-yarder
5. Will Special Teams get a chance to kick FGs?
Yes.
Freshman Andrei Heidari made the first points in Pac-12 history when he kicked a 47-yard FG. He  also made a similar one that was negated by a penalty.
6. Will the Trojans continue to go for two extra points?
Not this game. USC didn't need the boo-birds in this close game.
You might be surprised that there are more good football reasons to go for two points than kicking the extra point. The pros and cons of this issue are discussed here.
7. Will the Trojans get a positive turnover margin?
No.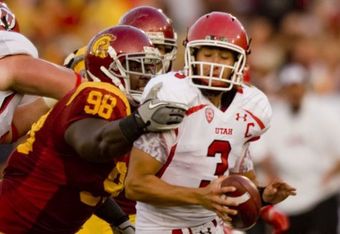 USC DT DaJohn Harris sacks Utah QB Jordan Wynn
This was the biggest disappointment in the game. USC forced Utah's RB White to fumble in the first quarter and this led to the first Trojan TD, which was a good start.
However, Matt Barkley threw an interception in the red zone in the second quarter at the Utah 15. Then on USC's next possession, RB D.J. Morgan fumbled at the Utah 16. The Utes put together a long drive and scored their first TD. Finally, TE Xavier Grimble fumbled in the third quarter and Utah scored quickly after a 51-yard run by Reggie Dunn on a reverse.
Things ended well with a blocked Utah FG and return by Torin Harris for a USC TD.
8. Will pass coverage be improved?
Yes, partially.
The Trojans played more man-to-man coverage and a very aggressive defense to contain the Utes. However, there were some pass interference calls and open receivers that could have been a problem if Utah QB Jordan Wynn had a stronger arm or was more accurate. Credit the USC pass rush for many of his problems.
9. Why did USC not make the right halftime adjustments and win the second half? 
It will be difficult for the media and fans to criticize Lane Kiffin's play calling in this game. If not for turnovers in the red zone, the Trojan offense and defense outplayed Utah for almost the entire game.
Monte Kiffin's defense handled anything that Utah coach Norm Chow could muster except for one surprise reverse and a long drive. The Trojan offense was balanced and exploited the few Utah defensive weaknesses, but shot themselves in the foot with turnovers and a few untimely penalties.
As discussed in No. 2 above, Kiffin was unfairly criticized last week for not adjusting in the second half of the Minnesota game. The problem in that game was primarily dropped passes and untimely penalties, and the record shows that more receivers were involved contrary to some press reports. The running game was inconsistent due to many stops by Minnesota so the Trojans could not sustain a balanced attack.
10. Will more players participate in the game?
Yes, a few more.
Freshman MLB Lamar Dawson played in relief of Chris Galippo in two series and did well. There were four more players used than the first game for a total of 47.
Hopefully, the Syracuse game in Week 3 will give more Trojans an opportunity to play.
The USC-Utah game was viewed as a tipping point for the Trojans 2011 season. While there are certainly areas that need to continue to improve, it showed a team that is improving and has the potential to be successful this season with a 9-3 record or better.
The Trojans have a lot of inexperienced players since over half of the team are redshirt or true freshmen, but they should continue to improve as the season progresses.
Like the new article format? Send us feedback!