Sebastian Vettel Wins a Processional 2011 Italian Grand Prix
September 11, 2011
Mark Thompson/Getty Images
Ah, what a shame!
The 2011 Italian Grand Prix promised so much after a close qualifying battle and some phenomenal first laps, but unfortunately that promise only turned to the odd flutter of excitement as the race developed into a pretty processional affair.
I was unable to comment on the qualifying yesterday and so have added a brief recap at the start of this article. I must admit, as I was typing it up this morning, I had worried that a qualifying section would make my article far too long. Oh well, in actuality the qualifying bit has helped to flesh out an otherwise short recap.
Qualifying
Qualifying for the 2011 Italian Grand Prix was in many ways very similar to most of the other Saturday sessions in this peculiar season. There were flashes of excitement and the odd surprise here and there, but ultimately the finishing lineup felt disappointingly similar.
Of course, the new teams all fell by the wayside in Q1 but I was shocked to see Jamie Alguersuari join them so early on. The Torro Rosso man fought it out with his teammate, but in the end Sebastien Buemi found just enough to limp into Q2.
Qualifying two has in my opinion been the best session in 2011's Saturday show and although the dropouts in the second session were ultimately quite predictable, there was enough last-minute action to keep fans entertained.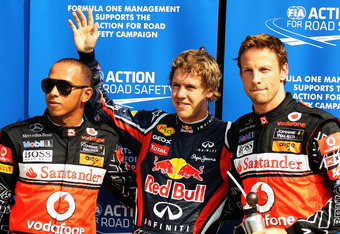 Mark Thompson/Getty Images
This excitement came in the form of a young man trying to prove that he deserves a place in F1 not purely on the back of his famous name. It looked as if 'rookie of the year' Paul di Resta was going to triumphantly make it through into Q3 when, in the dying seconds of Q2, Bruno Senna posted a time to see him make it into the final shootout for the second race in a row.
Q3 was like most other 2011 Q3s: a dash of promise from speedy McLarens, but in the end a Red Bull on top. Sebastian Vettel was fastest from the very start and when he went even quicker on his second run, his closest challengers (Jenson Button and Lewis Hamilton) chose to abort their laps.
I guess you could probably predict the rest of the top 10 without me having to tell you, but just in case…here's the final result:
Sebastian Vettel, Lewis Hamilton, Jenson Button, Fernando Alonso, Mark Webber, Felipe Massa, Vitaly Petrov, Michael Schumacher, Nico Rosberg, Bruno Senna, Paul di Resta, Adrian Sutil, Rubens Barrichello, Pastor Maldinado, Sergio Perez, Sebastien Buemi, Kamui Kobayashi, Jamie Alguersuari, Jarno Trulli, Heikki Kovalainen, Timo Glock, Jerome D'Ambrosio, Daniel Ricciardo, Vitantonio Luizzi
Race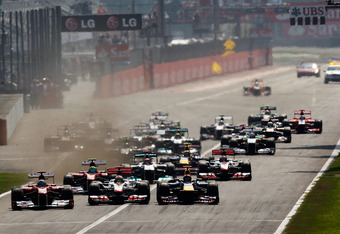 Paul Gilham/Getty Images
 What a start!
Sebastian Vettel was a little cautious as the lights went out and, as he battled to keep Lewis Hamilton at bay, Fernando Alonso shot right up the inside of both men and into the lead into Turn 1!
The crowd went wild, but they were soon stunned when Vittantonio Liuzzi put a wheel onto the grass and found himself entering the first corner sideways into first Vitaly Petrov, and then Nico Rosberg!
In all the confusion, cars darted all over the place to avoid the carnage but poor old Rubens Barrichello simply ran out of space and almost had to park at a makeshift road block set up by Rosberg and Petrov (who were nose-to-nose).
The safety car was of course deployed and we all stopped to take in what had just happened.
The crash had claimed Liuzzi, Petrov and Rosberg. It had also damaged a few parts on other drivers who were forced to pit early for replacements. Seemingly unrelated to the crash, we had also lost Jerome D'Ambrosio. The positions were as follows:
Fernando Alonso, Sebastian Vettel, Lewis Hamilton, Michael Schumacher, Felipe Massa, Jenson Button, Mark Webber, Paul Di Resta, Pastor Maldinado, Sergio Perez, Jamie Alguersuari, Heikki Kovalainen, Jarno Trulli, Timo Glock, Sebastien Buemi, Adrian Sutil, Kamui Kobayashi, Bruno Senna, Rubens Barrichello, Daniel Ricciardo
The restart came on Lap 3, Alonso and Vettel pulled away, but Hamilton was caught sleeping and Schumacher slipped past and up into P3 after a fantastic start to the race.
Alonso had done the fans a great service by taking the lead, but by Lap 4, it was clear that he was never going to be able to hold off Vettel. The Red Bull man did a great job to pass Alonso on Lap 5, but unfortunately this brought about the end of the race for first place.
Whilst one Red Bull man had taken the lead and was darting off into a world of his own, his teammate Webber was about to bring about his own demise.
Webber had suffered from a shaky start to the race and had done well to pass Button, but he was now eager to pass Massa for P5. Unfortunately for Webber, he was a little too eager going into Turn 1 on Lap 6. His Red Bull smashed into the back of the Ferrari and it was only a few corners later before the damage caused by the incident threw Webber's car off balance and into the barriers.
Massa had suffered from the incident, but did a great job to fight his way back as the afternoon developed.
After a very satisfactory start to the race, we were then treated to a great duel between Hamilton and Schumacher for third place. The two men changed position more than once and thankfully kept an otherwise uneventful section of the race very entertaining.
Hamilton's problem was that Schumacher's Mercedes was simply un-passable on the straights due to its impressive speed.
As the two men did battle, Button slowly began to gain on them and this only made the action better! This all led to a point where, by Lap 16, all three drivers were entering corners absolutely behind one another!
Hamilton was clearly getting annoyed and, at Turn 3, went a little bit wide and was forced to back off. This let Button through and interestingly, where Hamilton had struggled with Schmacher for laps and laps prior, his McLaren teammate seemed to effortlessly cruise past the man who took his place at Mercedes GP as the two men took to Turns 8,9 and 10.
When Schumacher pitted on Lap 17, it looked as Hamilton would finally be able to start putting some fast laps together, but the 2008 World Champion's heart must have sunk when he rejoined behind Schumacher after the McLaren's stop a couple of laps later.
By Lap 27, Button had fought his way up to the back of Alonso. Both men had stopped and were on the harder tyre and the Ferrari just had no defences against the McLaren (That's not to take away from a solid drive from Button).
Around this time, Hamilton finally managed to pass Schumacher and make the move stick, and although it was far too late for the McLaren man to challenge for the win, or even second place, it was highly likely that Hamilton would catch Alonso before the end of the race.
Unfortunately for the fans, Hamilton didn't really come close enough until the penultimate lap.
This did of course mean that we were treated to a fantastic final lap, but this came after some very dull processional laps beforehand.
I think, in conclusion, the Italian Grand Prix was a lot better than it could have been. Vettel had the race sorted very early on, but there were some great fights between Mercedes, Ferrari and McLaren—not to mention a super performance from Alguersuari who fought from P18 to finish P7.
However, there were long moments of processional laps and, in the end, the fight for first place was bitterly disappointing.
Still, a great start, and a close finish was probably enough to keep us thinking about this race for at least a couple of days.
Drivers' Championship Top 3
Vettel 284
Alonso 172
Button 167
Constructors' Championship Top 3
Red Bull 451
McLaren 325
Ferrari 254
Result
1 Sebastian Vettel Red Bull-Renault
2 Jenson Button McLaren-Mercedes
3 Fernando Alonso Ferrari
4 Lewis Hamilton McLaren-Mercedes
5 Michael Schumacher Mercedes GP
6 Felipe Massa Ferrari
7 Jaime Alguersuari Toro Rosso-Ferrari
8 Paul Di Resta Force India-Mercedes
9 Bruno Senna Renault
10 Sebastien Buemi Toro Rosso-Ferrari
11 Pastor Maldonado Williams-Cosworth
12 Rubens Barrichello Williams-Cosworth
13 Heikki Kovalainen Lotus-Renault
14 Jarno Trulli Lotus-Renault
15 Timo Glock Virgin-Cosworth
16 Daniel Ricciardo Hispania-Cosworth
DNF mexico Sergio Perez Sauber
DNF Kamui Kobayashi Sauber
DNF Adrian Sutil Force India-Mercedes
DNF Mark Webber Red Bull-Renault
DNF Jerome d'Ambrosio Virgin-Cosworth
DNF Vitaly Petrov Renault
DNF Nico Rosberg Mercedes GP
DNF Vitantonio Liuzzi Hispania-Cosworth