Iman Shumpert Will Show What Kind of a Coach Mike D'Antoni Really Is
September 11, 2011
Jonathan Daniel/Getty Images
In the 2011 NBA draft, the New York Knicks spent their 17th overall selection on combo-guard Iman Shumpert.  The Georgia Tech junior was a surprise to some and received mixed reviews by Knicks faithful, who were hoping the club would look to improve their interior defense. 
The 6'5" guard figures to join the Knick rotation immediately, but he may have the potentital to be much more than just a role player.  The coaching ability of head coach and offensive mastermind Mike D'Antoni will go a long way in determining how good Shumpert can be.
Shumpert is the clay of which every coach dreams.  He blew away the competition at the NBA combine leading up the the draft.  At 6'5", Shumpert's windspan measured in at 6'9".  He topped the competition with an astounding 42 inch vertical leap.  
He was surprisingly strong, lifting the standard 185-pound bench 18 times, topping all guards who participated.  By comparison, last year's MVP Derrick Rose recorded a 40" inch vertical leap and performed only 10 reps on the 185 bench in 2008.  Simply stated, Shumpert was the best pure-athlete available, and his performance lifted him into first round comsideration.
Shumpert's athleticism projects him to be a top-teir defender in the NBA.  His reach, strength and quickness should enable him to pester guards in the backcourt and shoot through passing lanes when off the ball. He averaged nearly three steals per game in his final year at Tech, and was widely known as one of the most versatile and tenacious defenders in the ACC. 
His defensive prowess is unquestioned.  Offense, however, is a different story.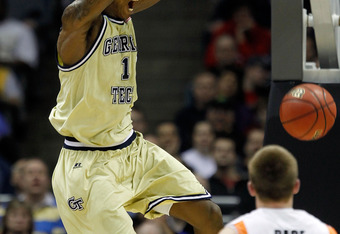 Jonathan Daniel/Getty Images
Although his scoring average jumped from 10 PPG to 17.3 between his sophmore to his junior year, Shumpert's offensive game is still a major work in progress.  His jump shot is extremely erratic and was the leading cause of his 41 percent overall shooting in 2010, the best of his three collegiate seasons. 
His 28 percent 3-point shooting also shows the major improvement needed on his range as a shooter. Shumpert has a tremendous first step, though, and is a quality free-throw shooter at 80 percent, which, coupled with his athleticism and excellent ball-handling, should allow him to get into the lane at the NBA level, but his shot selection has definitely raised some eyebrows. 
There's little question that Iman can contribute in the NBA, but to what end?  He is sure to get minutes—backing up the shooting guard position—but what about the lead guard?  Can Shumpert be the future starting point guard for the New York Knicks?
Shumpert served as Georgia Tech point gurad for his two season, but was their primarily a scorer in 2010—his time at the point drew mixed reviews.  Although he shows some playmaking ability, he forced far too many turnovers.  His 1.36 assist-to-turnover ratio is disappointing and is evidence that he would need serious coaching to be an NBA-caliber point guard. 
That's where D'Antoni comes in.
Mike D'Antoni has made his name in the NBA as being an offensive genius.  His teams have regularly been on top of the league in scoring, and many players have had career years under his watch.  He is a master at floor spacing and getting early baskets, pushing the ball at every opportunity.  
Coach D'Antoni leans on his point guards heavily, counting on them to be relentless and make the correct pass on every trip down the floor.  
He was fortunate in that he was able to acquire all-star guard Steve Nash to run his high-octane offense in Pheonix.  He entrusted the position to the limited, but heady, Chris Duhon in his first year in the Big Apple.  He invested in Raymond Felton in the summer of 2010, who seemed natural for the role, but was dealt at the trade deadline for former Finals MVP Chauncey Bilips, who mans the position at this point.
What D'Antoni has never done was develop a rookie point guard into prominence, but Shumpert could be the opportunity to do just that. 
Coach D'Antoni never instructed a player so raw, or with as many flaws, as Shumpert, but he has had success with running players such as Joe Johnson and Boris Diaw in play-making roles in Phoenix with a high degree of success.  He has also never had a guard with as much pure athletic ability as Shumpert. 
Developing Iman Shumpert into the role of point guard could change the course of the Knicks personnel strategy going forward.  In the minds of most, the Knicks are in hot pursuit of free agent to be Chris Paul. 
If Shumpert shows any real potential at the point guard position, it could ease the urgency to acquire the all-star point guard and allow the Knicks to address other needs, such as size in the frontcourt and depth on the bench.  Paired with last year's second round revelation, Landry Fields, the two could provided great size, versatility and stability in the backcourt for the forseeable future.
Iman Shumpert looks like a lock for the defensive stopper role in his first season in the NBA, but with hard work and expert coaching, he could be much more than that. That is, if Coach D'Antoni and young Shumpart are up to the challenge.