2011 Fantasy Football Week 1: Our Updated Running Back Rankings
September 10, 2011
Jonathan Daniel/Getty Images
In the opening night game between the Packers and Saints, there were a bunch of running backs (four to be exact) that were in my initial top 40 but outside of my top 25: Green Bay's Ryan Grant and James Starks, as well as New Orleans' Mark Ingram and Pierre Thomas.
With the intent of giving Grant and Starks equal work, Starks clearly showed that he is the better runner of the two. Of course, pass protection is important for running backs in order to stay on the field, and Grant was better in that regard.
Either way, coach Mike McCarthy said that Starks, who had 12 carries to Grant's nine, "did well, probably didn't have the attempts that he deserved," according to Lori Nickel of the Milwaukee Journal-Sentinel.
In Week 2, Starks, who finished with 57 yards and a touchdown, will definitely be ranked several spots ahead of Grant in our rankings.
Here are our initial fantasy running backs for Week 1 (opponents in parenthesis):
1. Adrian Peterson, Vikings (at SD): The last time these two teams met in 2007, Peterson rushed for an NFL-record 296 yards and three touchdowns on 30 carries. While I don't expect a repeat performance, the team's offensive coordinator has said that the Vikings plan this season is to "major in giving the ball to Adrian."
2. Jamaal Charles, Chiefs (vs. BUF): Charles finished second in the league in rushing last year, while the Bills allowed the most rushing yards in the league last year. It's a match made in (fantasy) heaven.
3. Darren McFadden, Raiders (at DEN): Only Arian Foster averaged more yards from scrimmage per game than McFadden last year. No team allowed more rushing touchdowns (26) than the Broncos last year.
4. LeSean McCoy, Eagles (at STL): Even better in leagues with point-per-reception (PPR) scoring, McCoy averaged more than 100 yards from scrimmage per game, despite getting more than 16 rushing attempts only twice last year.
[Related: McCoy is one of the three running backs featured in our free Week 1 fantasy football contest.]
5.Chris Johnson, Titans (at JAX): Last year, Darrelle Revis suffered a hamstring injury after his holdout. Let's hope Johnson does not suffer the same fate. With a full dose of carries, Johnson should be in store for a big week.
6. Frank Gore, 49ers (vs. SEA): In the 10 games before he fractured his hip, Gore piled up 1,253 yards from scrimmage.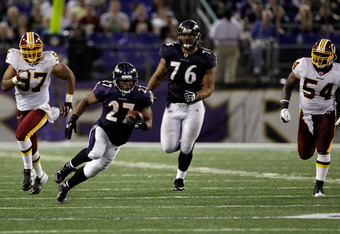 Rob Carr/Getty Images
7. Matt Forte, Bears (vs. ATL): Only three backs have racked up more yards from scrimmage since Forte was drafted in 2008: Chris Johnson, Adrian Peterson and Steven Jackson.
8. Maurice Jones-Drew, Jaguars (vs. TEN): With no David Garrard, who was released Tuesday, more of the offense will run through Pocket Hercules. Then again, more of the defense will be focused on him as well.
9. Arian Foster, Texans (vs. IND): Last year, Foster had his coming-out party against the Colts in Week 1, with a 231-yard performance. This year, he may not even play. Foster, who is dealing with a hamstring injury, is listed as questionable. He did not practice on Friday and will be a game-time decision on Sunday.
10. Peyton Hillis, Browns (vs. CIN): While his physical style of running may cause him to wear down by the end of the season, there are no worries about Week 1 against their cross-state rivals, against whom Hillis had one of his five 100-yard games last year.
11. Michael Turner, Falcons (at CHI): In his three years in Atlanta, Turner has averaged 20.6 rush attempts per game and has scored 39 touchdowns in 43 games. Although the Bears allowed the second-fewest rushing yards per game, they also allowed 14 rushing touchdowns last year.
12. Steven Jackson, Rams (vs. PHI): The Rams offense has long run through Jackson. Facing a team with three elite cornerbacks, the versatile back should get a lot of work in Week 1.
13. DeAngelo Williams, Panthers (at ARI): While a platoon with The Daily Show is not ideal, the Cardinals allowed the second-most fantasy points to opposing running backs in 2010. That is ideal.
14. Rashard Mendenhall, Steelers (at BAL): The bad news is that Mendenhall averaged only 56.7 rushing yards per game and 2.58 yards per attempt in three games against the Ravens last year. The good news is that he also scored four touchdowns in those games.
15. Ray Rice, Ravens (vs. PIT): The Steelers have ranked in the top three in run defense for seven straight seasons. Rice struggled against them last year—29 carries for 82 yards (2.8 yards per carry) and one touchdown, in addition to 10 receptions for 59 yards in three games, counting the playoffs. That said, Rice will be an even bigger part of the Ravens offense in 2011 and is a weekly must-start (even against the Steelers).
16. LeGarrette Blount, Buccaneers (vs. DET): Blount became the second-ever undrafted free agent to rush for 1,000 yards in his rookie season. Even more impressive, he had only 30 rushing yards in his first five games.
17. Shonn Greene, Jets (vs. DAL): For a second year in a row, there is buzz around Greene heading into the season (albeit less than last year). Let's hope that he gets off to a better start this time around.
18. Knowshon Moreno, Broncos (vs. OAK): While Willis McGahee may vulture some (or most) goal-line carries, the Broncos will certainly run the ball much more this season as they open up against the team that allowed the fourth-most rushing yards in 2010.
19. Beanie Wells, Cardinals (vs. CAR): By default, Wells will be the team's workhorse back in 2011. To get things going on the right foot, he faces one of the most favorable defenses against running backs in Week 1.
20. Tim Hightower, Redskins (vs. NYG): Coach Mike Shanahan likes to change up running backs, but Hightower is the guy to start the season as the Giants continue to lose defensive players at an alarming pace.
21. Jahvid Best, Lions (at TB)
22. Ahmad Bradshaw, Giants (at WAS)
23. Felix Jones, Cowboys (at NYJ)
24. Ryan Mathews, Chargers (vs. MIN)
25. BenJarvus Green-Ellis, Patriots (at MIA)
26. Fred Jackson, Bills (at KC)
27. Mike Tolbert, Chargers (vs. MIN)
28. Cedric Benson, Bengals (at CLE)
29. Brandon Jacobs, Giants (at WAS)
30. Marshawn Lynch, Seahawks (at SF)
31. Jonathan Stewart, Panthers (at ARI)
32. Reggie Bush, Dolphins (vs. NE)
33. Joseph Addai, Colts (at HOU)
34. Daniel Thomas, Dolphins (vs. NE)
35. LaDainian Tomlinson, Jets (vs. DAL)
36. Ben Tate, Texans (vs IND)
37. Michael Bush, Raiders (at DEN)
38. Willis McGahee, Broncos (vs. OAK)
39. Thomas Jones, Chiefs (vs. BUF)
40. Danny Woodhead, Patriots (at MIA)
More Week 1 rankings: Quarterbacks - Wide Receivers - Tight Ends - Kickers - Team Defenses
If you have a question (trade proposal, lineup decision, etc.), feel free to post it in our free fantasy football forum.
In addition, you can keep track of our content updates by: (1) following us on Twitter @EDSFootball and/or (2) "liking" us on Facebook.
If you're looking for some last-minute fantasy advice, tune in to our Week 1 fantasy football podcast on Sunday, September 11th at 10:00 a.m. ET on Blog Talk Radio.
Good luck in your Week 1 matchup(s)!