Stumbling into the Chase: Why Dale Earnhardt Jr. NEEDS a Great Run at Richmond
September 7, 2011
Todd Warshaw/Getty Images
It's been a crazy four years for members of Jr. Nation, to say the least.
Since coming over from his father's own Dale Earnhardt, Inc. team and joining the biggest powerhouse in racing, Hendrick Motorsports, Jr. Nation has not had much to cheer about.
Four different crew chiefs in as many years, which include, Tony Eury, Jr., Brian Whitesell, Lance McGrew and now Steve Latarte had left many fans wondering what 2011 would bring for Dale Jr.
And with the swapping of the 88 and 24 teams, it seemed like Dale was set up for a terrific run at his first chase in three years.
To start off 2011, Dale got out of the gate clicking on all cylinders. Seven straight top-15 finishes following a wreck in Daytona, Jr. was on fire, and this time he kept it up. After the eighth race of the season Dale Earnhardt, Jr. sat third in the series standings, and his fans had something to smile about for the first time since 2008.
Speaking of 2008, where was Dale Earnhardt, Jr. in points following the eighth race of the 2008 season? That's right, third! Dale was rolling off top-10 after top-10 with only little spells of poor finishes in between, which happens in racing. He seemed set to be competing for the championship after finishing eighth in the Pepsi 400.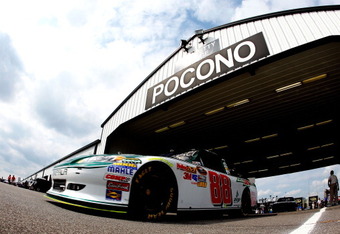 Jeff Zelevansky/Getty Images
But then something happened. Dale hit a stretch of six straight races without a top 10 finish, which was snapped at the final regular season race at Richmond. Dale was fourth after Richmond, and fifth heading into the chase because of the win bonuses, something Dale Jr. does not have at his leisure this year. In his final seven races after Daytona, he only had ONE top-10. In 2011, his final six races after Daytona, one top-10 finish at Pocono. Creepily similar.
So Dale needs a good run this weekend at Richmond for a few reasons. One is momentum. It's been huge for Jr. His confidence may have taken a hit with the way he's ran the last two seasons, and after a mediocre run at Atlanta, he cannot have another finish outside of the top-10 or people will be questioning whether or not he can compete for the title. Something Dale Jr. and this team doesn't wan to hear.
Another reason is he does not have a win. He will sit at least ninth in the standings once the chase starts if he does not win at Richmond. He and Tony Stewart are the only drivers currently in the top-10 who do not have a victory. If Tony doesn't run well and Brad Keselowski sneaks his way into the top-10, Dale will be 10th. He cannot fall any lower than that because the wild-card drivers will start 11th and 12th no matter how many wins they have. So winning would be a gigantic boost for this team to keep things even.
And most importantly, he does not want this chase to look ANYTHING like his last one. After starting fourth, he ended up 12th, and didn't even compete by the time Homestead rolled around. If Dale Jr. stumbles into the chase again this year, Jr. Nation better pray that history does not repeat itself.
This by any means is not do or die for Dale Jr. He's in. Baring a huge collapse he's solidly in, stranger things have happened, but it's very unlikely. However, this is the closest thing he's had to a do or die race in a long time!