Detroit Lions: A Season Preview of the Honolulu Blue
September 6, 2011
Marc Serota/Getty Images
Nearly one year ago, Matthew Stafford and the Detroit Lions were deadlocked with the Chicago Bears at Soldier Field. The teams appeared to be well-matched, and the Lions showed they could hang with their divisional rival. Late in the second quarter, Stafford dropped back to pass, as he had so many times already during the game. One thing after another happened, and before Matthew knew it his right shoulder forced itself into the turf, with all of the combined 515 pounds of Stafford and Julius Peppers on top of it.
It wasn't until this exact moment that the Detroit Lions and their fans knew they may be in for another tumultuous season. As if there was any question to this, Calvin Johnson's should-be game-winning touchdown catch was reversed due to a rule book formality just two quarters later. Could two bigger shots have possibly been taken at a young team trying to prove itself?
Regardless of the fact that this adversity discouraged the team, it was very important in its own way.
It told the Lions that right off the bat, it wasn't going to be an easy season. Losing their franchise QB and an eye-for-an-eye game in the span of two hours showed a young team that there was more to a football team than just talent.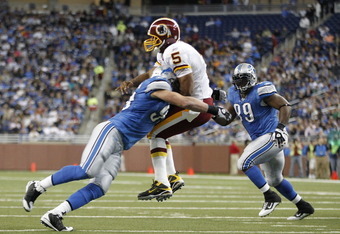 Leon Halip/Getty Images
Veterans, such as Kyle Vanden Bosch, stepped up to the needed roles of leadership. Under then sophomore head coach Jim Schwartz, an uprising was beginning in the locker room. A nucleus of blossoming young talent suddenly began to expand under savvy and experience.
The cyclone that is Ndamukong Suh was born, and, for the first time in years, Detroit's defensive front kept quarterbacks sleepless on Saturday nights.
Veteran quarterback Shaun Hill stepped in and contributed to the team's success, as they played in close game after close game. The Lions closed out their campaign by winning their final four games, and showed that next season was going to be a different story entirely.
This offseason, Martin Mayhew brought yet another talented draft class and free agency splash to the table. The Lions patched up most of their holes that existed heading into the offseason. Let's take a look at the Detroit Lions' roster heading into an exciting 2011 NFL season. 
QB: Matthew Stafford, Shaun Hill, Drew Stanton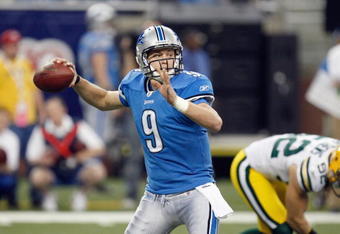 Gregory Shamus/Getty Images
Additions: (none)
Departures: (none)
Grade: B-
Any prediction you will see about the Lions right now contains the disclaimer: "If Matthew Stafford stays healthy...".
This speaks volumes about the value of Stafford to this team. When healthy, he is a true leader and playmaker at the QB position. When he isn't healthy, Shaun Hill and Drew Stanton showed last season that they are very capable replacements. Hill and Stanton lack the poise and influence that Stafford has on this team, though.
Word has it that Stafford is in even better shape heading into the season. If arm strength was any concern, it shouldn't be. In an interview earlier this spring courtesy of the Oakland Press, Detroit Lions receiver Titus Young referred to Stafford's arm as in the process of "having surgery to make his arm stronger".
RB: Jahvid Best, Keiland Williams, Jerome Harrison, Maurice Morris
Additions: Keiland Williams (FA), Jerome Harrison (FA)
Departures: Aaron Brown, Jerome Felton, Kevin Smith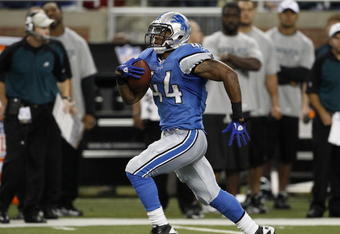 Leon Halip/Getty Images
Grade: C
Jahvid Best showed his potential in more than one game last year, flashing speed and good sense of vision in his limited carries.
To become a top NFL running back, though, Best will have to work at staying healthy and hanging onto the football. Keiland Williams comes over from Washington, where he served as Clinton Portis's replacement. He did a fine job with his carries, and he could be a true power complement to Best's speed.
The loss of Jerome Felton means that Detroit will not have a true fullback on their roster. Williams and Morris both have the frame to play the fullback position for a limited time if needed. This group has shown potential, but the fact that they have not shown established success hampers the grade here. 
WR/TE: Calvin Johnson, Nate Burleson, Rashied Davis, Maurice Stovall, Titus Young, Will Heller, Brandon Pettigrew, Tony Scheffler
Additions: Rashied Davis (FA), Maurice Stovall (FA), Titus Young (draft)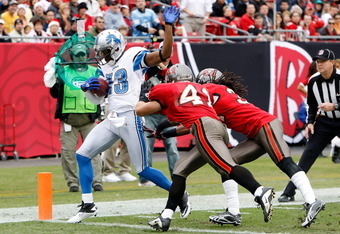 J. Meric/Getty Images
Departures: Brian Clark, Bryant Johnson, Derrick Williams
Grade: B
Calvin Johnson is a consensus top five receiver. Some people would even put him in the top three. Regardless, he is the definition of a playmaker. He's a huge target that distracts secondaries, allowing the field to open up for his teammates.
Nate Burleson has emerged as a strong #2 receiver. Detroit drafted rookie Titus Young in hopes that he would be the player able to stretch the field for Calvin, Burleson, and tight end Brandon Pettigrew. Pettigrew had a breakout season last year, becoming a preferred target of Lions quarterbacks. He also has ability in the blocking game. 
OL: Jeff Backus, Rob Sims, Dominic Raiola, Gosder Cherilus, Jason Fox, Corey Hilliard, Jacques McClendon, Stephen Peterman, Dylan Gandy
Additions: Jacques McClendon (FA)
Departures: Tony Ugoh, Donald Thomas
Grade: B-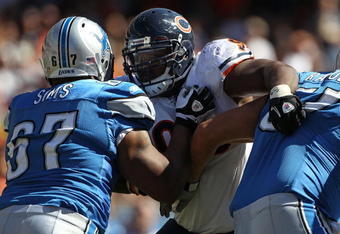 Jonathan Daniel/Getty Images
Before disregarding this unit, look at what they did last season.
The Detroit Lions gave up the 6th fewest sacks in all of the NFL last season, as well as the 9th fewest QB hits. They did their job protecting the quarterbacks.
The run blocking could be improved, however. Consistency is still an issue and the Lions do lack that one bruiser to intimidate opposing defensive lines. Regardless, this is a reliable group of linemen. 
DL: Cliff Avril, Nick Fairley, Andre Fluellen, Sammie Lee Hill, Lawrence Jackson, Ndamukong Suh, Kyle Vanden Bosch, Cory Williams, Willie Young
Additions: Nick Fairley (draft)
Departures: Turk McBride
Grade: A-
As if having the 6th most sacks in the league wasn't enough, the Lions decided to spend their first-round draft pick on Nick Fairley, whom many projected to be a top five draft pick.
Although currently hampered by a foot injury, when Fairley returns, he will do nothing but make this defensive line better. Character issues should be no concern. Ndamukong Suh and Kyle Vanden Bosch are the finest examples of leaders you could ask for on a line, and Cliff Avril showed last season that he is emerging into one of the league's best defensive ends. His combination of strength and speed puts him far above many linemen.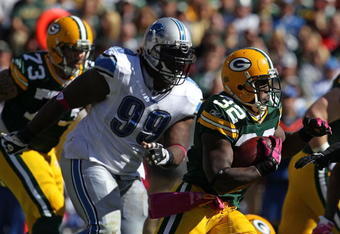 Jonathan Daniel/Getty Images
There really isn't a weakness when it comes to this group. Good defense starts up front, as the saying goes. If so, the Detroit Lions certainly have the foundation for good defense.
LB: Stephen Tulloch, Deandre Levy, Justin Durant, Bobby Carpenter, Isaiah Ekejiuba, Douglas Hogue, Ashlee Palmer
Additions: Stephen Tulloch (FA), Justin Durant (FA), Douglas Hogue (draft)
Departures: Julian Peterson, Vinny Ciurciu, Caleb Campbell
Grade: B+
This could be the biggest turnaround for the Lions heading into the 2011 season.
At the end of last year, linebackers were somewhat of a liability for the team. Deandre Levy was really the only consistent force of the group. Mayhew addressed this by going out and picking up two of the top linebackers on the free agent market.
Stephen Tulloch comes over from Tennessee, where he played under Jim Schwartz. He is an established work horse and tackling machine. Justin Durant comes over from Jacksonville, where showed he was a solid outside linebacker. He greatly improves the outside linebacker spot. Bobby Carpenter showed good strides last year. Hogue is a converted running back who definitely has the speed for the position.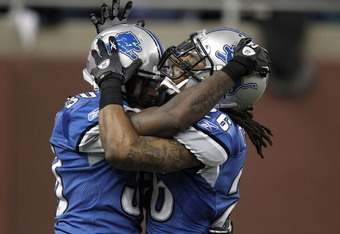 Gregory Shamus/Getty Images
Secondary: Chris Houston, Alphonso Smith, Louis Delmas, Amare Spievey, Aaron Berry, Erik Coleman, John Wendling, Eric Wright, Brandon McDonald
Additions: Erik Coleman (FA), Eric Wright (FA)
Departures: C.C. Brown, Tye Hill, Nate Vasher
Grade: C-
Louis Delmas is the anchor of this group.
He plays the pass well and is one of the hardest hitting safeties in football. He is a physical presence on the field and a respected player. Spievey has looked good this preseason, and showed he could do an adequate job at starting safety last season.
Chris Houston is back in a Lions uniform. He is the best player in a group of cornerbacks surrounded by question marks.
Eric Wright comes over from Cleveland where he had a disappointing season. He looks to put his good physical skills to use and get his career back on track in Detroit. 
Special Teams: K Jason Hanson, P Ryan Donahue, LS Don Muhlbach, KR/PR Stefan Logan
Additions: Ryan Donahue (FA)
Departures: Nick Harris, Dave Rayner
Grade: B+
Jason Hanson is still one of the most accurate kickers in football.
Ford Field suites him well, taking wind out of the equation. Donahue won the punting job from Harris this preseason. Don Muhlbach has been a reliable long snapper, and Stefan Logan is one of the league's premier return men. He isn't on the level of Devin Hester a few years ago or DeSean Jackson, but he can take one to the house at any time. This is a very formidable group of players. Should Hanson have health trouble again this year, look for Rayner to come back in a Detroit uniform. 
Conclusion
As you can see, Detroit made a lot of key positional improvements during the offseason.
So, what can we expect? Some people don't expect the Lions to win more than they did last year (6 games). On the other extreme, we have some analysts halfheartedly saying they will make a Super Bowl appearance. Somewhere in the middle seems most likely. They have the talent on the roster to be a wild card playoff team, but the only problem will be the division. The NFC North is one of the best divisions in the NFL, featuring the two teams that played in the NFC Conference Championship. Minnesota has also been a troublesome place for Detroit to win games in the modern era. It's hard to predict an NFL team's record due to the multitude of things that can happen in such a short span.
One thing is for sure, though. This is a different Detroit Lions team than the one we saw three painful years ago. Much different.