Detroit Lions: Drew Stanton Always Wanted to Stay in Detroit (B/R Exclusive)
September 5, 2011
Handout/Getty Images
Drew Stanton has always wanted to be a member of the Detroit Lions, but he didn't always think that the feeling was mutual.
"If you had asked me at this point last year, I didn't think I would be here this year...I saw the way the team was going."
At the beginning of 2010, Drew Stanton was a complete question mark. Matthew Stafford was coming back healthy, and the team had signed veteran Shaun Hill to be the clear-cut backup. Stanton, a Michigan native, was being pushed out slowly by his hometown team just a few years after it selected him in the second round of the 2007 NFL draft.
Stanton, a Michigan State graduate, is represented by a man with a strong Michigan Wolverines connection. Mike McCartney is the son of Bill, who was a longtime Michigan assistant under Bo Schembechler. Before he started with Priority Sports, Mike spent years on college sidelines and in NFL front offices and has seen it all.
Speaking with me last week, McCartney pointed out the case could be made that, essentially, 2011 is Stanton's third year in the league. In 2007, Stanton was placed on injured reserve and was unable to participate in any activities that would help a rookie quarterback get up to speed. To complicate matters even more, former offensive coordinator Mike Martz had "no interest in coaching [Stanton]" according to McCartney.
Fast forward to 2011 and things have certainly changed. Stanton is still the No. 3 quarterback, but his role on the team is more clearly defined, as are his priorities.
The flip didn't just switch for Stanton, but rather, his maturation process has long been evident both on and off the field.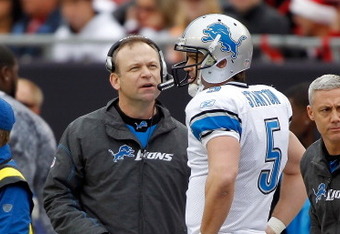 J. Meric/Getty Images
On the field, 2010 showed that Stanton was a lot more talented than his doubters gave him credit for. Stanton went 2-2 in last season, including late-season wins against Green Bay and Tampa Bay. Along the way, he completed 58 percent of his passes for 780 yards, four touchdowns and three interceptions—not bad for a third-string QB.
Much of the the on-the-field growth has to do with Lions OC Scott Linehan. McCartney says that Linehan "has an appreciation for Drew," and Stanton seems to have an appreciation for his coach as well.
"It's unbelievable having Scott. He helped me get back to playing football the way I know I'm capable of. I enjoy running his offense. It's fun, it makes sense, and it doesn't hang the QB out to dry."
Off the field, Stanton has become a leader both in the locker room and in the community. He pointed to the leadership and character of former Lions Jon Kitna and Daunte Culpepper, which helped him become a better man. When asked who the current leader of the Lions offense is, he quickly (and only) said "Stafford."
"Matthew has settled in that role nicely. He doesn't take himself too seriously but definitely puts in the time on the practice field and in the film room. If you were just looking at him or listening to him, you wouldn't know he was a first-overall pick."
At the end of last year, Stanton was named the Detroit Lions "Robert Porcher Man of the Year" for the second consecutive year due to his work through his "High 5ive" foundation. According to the press release:
The High 5ive Foundation is a 501c3 organization that Stanton established in 2008. The main focus of his foundation is to support programs at Special Olympics and Children's Miracle Network. Stanton has been heavily involved with both organizations since his collegiate career at Michigan State University. In the past year, he has expanded his reach to many other organizations including Cystic Fibrosis and Orchard Children's Services.
That charity work is part of what kept Stanton in a Lions uniform. Another one of his agents, Kenny Zuckerman, said that Stanton:
"Had opportunities but didn't want to leave Michigan or the Lions. Wherever he went, he would have been going into a similar situation. The old saying is, 'Sometimes the devil you know is better than the devil you don't know.' He realized how entrenched he is on the team and in the community and he knows the team likes him and respects him."
None of this should imply that the Lions should expect Stanton to stick around in a third-quarterback role forever. Make no mistake, Stanton wants to take advantage of every opportunity that comes his way—in Detroit or elsewhere.
Both McCartney and Zuckerman pointed to the lockout as a big reason that Stanton stuck around in Detroit. As Zuckerman said, Stanton did have other offers out there, but later added "didn't just go for a quick buck."
The Lions do seem to appreciate Stanton's loyalty. McCartney pointed out that Stanton was the only third quarterback in the league who didn't take a minimum contract.
Regardless of where he ends up in the future, 2011 should be a definitive year for Stanton. He's playing on a one-year contract and should have plenty of offers next offseason. However, his competition for No. 2 in Detroit, Hill, will be a free agent next offseason as well.
Stanton—although he didn't make any predictions—believes that 2011 will also be a definitive year for the Lions.
"I think a realistic goal is making the playoffs. We've been continually improving each year during Coach Schwartz' time here. Once you make the playoffs, anything can happen. Just look at the Green Bay Packers last year. Making the playoffs, that's our goal right now."
Whatever happens for Drew Stanton and the Lions in 2011 and beyond, it is clear that this is not the same young man who was drafted in 2007. He's grown and matured into a player the Lions want to keep and a person the city of Detroit is lucky to have.