Fantasy Football Rankings 2011: Our Updated Wide Receiver Rankings
September 4, 2011
Bob Levey/Getty Images
The NFL opens its season with the Green Bay Packers and New Orleans Saints with Thursday Night Football.
Since Aaron Rodgers became the starter in Green Bay in 2008, both teams have finished in the top seven in passing yards per game in all three seasons. The two most recent Super Bowl MVPs are the starting quarterbacks in this game: Rodgers (Super Bowl XLV MVP) and Drew Brees (Super Bowl XLIV MVP).
As one would expect from these high-powered offenses, plenty of their receivers appear in our top 75 fantasy wide receiver rankings. In fact, seven of them appear in our top 57. Another way to look at that is one-eighth of the receivers in our top 57 will be playing on Thursday night.
While we will release our weekly rankings by Wednesday morning, here are our updated full-season fantasy football rankings for wide receivers (based on standard scoring):
1. Andre Johnson, Texans
  Despite missing three games last year, Johnson still finished with 86 receptions and 1,216 yards. Based on his per-game averages, Johnson would have finished with 106 receptions and 1,496 yards if he played a full 16 games and maintained that pace. In other words, he would have been just four yards short of a third consecutive 100-reception, 1,500-yard season.
2. Calvin Johnson, Lions
  MegaTron was my second-ranked preseason receiver last year as well, but the gap between first and second is narrowing. For the second time in three seasons, Johnson finished with 1,100-plus yards and 12 touchdowns. If Matthew Stafford can stay healthy for the full season (I know, a big if), the sky's the limit for Johnson. 
3. Roddy White, Falcons
 Last year, White set career highs in both receptions (115) and yards (1,389) and has now scored double-digit touchdowns in back-to-back seasons. For four straight seasons, White has had 85-plus receptions and 1,100-plus yards. The addition of Julio Jones should take some targets away from White, but it should keep opposing defenses more honest in coverage as well.
4. Hakeem Nicks, Giants
  Although he missed three games last year, Nicks took a big step forward in his second season. Nicks finished with 79 receptions, 1,052 yards and 11 touchdowns. He was tied for fourth in touchdowns and his 80.9 yards-per-game average ranked fifth in the NFL.
5. Larry Fitzgerald, Cardinals
 As Darnell Dockett said, "it's like night and day" when comparing the team's quarterback situation to last year's with the offseason acquisition of Kevin Kolb. Fitzgerald ended a three-year streak of double-digit touchdowns by finishing with a career-low six touchdowns in 2010. And although he saw a slight improvement in receiving yards (1,092 in 2009 to 1,137 in 2010), he had 1,400-plus yards in three of four years from 2005-2008. While Fitzgerald might not post similar numbers to the ones he posted during the Kurt Warner era, an improvement over the Derek Anderson era seems likely.
6. Greg Jennings, Packers
  For the second time in his career, Jennings finished with 1,200-plus yards and 12 touchdowns. It was the first time, however, that he did both of those things in the same season. If there's any concern with Jennings, it's the number of viable options competing for targets with him. The team returns all of its top wide receivers, Jermichael Finley is healthy again and the Packers drafted Randall Cobb in the second round.
7. Vincent Jackson, Chargers
  Jackson, who was designated with the franchise tag, held out for the first ten games last season, but he has signed his tender and won't miss any games due to a contract dispute this season. In fact, Jackson said after signing his tender that, "I feel like this is home." In his last full season (2009), Jackson set career highs in receptions (68), yards (1,167) and touchdowns (nine).
8. Mike Wallace, Steelers
  Although Wallace finished with only 60 receptions (tied for 42nd in the NFL), he finished fifth in receiving yards (1,257). Wallace led the league in 20-yard receptions (26) and has averaged over 20 yards per reception in his two-year career.
[Related: Wallace is one of three receivers featured in our free fantasy football contest for Week 1.]
9. Reggie Wayne, Colts
  Wayne, who will turn 33 in November, has been remarkably consistent (1,000-plus yards for seven straight seasons) and durable (hasn't missed any games in past nine seasons). Last year, Wayne set a career high in receptions (111) and finished with his second-highest yardage total (1,355). The health of others is what worries me about Wayne. If Dallas Clark and Austin Collie stay healthy for a full season, Wayne's targets should decrease. Even more worrisome is from whom the targets will come as Peyton Manning could miss time and/or start slowly as he recovers from two neck surgeries.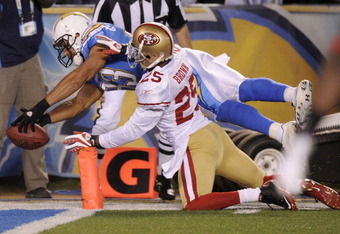 Harry How/Getty Images
10. Miles Austin, Cowboys
  Austin's production was much better with Tony Romo in the lineup. In three of his first four games of the season, Austin had nine-plus receptions and 140-plus yards. After Romo broke his collarbone in the team's sixth game, Austin had only two games with more than four receptions and/or 70-plus receiving yards.
11. Dez Bryant, Cowboys
  Bryant was in the news for the wrong reasons earlier this offseason, but he is an immense talent on the field. All six of Bryant's receiving touchdowns came during a six-game span (Weeks 6 to 11) last year and he missed the final four games of the season due to injury. Provided Bryant stays healthy and out of trouble, he should give Austin a run for his money as the team's No. 1 receiver.
12. DeSean Jackson, Eagles
  Similar to Wallace, Jackson is a big-play guy. Both Jackson and Wallace have finished one-two in yards per reception in each of the past two seasons. In all three of his seasons, Jackson has finished with 1,000-plus yards from scrimmage. He's consistent on a full-year basis; however, his game-by-game production can vary greatly. For example, Jackson had two or less receptions in six of his 15 games played (counting the playoff loss) last year.
13. Brandon Marshall, Dolphins
  Marshall, who admitted this offseason to having borderline personality disorder, is coming off the worst season (86-1,014-3) since his rookie year, but he also spent the offseason using the same training methods he used as when he prepared for the NFL Scouting Combine.
14. Dwayne Bowe, Chiefs
  Despite a slow start and a slow finish, Bowe had a seven-game stretch in between where he was nearly unstoppable. He scored 13 of his league-leading 15 touchdowns and had four of his five 100-yard games during that seven-game span. Overall, Bowe set career highs in yards (1,162) and touchdowns. The over-under from Bodog on Bowe's production in 2011 is 70 receptions, 1,050 yards and eight touchdowns.
15. Mike Williams, Buccaneers
  Williams led all rookies in receiving yards (964) and receiving touchdowns (11) in 2010. While touchdowns are difficult to predict, Williams should be in store for several 1,000-yard seasons over the next several years.
16. Mario Manningham, Giants
  With Steve Smith signing a one-year deal with the Eagles, Manningham will enter the season as the team's No. 2 receiver behind Hakeem Nicks. In his final three games, he played like a No. 1 receiver—100-plus yards and a score or two in each game. Despite three games with one (or no) receiving yard(s), Manningham was only 56 yards shy of the 1,000-yard milestone in 2010.
17. Santonio Holmes, Jets
  Holmes, who re-signed with the Jets, is the only one of the team's top three receivers returning in 2011. In addition to Holmes, the team signed free-agent receivers Plaxico Burress and Derrick Mason. While Holmes played well after serving his four-game suspension, his yards-per-game average dropped by more than 15 YPG from his 2009 level of production with Pittsburgh.
18. Wes Welker, Patriots: Failing to reach the 110-reception and 1,100-yard marks for the first time in his four seasons in New England, Welker ended the season with 86 receptions for 848 yards. Being an extra year removed from his torn ACL, however, should help Welker bounce back in 2011. [In fact, he's much higher in our point-per-reception rankings than he is on this list.]
19. Jeremy Maclin, Eagles
  Maclin finished his second season with career highs across the board—70 receptions for 964 yards and ten touchdowns. A virus caused Maclin to lose 15 pounds, which he has regained, and he practiced for the first time this year only one week ago. Therefore, Maclin could get off to a slow start.
20. Kenny Britt, Titans
Similar to LeBron James' championship(s) prediction for the Miami Heat, Britt has applied the concept to brush-ins with the law—not one, not two, not three, etc. Despite his off-the-field issues, Britt won't be suspended by the NFL and he has a chance to be special on the field as illustrated by his 225-yard, three-TD performance in three quarters. [The reason he only played three (not four) quarters: his involvement in a bar fight.]
21. Marques Colston, Saints
If Colston were on any other team, he'd be ranked a few spots higher. Despite having a great quarterback and being a part of one of the league's most high-powered offenses, Drew Brees spreads the ball around enough to make Colston's numbers more inconsistent than his skill level would otherwise dictate. While he'll get you roughly 1,000 yards and eight touchdowns, you may get 140 yards one week and 35 the next in the process.
22. Anquan Boldin, Ravens
As a player, I like Boldin a lot, especially for his toughness, but he made a much smaller impact with the Ravens than I had expected. Boldin finished with 64 receptions for 837 yards, both of which are the second-lowest totals of his eight-year career. (His career lows where established in 2004 when he played in a career-low ten games.) With Derrick Mason signing with the Jets, Boldin should see more targets and have a bounce-back season in 2011.
23. Stevie Johnson, Bills
Johnson broke out last season and finished with 82 receptions for 1,073 yards and ten touchdowns. When Ryan Fitzpatrick took over as the Bills starting quarterback in Week 3, Johnson started a five-game touchdown streak so it was no surprise that Johnson backed the team's decision to stick with Fitzgerald as starter, at least this year.
24. Austin Collie, Colts
When he wasn't concussed, Collie put up big numbers. Through nine games, Collie finished with 58 receptions, 649 yards and eight touchdowns. In fact, Collie played only one half in his last game of the year and finished with eight receptions, 87 yards and two touchdowns. Knock on wood, Collie will have a clean bill of health in 2011.
25. Brandon Lloyd, Broncos
Call me a skeptic (I've certainly been called worse), but it will be difficult, if not impossible, for Lloyd to duplicate his 2010 numbers. With Josh McDaniels gone, the Broncos will be transformed into a run-first team under John Fox. Plus, in his other seven NFL seasons, Lloyd never had a better season than his 2005 season—48 receptions, 733 yards and five touchdowns. Another concern with Lloyd is the potential for a quarterback change if the team starts slowly.
To see the rest of our top 75 fantasy receivers for 2011, click here. For our point-per-reception (PPR) rankings, click here.
More updated 2011 Fantasy Football Rankings: Quarterbacks | Running Backs | Tight Ends | Kickers | Defenses
To keep track of our fantasy updates: (1) Follow us on Twitter @EDSFootball and/or (2) "Like" us on Facebook. If you have any specific fantasy questions, feel free to send us a tweet or post your question in our fantasy football forum.
Good luck in (all of) your fantasy league(s) in 2011!