Texas Rangers: Adrian Beltre Joins Michael Young in the 2,000-Hit Club
September 4, 2011
Ronald Martinez/Getty Images
In the top of the sixth inning against the Boston Red Sox, Adrian Beltre deposited a fastball into the growing shadows of shallow right field at Fenway Park.
The Texas Rangers third baseman's single was more than just your everyday garden variety sort of one-bagger.
The single was Beltre's 2,000th hit of his career.
Adrian Beltre joins joins fellow Texas Ranger Michael Young as the second player on the team to reach the feat this year.
Had it not been for a hamstring injury suffered on July 22, Beltre might have beaten Young to the punch.  
Once Beltre was moved to third on a David Murphy single, Kevin Youkilis could be seen congratulating the former member of the Boston Red Sox.  
The 32-year-old Dominican, signed this past offseason by the Rangers, entered the 2011 season with 1,889 hits in his career.
A little over one week ago, the Chicago White Sox's Paul Konerko became the sixth player this year to reach the second century mark in hits in his career.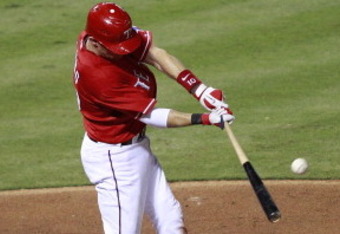 Rick Yeatts/Getty Images
Much has been said about the importance (or lack thereof) of reaching this unique milestone. Here is a list of the seven sluggers who have joined the 267 members of the 2K hit club this year:
Adrian Beltre, Texas Rangers—September 4
Paul Konerko, Chicago White Sox—August 24
Michael Young, Texas Rangers—August 7
Carlos Lee, Houston Astros—May 14
Orlando Cabrera, San Francisco Giants (2,000th hit was recorded while with the Indians)—June 13
Albert Pujols, St. Louis Cardinals—July 30
Scott Rolen, Cincinnati Reds—July 4 (also notched his 500th career double this year)
Regardless of what the critics think, 2,000 career hits is quite an accomplishment, and at the age of 32, Beltre has a legitimate shot at what Derek Jeter accomplished earlier in the summer—the ever-so-sacred 3,000-hit plateau.
Getting his 2,000th hit in Boston at Fenway Park meant that Beltre was amongst friends from both teams. Like Vladimir Guerrero, Beltre is the type of player whose personality is always admired by former players and fans alike.
Beltre is one of 21 current players with 2,000 hits—and counting.

Follow Timothy on Twitter @TMurrayHowell—he follows back, but not in a creepy way. Or hit him up on Facebook—you know you have an account.