Main Reasons Why the Minnesota Vikings Will Finish 9-7 in 2011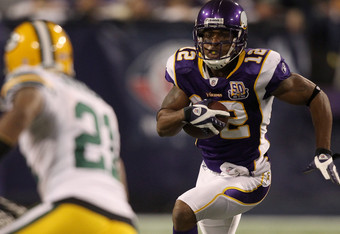 Matthew Stockman/Getty Images
The Minnesota Vikings are capable of being a contender in 2011, with the heart of the team's success resting in the success of running back Adrian Peterson.
The Vikings addressed a major concern when they signed veteran Donovan McNabb to replace the retired Brett Favre and ineffective Tavaris Jackson.
The ability to have a consistent passing attack with McNabb is a major improvement from Jackson, and his presence will be beneficial for the quarterback of the future, Christian Ponder.
The NFC North is now a division that is home to the Super Bowl champion Green Bay Packers, an up-and-coming Detroit Lions team and a tough Chicago Bears defense. There isn't a more complete division in the NFL and the Minnesota Vikings find themselves caught on the bubble of success and failure.
In order for the Vikings to compete and land in the playoffs, they must capitalize against weaker teams, prevent them from hanging around late in the game and avoid letting wins slip away.
Here is a look at the positional breakdowns and why I feel this team will finish 9-7, with a possible wild-card berth.
Hannah Foslien/Getty Images
Quarterback
McNabb is looking for a rebound from a dismal 2010 season. His ability was limited in Washington; that team did not give him the supporting cast to allow him to be as effective as he could be.
Donovan McNabb now has a complement of an astounding running back and a pairing of receivers that can pose problems for defensive backs. This allows McNabb to utilize the play-action passing scheme, which will allow him to become closer to the quarterback he once was.
Christian Ponder is not ready to start and will have a great mentor in McNabb.
Running Back
Adrian Peterson will be a dominant force once again and there shouldn't be much to say here other than a concern about fumbles. Outside of this, it's cruise control for the big guy.
Adam Bettcher/Getty Images
Behind Peterson there is basically nothing considerable. The team should look to add a veteran here to give Peterson a break and provide an effective second-look running back, especially on third-down situations, as Gerhart and Booker aren't very scary.
Containing the run against the Vikings will put all the pressure on the passing game. If the Vikings can't find consistent scoring from them, they will be in trouble.
Wide Receivers
Although the team has several players with talent, there are questions and concerns that will need to be monitored throughout the season.
Percy Harvin is not a legitimate WR1. Harvin's abilities are optimal when he serves a role as a WR2 or WR3. Harvin's health concerns will also be a distraction and could be costly to a corps that needs to find their face.
Bernard Berrian is the "X-factor" here as he had a season to forget last year. Is Berrian worth the money he makes? Is he capable of returning to the promising talent he was in 2008?
Hannah Foslien/Getty Images
I don't expect great strides from Berrian, although he will rebound from last year.
Michael Jenkins needs to establish himself as a viable option in this offense and help his fellow receivers. The games the Vikings lose will be primarily due to this area of the offense.
Tight End
Visanthe Shiancoe should have a considerable role in the passing game and should rebound from last season, with McNabb looking for his help over the middle of the field. I wouldn't be surprised to see him rival the wide receivers in stats, such as receptions and yardage.
Shiancoe could be second or third in touchdowns behind Peterson and Harvin.
Team Defense
Hannah Foslien/Getty Images
The Vikings defense (led by Jarred Allen) will be the MVP's of this season.
Allen and company should show improvement from last season and find the fire that motivated them in 2009.
I think the defensive line could be consistent and should be effective rushing the pass and run stuffing; however, the area that I see having an issue is at left end.
The linebackers, Greenway and the Hendersons, should have over 100 tackles each and will be expected to dictate the way an offense uses rushing attacks against them.
The Vikings secondary needs to come together and find an identity again. Outside of Antoine Winfield and Cedric Griffin, I am concerned with the safeties and this is where they should have difficulty against better receiver combos.
I would experiment with placing Asher Allen in one of these positions if it comes to that. The Vikings need to have a bigger year from this group of players. They need to find ways to improve and raise their interception totals.
Overall
Overall, I think the Vikings have just enough to find ways to win and should be able to control the game with clock-eating drives led by running the ball effectively.
I do see areas that have strong concerns that, unless corrected, will cost the Vikings games that they should have won.
I see the Vikings finishing at 9-7, with the possibility of a wild-card berth if the stars align.
McNabb should be comfortable in his new home and keep the Vikings in the mix for the season. The only way that they fall off the radar is if he gets hurt early in the year or if the team just can't click together on offense.
The receivers need to establish themselves early and work hard to help the running game.
Sorry, Detroit, perhaps you'll pass the Vikings next year.
The Vikings are the sleeper team in the NFC, plain and simple!
This article is
What is the duplicate article?
Why is this article offensive?
Where is this article plagiarized from?
Why is this article poorly edited?

Minnesota Vikings: Like this team?