Madden 12 Player Ratings: The 5 Most Dynamic Washington Redskins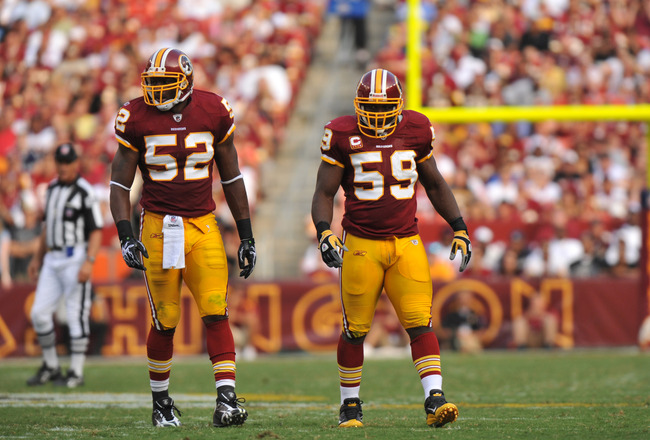 Larry French/Getty Images
With Madden '12 to be released on Aug. 30, stores will be filled all over the country.
That being said, the ratings came out earlier this month and there were some surprises, as well as the expected.
And the Washington Redskins are no exception, as they had their share of good and bad players.
However, there were more low than high, but that was anticipated heading into the 2011 season.
Nonetheless, the "any given Sunday" cliche still applies, and the games must be played.
Thus, here are the 'Skins most dynamic players rated in the new Madden.
For a full look at the Redskins' Madden '12 ratings, click here.
London Fletcher: Rating 91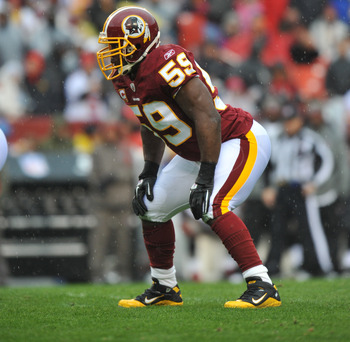 Larry French/Getty Images
He's the highest-rated player on the Redskins, and rightfully so, as London Fletcher has been the heart and soul of Washington since joining in 2007.
Although London may be undersized, he has excellent awareness, tackle, he is solid at shedding blocks and is extremely tough.
He may not be dynamic in terms of being a dominant run-stopper and coverage LB, but he possesses a very high football IQ.
If he can't get himself in position because of his duties on a certain play, he knows how to get a teammate in position.
It's like having a defensive coordinator on the field.
Brian Orakpo: Rating 88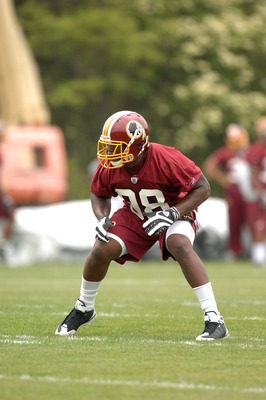 Mitchell Layton/Getty Images
It's not surprising that another LB comes in second for the Redskins, and this time it's Brian Orakpo.
He can rush the QB a lot better than most people think, and is quick enough to drop into the zone for coverage.
Now, although he isn't that great in coverage, just getting to his drop and shielding a WR/TE for a second is all he needs to do.
In addition, that allows him to delay on blitzes as well as help in stopping the run.
Plus, his 6' 4", 260 pound frame just gives him that extra size advantage.
Chris Cooley: Rating 87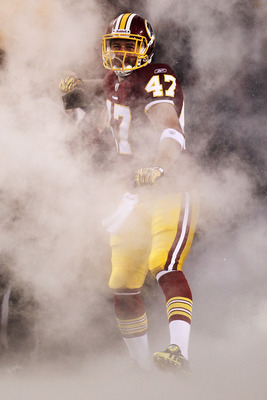 Chris McGrath/Getty Images
Chris Cooley is one of the more well-known TEs in the game, but he doesn't get the run-blocking credit like most receiving TEs.
He may appear a bit undersized, but that only helps him because he's quicker than most LBs when running routes, and also catches well in coverage.
Also, when Mike Shanahan decides to run a draw or screen play, he's big and quick enough to block the DBs.
Or, he can get them out of the play selling the pass with his solid route running skills.
Cooley is also rather underrated because his QB this year will be either Rex Grossman or John Beck.
LaRon Landry: Rating 90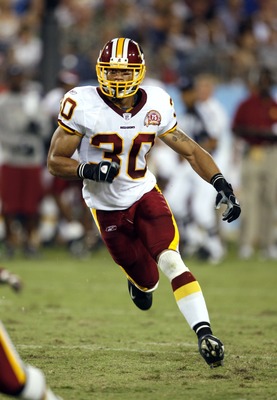 Joe Murphy/Getty Images
Washington SS LaRon Landry is like a small version of the Denver Broncos' Steve Atwater.
Atwater loved to smash anyone on the other team, and did so every time he took the field.
Well, Landry is the same exact way, he's just not nearly as big in size.
LaRon is great at stopping the run, times the ball well enough to breakup a pass or knock a WR, as well as filling in wherever needed.
That means when a LB blitzes, as the strong safety, he'll roll his coverage down to fill that vacant zone left open by the blitzing LB.
In turn, the play puts more pressure on the QB, fills the zone vacated by the blitz, and puts Landry in a position to make plays.
DeAngelo Hall: Rating 86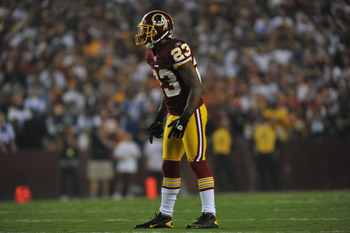 Larry French/Getty Images
He's the best overall coverage player on the 'Skins, and is their best in man-to-man.
Zone coverage is his weakness, although it's still pretty solid, along with his field awareness.
And last season he was the Pro Bowl MVP, so you know he's doing something right.
The only way to really make him a complete CB is if Washington could find a way to blitz him more often, thus utilizing his speed and acceleration from the outside.
Not to mention, since Hall has never really done that, no offenses would really be expecting it.
Be sure to check out John on Bleacher Report.
And you can follow him on Twitter @ Sportswriter27.
Keep Reading

Washington Redskins: Like this team?